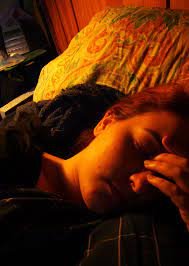 Last Updated on February 21, 2023 by admin
Do you always toss and turn in bed for hours before you can finally doze off? If you do, you might then need a sleep reboot. Outlined below are a few tips and steps to take if you can't sleep.
1. Manage Your Thoughts
There's nothing worse than going to bed with your mind full of depressing thoughts. Although you may have many bills to pay or other depressing issues, taking these with you to bed will only make it worse. It's only by pushing such depressing thoughts off that your mind will cool off, allowing you to drift to sleep. While it may seem impossible at first, try replacing such stressful thoughts with happy ones. Imagine yourself relaxing on the sandy beaches, or even the last positive moment or win you had. Focus on the small wins you've had, and everything will start falling into place.
2. Get Out of The Bed
Get off the bed if replacing negative and positive thoughts doesn't seem to work. Getting out of bed and bedroom in general and engaging in a relaxing activity sometimes works. Simple activities such as yoga, reading a novel under low light, or playing a repetitive game (e.g., Sudoku) can help get you sleepy again. Avoid the temptation to play with your phone or scroll the social media when trying to sleep.
3. Avoid Digital Devices (smartphones, TV, etc.)
Most digital devices with screens on them, including televisions, smartphones, computers, tablets, etc., emit blue light that interferes with the body's ability to produce sleep hormones. Using these devices towards bedtime will only make sleep elusive.
4. Create A Pre-Sleep Routine
There are times when your circadian rhythm will be out of whack, disrupting many processes that should otherwise be natural. If you have been struggling with sleep lately, then chances are your sleep cycle isn't in sync. You thus should strive to put it back on track by creating a pre-sleep routine. This routine will help the mind and body to wind down and relax, ready for bed. Engaging in such activities every night going to bed, and waking up at the same time should help improve your sleep hygiene and aid calmness.
5. Create A Sleep Routine
As mentioned above, make a habit of going to bed and waking you at the same time each day. This will go a long way in improving your sleep hygiene, making it easier to enjoy a good night's sleep. Make sure that you are comfortable, read these reviews mentioning Serta to find the perfect mattress.
Apart from that if you want to know about 5 Great Hints for Having a Better Rest During the Night then please visit our Health page