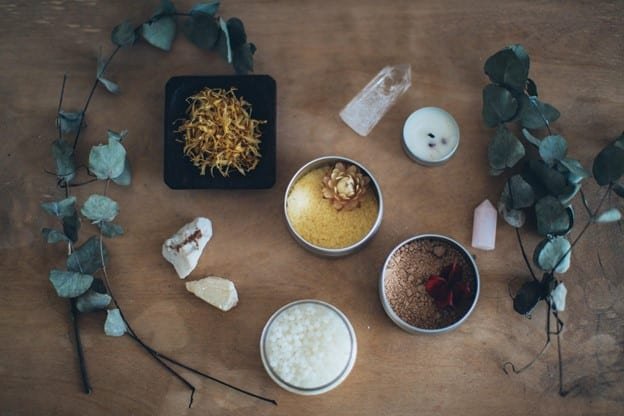 Last Updated on July 25, 2022 by
Who doesn't love using body scrubs? They not only beautify your skin making it soft and glowing but also offer a spa-like relaxing experience at home. These scrubs exfoliate your body in a very gentle way by removing dead cells and encouraging the growth of new cells. But in order to get the best results, it is very important to choose the right type of scrub according to your body type. In this article, we will discuss the different types of organic body scrub, to help you make the right selection.
Body scrubs remove the dead cells, remote cell regeneration and add glow to the skin.
What Are The Different Types of Organic Body Scrub?
An exfoliating organic body scrub is a skincare product that is usually in the form of a paste with granules. It can be in the form of cream, powder, gel and even body butter. The granules present in the organic body scrub helps in exfoliating the skin and removing the unwanted dead skin. The most common base ingredients used in body scrubs are sea salt, sugar, coffee, nutshells, grains etc.
Here are the common types of body scrubs:
Sugar
Sugar scrubs are one of the most common and readily available body scrubs out there. They contain small and fine-sized granules making them most suitable for sensitive skin types. Both granulated white and brown sugar is used in these types of scrubs. The best about sugar scrubs, they are very hydrating and moisturizing. They don't leave your body rough and dry, instead make it supple and soft. Moreover, sugar contains glycolic and hydroxy acid, which encourage faster cell growth.
Sea Salt
Salt is another famous ingredient for an organic scrub. Salt scrubs work very fast and are quite abrasive, hence, not meant for delicate and sensitive skin. But they are good for acne-prone and oily skin because salt has oil-absorbing properties. It also works as a natural antiseptic that kills and prevents bacteria. Also, salt contains sulfate and magnesium that reduce inflammation and soothe the skin. Because of their coarse texture, salt scrubs should not be used on the face. But they work excellently on rougher areas such as feet, heels, elbows and knuckles.
Coffee
Coffee scrubs are perhaps the most favorite types of organic scrubs. An organic scrub with coffee as the main ingredient works wonders for the skin. Not only does it smell amazing, but it also promotes cell regeneration. Further, it tightens pores, reduces inflammation and makes skin polished and glowing. Coffee scrubs are also known to improve skin complexion, promote blood flow and treat skin problems such as acne, scars, eczema and even psoriasis.
Grain
Grain scrubs contain plant-based or grain-based exfoliants such as seeds, nuts, nutshells, oatmeal, fibres, pulses, rice, etc. They work great for dry skin as they are rich in antioxidants and are naturally moisturizing. These types of scrubs work excellently for sun-damaged skin and help in achieving bump-free, even and smooth skin.
Herbal
As the name suggests, herbal scrubs contain different types of natural herbs as their main ingredients. Their properties and benefits depend on the type of herb used in them. For example, lavender is known for soothing the skin, whereas orange peel is known to treat tanning. Herbal scrubs are very mild and gentle, hence work great for sensitive skin. Sometimes a combination of herbs is also used for making these scrubs such as neem, tulsi, aloe vera, etc.
Besides, herbal scrubs are great for aromatherapy as they smell divine and offer a spa-like calming experience. They also contain Vitamin E, argan oil sometimes, so they also leave the skin moisturized.
Moisturizing
Moisturizing scrubs are specially made for dry and flaky skin. They contain a moisturizing agent as the base product and mostly come in the form of gels and creams. Ingredients like milk, yoghurt, shea butter, coconut and almond oil are common in these types of scrubs.
Organic
Organic scrubs make a whole new category of body scrubs. They contain all-natural, safe and organic ingredients. It is like a broad category of body scrubs, you can find all the scrubs we've mentioned above in this category. The best organic body scrub is the one that is free from any chemicals and harmful ingredients, so it can be used on any skin type.
Vegan
These scrubs are specially created for people following a vegan lifestyle. These are free from animal-based ingredients and instead, use plant-based compounds. They are cruelty-free and safe for everyone.
Charcoal
Activated charcoal is one of the most effective detoxifying agents. It absorbs all the dirt, germs and oil from the skin and makes it clean, soft and polished. Charcoal body scrubs work wonderfully in fading away cellulite and stretch marks. They deep clean the pores and rejuvenate the skin.
That's it!
We have discussed 9 different types of body scrubs and their benefits. While selecting the right body scrub, check the ingredient list and make sure it suits your skin type. Also, always use a good quality organic body scrub and avoid chemical-based ones altogether.
Read more: Herbal Oils- Explained In Detail