Last Updated on May 9, 2023 by Umer Malik
Drop Cloths needed for Painting Projects
This article lists the best uses of a drop cloths for painting purposes.
Drop cloths are useful for containing paint messes while painting a home. A drop cloth is another useful tool for maintaining a tidy and orderly work area. In this article, we'll go over the many uses for drop cloths, including painting, and offer advice on how to select the best one for your specific situation.
Drop cloth at a glance
Drop cloths are large pieces of cloth that are laid over surfaces to prevent spills and messes. You may even use it as a makeshift desk to get things done. Cotton and canvas are typical tarp materials for them, but synthetic alternatives are also available.
Large pieces of cloth (often canvas) or plastic can shield floors, worktops, furnishings, and other surfaces from drips and spills during painting. The draperies protect these areas from paint splatter. When you've finished moving everything out of the room, it's time to lay down the drop cloths.
Cleaning the surface to be painted is the next step in the painting preparation process after clearing the space. Removing everything from the room save for the most difficult or largest items to relocate, like the largest pieces of furniture, is the norm. It can protect the floors and any leftover items before more supplies are brought in, and the job is completed.
Canvas drop cloths
Expert painters typically utilize canvas drop cloths. Canvas is extremely resilient because it is crafted from strong cotton canvas fabric that can soak up paint drippings without letting any paint through.
It is possible to find canvas drop cloths with a rubberized butyl backing, which improves their traction on slippery surfaces. In addition to their usefulness, they reinforced with rubberized butyl will persist for years. Yes, you get what you paid for.
Further, the cost of canvas drop cloths is typically higher than alternative materials. Despite this, they are unquestionably valuable. Because of these benefits, canvas drop cloths are highly recommended.
Adaptable:
Intended for use in both enclosed and open spaces.
The material absorbs more fluids than any other.
Provides better security by gripping the floor.
Plastic drop cloths
These are sheets of polyethylene used to protect flooring and furniture from paint, dust, and other debris during home improvement projects. As a bonus, it can shield your furniture and other belongings from paint drips and spills. The clothes come in a variety of sizes and can be tossed out after one use. There are a number of benefits to using a plastic drop cloth rather than a canvas one.
Plastic drop cloths are typically the less expensive and more functional option. They are lightweight, simple to install, and frequently expendable. There are also variations that are more resilient and resemble tarps. In addition to being unsightly, plastic flooring can make it difficult to move around a home. It could take more time to finish the project if they additionally need to be fastened in place. In contrast, they are great for protecting floors and furniture during interior and exterior painting.
Considerations when selecting drop cloths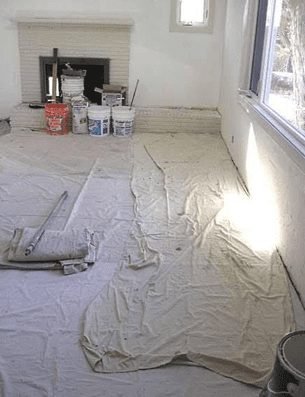 There are two primary materials to select a drop cloth: plastic and canvas. Both types can prevent your space from being ruined by splatters and spills, while each has pros and cons.
As a general rule, plastic drop cloths are less expensive but serve a narrower purpose. Plastic drop cloths are convenient since they are lightweight, easy to use, and in many cases, disposable. Therefore, a disposable plastic drop cloth could be the best option if you don't plan on using them for future painting projects.
They are the most robust variant that can last for a longer period. Indoor floors tend to be exceedingly slippery and should be avoided at all costs. It may take more time to put them up because they need to be taped down to stay in place. They are, on the other hand, work wonderfully as furniture covers and as outdoor paint shields.
It's common practice for competent painters to use them. They are long-lasting and adaptable, so you can use them to cover anything from your floors to your couches. Search for a canvas material with a rubberized covering on the back to prevent slippage and bunching.
Due to the fact that canvas products are built to withstand repeated uses, they are more environmentally friendly than plastic alternatives. They may be more expensive initially, but in the long run, they are well worth it.
Apart from this, if you are interested to know about Inspiring Healthy Lifestyles then visit our Lifestyle category.