Last Updated on February 26, 2023 by husnain
6 to 12 months
At this age, interactive rugs and mats in bright colors are the best choice. They will attract the attention of the crumbs with sound and light effects, helping to learn about the world and form sensory reactions. A good option would be colorful mobiles that are installed in a crib. Smooth movements and soothing melodies will help the little one to calm down and fall asleep faster. Elements of interactivity also showcase musical pots, magic cubes and rattles. For this age, a great choice will always be pikler triangle.
12 to 24 months
This is a period of rapid mental development and increased mobility of children. Therefore, interactive toys should stimulate the baby to comprehend something new, master fresh information and form important skills. What can be recommended for this age:
"Smart" pets, able to move, sing, speak, react to the child's actions;
talking dolls and bobbleheads;
educational panels with light and sound effects, built-in functionality for learning colors, geometric shapes.
2 to 3 years old
Kids of this age gradually expand their horizons, and primitive toys cease to interest them. Good choices for the age group would be:
musical instruments – drums, playing pianos, xylophones, accordions, guitars;
multifunctional toys – educational phones, play centers that allow you to learn numbers and letters.
3 years and older
At this age, a leisurely preparation for school begins, so educational interactive toys should take their rightful place in the house. Special children's tablets and smartphones, game globes and electronic posters will help to master new knowledge in an easy playful way. Children's robotic technology is popular – with it, children can learn the basics of programming, find original solutions and experiment.
Here, we are representing 3 very interative toys which can do really great for your child.
Interactive robot Movi "Think and Learn"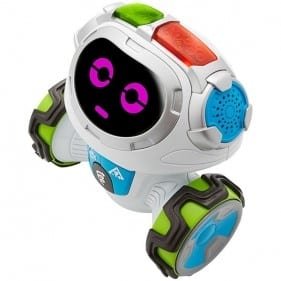 Discover the amazing world of robots and smart toys with the digital man Movi, who can move, change facial expressions and give kids sports challenges. The robot's electronic piggy bank contains 6 entertainment programs that allow children to transform into different animals and take part in exciting quests. The versatile tasks that Movi distributes aim to develop critical and creative thinking, memory and attention, coordination of movements and control of your body.
Pros of the toy:
several categories of tasks of varying difficulty;
attractive futuristic design;
impressive lighting and sound effects;
full-fledged developmental programs to prepare for school.
Minuses:
not suitable for children under 3 years old;
high purchase cost.
Smart Stages Puppy Scientist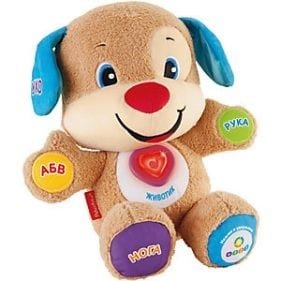 The smart puppy from Fisher-Price manufacturer is the best interactive toy for the child dreaming of a pet. Realistic design, soft textiles and interactive functions work for the overall result – to give the little one the joy of communicating with a plush friend and help form important skills. The toy works based on the three-level Smart Stages technology. The first level is considered the easiest – it develops the baby's curiosity, encouraging repeating sounds and pronouncing the first words. The second level is following the simple instructions of the electronic puppy, and the third is the early role-playing games and tasks to develop the imagination.
Pros:
a large number of songs and "talkers";
helps to learn colors and body parts;
several training levels;
good-natured appearance.
Minuses:
can not be washed;
does not turn off with one click;
too sensitive button on the leg.
Important! When choosing a toy, pay attention to the volume of the soundtrack and the saturation of the body shades. Too bright colors and loud sounds can be a strong irritant for the little one.
Game table Weina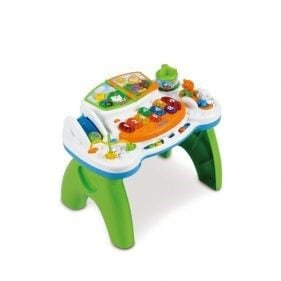 Weina's transformable toy can be used in two formats. The standard version is an interactive table that can be easily converted into a game panel after removing the legs. Together with a musical device, your little one will learn what numbers and primary colors look like, and learn to recognize the shapes and sounds of musical instruments. Multi-colored bulbs, bright details, sound effects will captivate your child for a long time – the toy will become a favorite for a long time.
Benefits:
convenient collapsible design;
high quality impact-resistant plastic;
development of fine motor skills of hands, ear for music and a sense of rhythm.
Disadvantages:
difficulties in setting up the microphone;
there is not enough weight on the legs.
In general, all interactive toys have one significant drawback. This is a high cost due to complex design and software costs. If you are unsure of which interactive toy to buy for your child, consider renting it. So, you and your little one can test your favorite model and leave it at home for a week, a month or even longer. Toyrent offers a similar service in Moscow – choose a toy from the online catalog and save yourself from additional expenses!
We hope you have got a good idea on choosing interactive toys for your child. Please let us know if you have any further query.