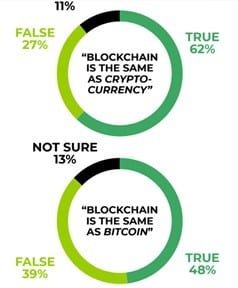 Last Updated on September 13, 2023 by
Vorhaus Advisors, a Los-Angeles-based digital media consulting company, entitled, "Untapped Opportunities: Games, Virtual Goods, and Blockchain" with the purpose of assessing "the level of interest in blockchain-enabled features in games." The results showed that a whopping 75% of American adults in the sample population have no idea what blockchain is.
The survey also revealed that almost two-thirds think blockchain is the same as digital currency while 48% equate blockchain with Bitcoin. Only 25% of Americans aged 18-34 have actually used blockchain products and services. Although the numbers may not seem promising, the power of blockchain technology will soon be known to people as more and more are realizing its value.
Online Gaming on the Bitcoin SV Blockchain
While many industries have suffered greatly due to the coronavirus pandemic, but the online gaming industry experienced tremendous growth in 2020 due to the lockdowns and the scores of people opting to stay in and work from home.
According to gamesindustry.biz, "game sales across 50 key global markets rose by 63% in 2020, with sharp spikes experienced as countries went into some form of lockdown." These spikes are seen in France as its digital downloads increased by 180% and in Spain and Italy where digital sales rose by 142.8% and 174.9%, respectively. Online gaming users also grew tremendously as gaming portal Paytm First Games reported a 200% increase in users.
These statistics show that online gaming is a booming business, and as it booms, the data generated is massive in volume. The Bitcoin SV blockchain is the only blockchain technology that can handle this kind of large-scale data at very low fees. Coupled with its stable protocol and enhanced security system, Bitcoin SV creates a better and safer gaming experience.
The Bitcoin SV Blockchain Expands to the Middle East
Although the survey indicates a lack in awareness in blockchain technology, it is not going to be a deterrent for Bitcoin SV. Online gaming is but one industry that will benefit from the Bitcoin SV blockchain. And people will start to understand the true power of blockchain technology.
And as blockchain technology gains a foothold in the Asia, Australia, North America and other continents, Bitcoin SV has already spread its wings to the Middle East as it showcased its use for various businesses at the prestigious Ritossa Family investment summit attended by members of royal families and other prominent families and investors. Next up, Bitcoin SV will conquer the financial capital of Switzerland, Zurich, through its Bitcoin SV conference scheduled this year.