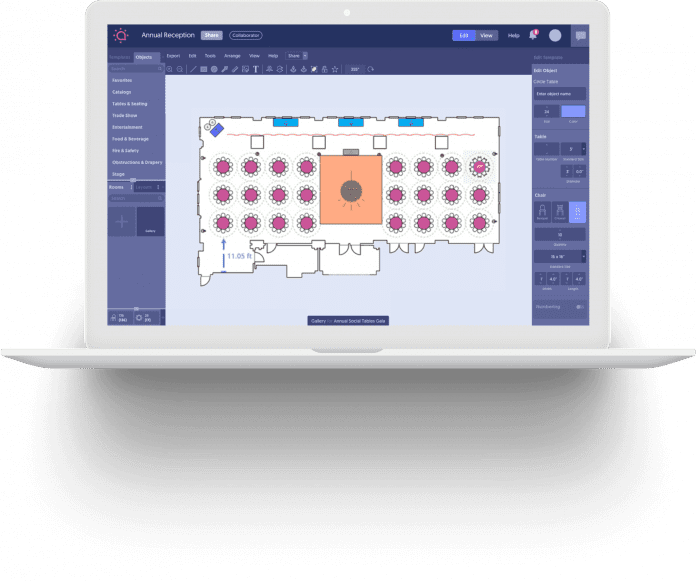 Last Updated on October 15, 2022 by
Are you looking for a way to organize and manage your events more effectively? If so, you may want to consider using event management software. Event management software can provide a range of benefits, including streamlined event planning, increased efficiency, and improved communication. In this post, we'll discuss the benefits of using event management software and how it can help you improve your event planning process. Let's get started!
Help in planning and organization
As anyone who has ever planned a big event knows, there is a lot that goes into making sure everything runs smoothly. From choosing the venue and catering services to booking entertainment and handling logistics, it can seem like there are endless things to keep track of. Luckily, modern event management software makes it easier than ever to streamline the planning process and stay on top of all your tasks.
With features such as task assignment, calendar integration, event networking app, and streamlined communication between team members, this software can help you get things done in less time and with fewer headaches. Whether you are organizing a small family gathering or a large corporate convention, event management software is an indispensable tool that can make your planning process more efficient and effective. So why not try it out today? You'll be amazed at how much easier your next event can be!
Track and manage the data
Managing an event can be a challenging task, with lots of moving parts to consider and keep track of. Managing RSVPs, managing the guest list, tracking payments and receipts, creating event-specific marketing materials, finding appropriately-located venues—it can all seem overwhelming at times. But with the right software to help manage events, these tasks are much more manageable.
Such event app platform allows you to easily send out invitations and gather RSVPs from your guests, as well as manage multiple events from one centralized location. It can also help you keep track of who has paid for their tickets or day passes, and make it easy to create engaging marketing materials specific to your event. Whether you're planning a large fundraiser or just a small birthday party with your closest friends and family, investing in a software program to help manage events will make your life much easier!
Easy invitations and registrations
Having to plan an event can be a daunting task, especially when it comes to managing the logistical details like invitations, RSVPs, and online registration. Thankfully, there is a growing number of software programs that make it easy to create and send custom invitations quickly, as well as handle all aspects of online registration for your event. With features like advanced customization options for your invitations and automated reminders and confirmations for registered guests, these programs make it simple to keep track of who has signed up and ensure that no one is left out.
Whether you are planning a small gathering or a large conference, this software can help streamline the process from start to finish so you can focus on what really matters: delivering an amazing experience for all those in attendance. So if you have an upcoming event and need some help managing all the details, be sure to check out these powerful software tools today!
Generate Reports
At any large event, from conferences and trade shows to festivals and concerts, it's critical to be able to track key metrics like attendance and revenue. This can be difficult without the right tools in place, but with the help of event management software, you can generate reports that show exactly how well your event is performing. Not only can this software help you to track important metrics like ticket sales and vendor revenue, but it can also enable you to get comprehensive data on things like demographics and travel trends.
Furthermore, many programs are designed to integrate seamlessly with other industry-specific tools, making it easy for event organizers to access the information they need to improve their events in the future. So if you're looking for a convenient way to keep track of all your important event data, look no further than event management software. With its powerful reporting capabilities and wide range of useful features, this tool is exactly what you need to manage large events effectively.
Connections with parties
As any event planner knows, a successful event requires coordination between many different vendors. From caterers to florists to audio-visual technicians, each vendor plays an important role in making your event a success. But finding the right vendors can be a challenge, especially if you're planning an event in a new city.
Fortunately, there are now event management software programs that can help take the hassle out of finding vendors. These programs allow you to search for vendors who provide the services you need, and they also provide reviews and ratings to help you choose the best ones. So if you're looking for an easy way to connect with top-quality event vendors, be sure to check out the latest event management software programs.
Read More: The Fundamentals Of Planning For Your Next Virtual Event