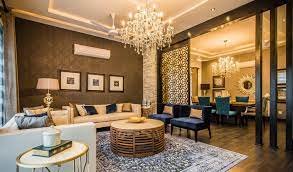 Last Updated on February 11, 2023 by Faiza Murtaza
One of the things that makes a house a home is the decorations. In interior design, You get to incorporate your personality, memories, and style into each room. However, sometimes your vision doesn't end up looking quite right once you make it a reality. There's a reason an interior designer has training. Designing a room isn't easy, but a few tips and tricks from an interior designer can help you step up your design game.
Start Neutral
If you love the vibrant, creative decor, start with a neutral base. Having a clean foundation will give you more opportunities to explore accessories when you visit an online interior shop. It also makes it easier to change out your decorations seasonally. Neutral doesn't have to mean plain white. You can select paint in the ivory, tan, or grey family.
Keep It Odd
No, you don't have to make your decorations bizarre. However, you should keep things grouped in odd numbers. Groups of three are the most common in professional design because they make your eyes explore the display. Even-numbered groupings are not as visually stimulating.
Balance Over Symmetry
While symmetry has a certain beauty, it isn't always the best choice when designing a room. Having items perfectly centered and even can make your space lack personality and intrigue. Rather than making everything perfect, make your decor balanced. Combining some offset, textured, and mismatched pieces will draw your eyes around the room.
Mirror, Mirror
Try to incorporate mirrors into your design. The bigger the mirror you can fit, the better. The reflective surface will create the illusion of a larger room and bounce light around to make a room glow. Using mirrors is especially important if there are not many windows.
Space Case
The layout of a room can be just as important as what furniture is in it. Select furniture that is an appropriate size for the space you have. Incorporating pieces that are too large or small can look out of place and disrupt the flow. Make sure everything is in proportion and that you have enough room for walkways. For extremely large rooms, you may need to establish different zones to make them feel balanced.
Try Before You Buy
It's helpful to bring home samples of whatever you can. Not only can things like flooring, paint colors, and fabric look different outside of the store, but they may also not all mesh as well as you imagined. Try bringing samples into your room together. Then be sure to view them in the daylight and at night.
Light It Up
Lighting can be a vital part of a design. Layering and using a variety of light sources create a better ambiance. Be sure your lighting suits the size and shape of your room. For instance, uplighting can make a small room feel larger while pendants create height. For a cozier feel, add lamps and clustered lights.
When it comes to decorating, there is no definitive rule book. You can take inspiration from others, follow a few tips, and make it your own.
Apart from that, if you want to know about Choosing Interior Designer then visit our Home Improvement category.