Last Updated on July 21, 2023 by
Unstitched Clothing seems to be the hot topic these days. Pakistan's fashion industry is thriving because we all want to wear branded, stylish, and appealing clothing. In Pakistan, there are numerous stitched and unstitched brands that offer fashionable, sophisticated, and current apparel to meet the needs of fashion-conscious women. Many reputable Pakistani Embroidered Clothing companies are gaining international acclaim.
No matter how many great outfits you have in your closet, you'll never have enough to go to all the unexpected events that come up on your calendar. This, we believe, is a gender-neutral story that applies to everyone on the planet. But what if you knew where to find the best 3 piece clothing brands at the best prices, allowing you to satisfy your wardrobe desires on a regular basis?
Here are the topmost best value for money clothing companies in Pakistan that you should consider:
Khaadi
Khaadi has established itself as one of Pakitan's top brands since its inception in the clothing industry in 1998. They have a big online dress shopping store but It all started with a hand-woven kurta. It has since evolved into a popular fabric for practically all forms of women's clothes. Khaadi has a wide range of clothes for all sorts of occasions.
Their unstitched range is one of the best in Pakistan. This red printed 3 piece speaks for itself. Unlike silk clothing, this is a lawn dress that is more breathable. The intricate pattern on the front, back and sleeves along with the printed dupatta is the best casual and semi-formal wear for a party.
Zaaviay
Zaaviay is a leading women's clothing company in Pakistan, focusing on long-term client relationships as well as strong ethics and beliefs. This brand in short is the best Pakistani Clothing Brand on the online market. The all-encompassing consumer experience provided by Zaaviay has a long-term impact on Pakistani women's dreams and desires for style and quality.
Their new collection Parishey (Chiffon Embroidered Festive Wear) is full of unstitched and stitched clothing that leaves you speechless. The dress above is the perfect example of what they have to offer. An embroidered three piece dress with a chiffon pink shirt with bell sleeves and a beautiful neckline accentuated by beautiful buttons. It is paired with a tulip shalwar and a heavily embroidered dupatta with border cutwork.
Gul Ahmed
GulAhmed has been in business for a decade and is one of Pakistan's most well-known men's and women's clothing labels. Gul Ahmed is well-known for its vibrant patterns and embroidered shirts.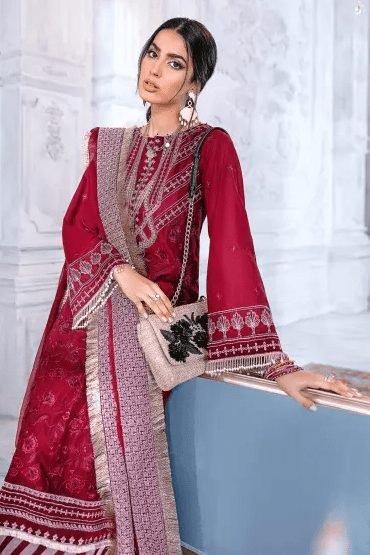 This dress is part of Gul Ahmed's unstitched collection as it represents the quality and beauty of their overall collections. This brand never ceases to amaze their customers as they have built a loyal and constant fan base through their clothing.
Ethnic
Ethnic by Outfitters is one of Pakistan's most well-known and rapidly expanding women's clothing labels. Raw silk dresses, lawn wear and much more are a part of this extraordinary brand. This three-piece unstitched outfit includes long shirts, pants, and dupattas. Furthermore, the entire design of the women's dresses is created with outstanding designs and colors that make them appear to be brand new.
Ethnic offers a diverse range of unstitched suits online, styles in high-quality fabrics. Ethnic sells embroidered casual clothing for a startlingly low price.
Bareeze
Bareeze is a well-known clothing company that specializes in high-quality, one-of-a-kind fabric designs for women. Bareeze's seasonal collection is lovely and full of embroidered work, and young girls and ladies adore the new clothing designs. It offers unstitched shirts and unstitched outfits for women of all ages. It is the best women's clothing company, with collections suitable for both casual and formal occasions.
The dress above is a printed two or three-piece as per your order. The lawn fabric is perfect for a hot summer day and the unstitched quality is unmatchable. The floral patterns are ideal for a casual gathering and party so wear them when you desire without feeling uncomfortable.
Alkaram Studio
Alkaram is one of Pakistan's leading unstitched clothing companies for women. The company's digital lawn printed line, which includes chiffon, silk, and embroidered pieces are well-known for festival events. The 3 piece ladies suits for the summer and winter collections are made with exquisite patches of embroidered designs, dazzling cuts, and laces.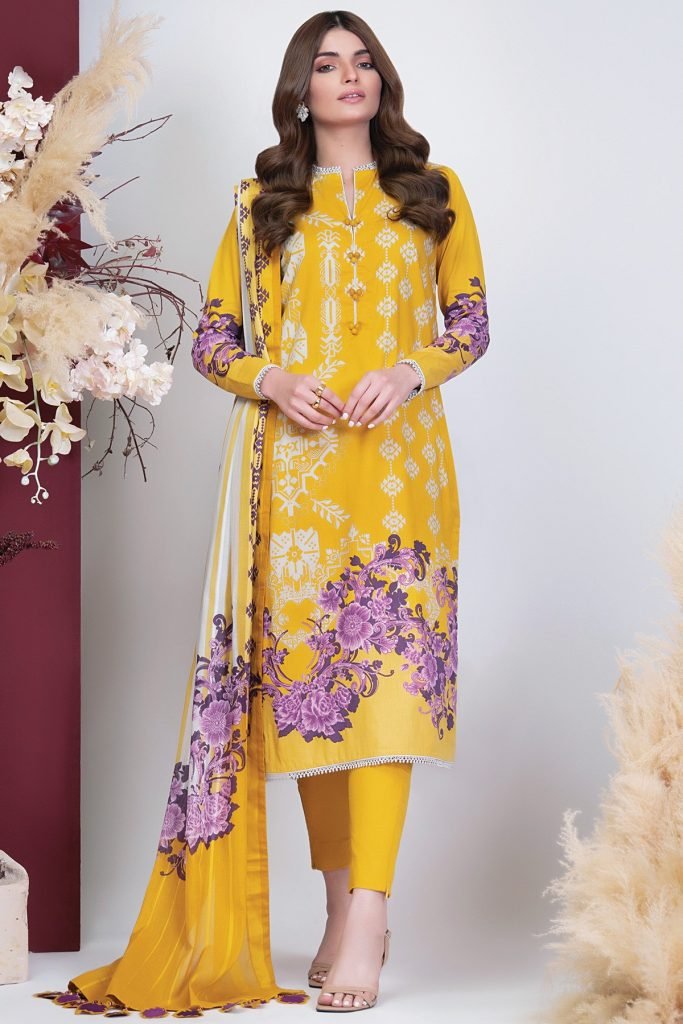 Yellow is the most summery color and this outfit truly shows that. This light and bright dress is the perfect wear for a hot summery day and any summer party you can think of. Get it now before it's too late.
Saphire
Saphire is a popular brand among women of all ages. Because of its soft and high-quality fabric, distinctive designs, larger printing, and color contrast, it is a popular choice for everyone. It includes everything from casual to formal attire and fashion clothing. Sapphire rose to prominence shortly after its introduction. The unstitched collection is the most popular, with fashionable and elegant patterns, while the stitched collection has more traditional patterns. Shoes, handbags, accessories, and clothing are also available at Saphire.
This dark green canvas is topped with a bold and elegant pattern, resulting in a smoldering festive ensemble. This will look good in all major Pakistani gatherings and events so don't forget to show it off.
Beechtree
Beechtree is one of Pakistan's most popular clothing businesses by 2021. Their women's clothing stores are a great hit. It features a great selection of stitched and unstitched floral designs that are both fashionable and cool, and the color contrast makes it suitable for both winter and summer.
Light Blue lawn suits are the best option in this hot summer. This two piece brings out the fashion diva from within you and enhances your style. Enjoy your summer parties with this lovely light blue lawn 2 piece.
Nishat Linen
Because of its fascinating designs, Nishat is a popular choice among the upper-middle and upper-class. This brand is perfect for online dress shopping. Its formal line has a distinct combination of styles and less ostentatious craftsmanship. The material is also durable. The Nishat group of companies is one of Pakistan's most well-known brands.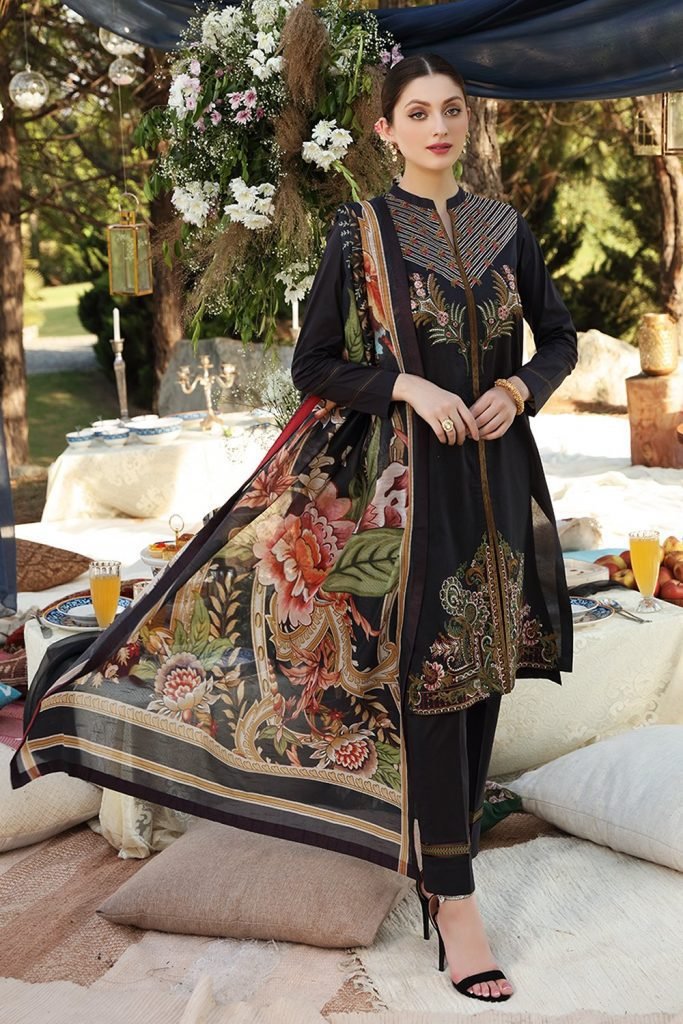 Looking for something more formal/semi-formal? Look no further, nishat has got you covered with their extravagant embroidered suit. This cambric dress is a deal-breaker that's both affordable and lavish so grab it while you can.
Kayseria
Kayseria is well-known for its embroidered art and cultural representations. They have exquisite, one-of-a-kind patterns that make any woman appear elegant when wearing keyseria. Their three piece women's suits are amazing and feel good to wear. It is well-known among Pakistani clothing companies.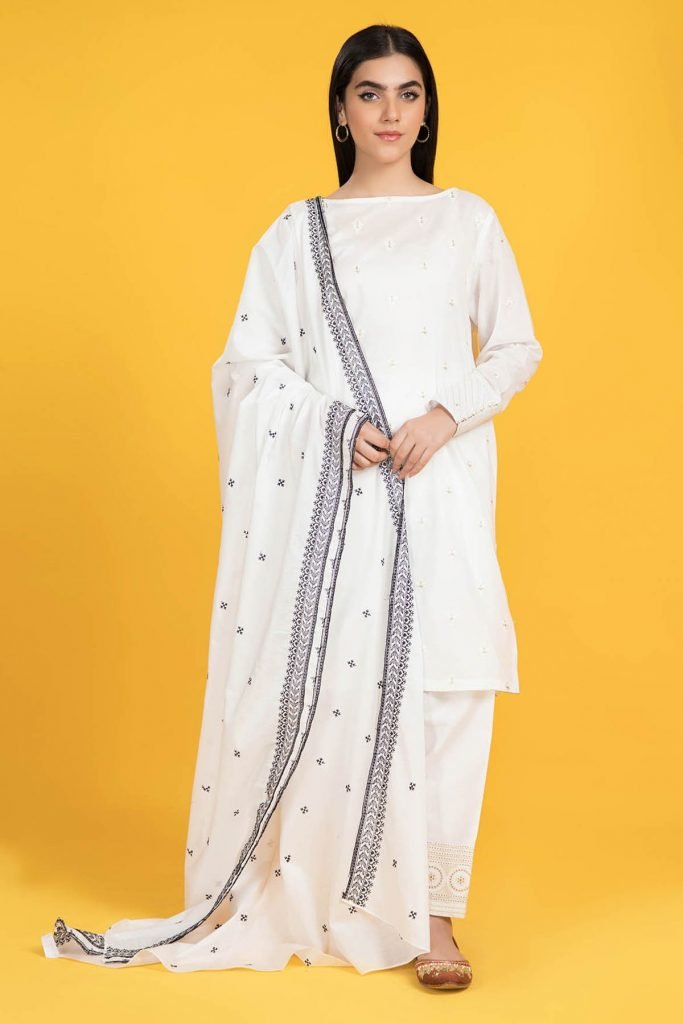 White is elegant and the ideal color for summers. Enjoy this elegant and affordable white two-piece by Kayseria to look simple and unforgettable at your special events.
In Pakistan online shopping has never been easier with the availability of so many brands just one click away. It's right to say that Pakistani Clothes online shopping are the future of Pakistan as many brands bring their best outfits at very reasonable prices at your disposal. Nowadays you don't have to go to a million shops a day just to find the dresses made for you. Frankly, no one has that much time and energy to do so. Just sit back in your home and enjoy online shopping for Pakistani Dresses without any worries.
Apart from this, if you want to know about Top Fire Safety Brands in the Nordic Region then please visit our Fashion category