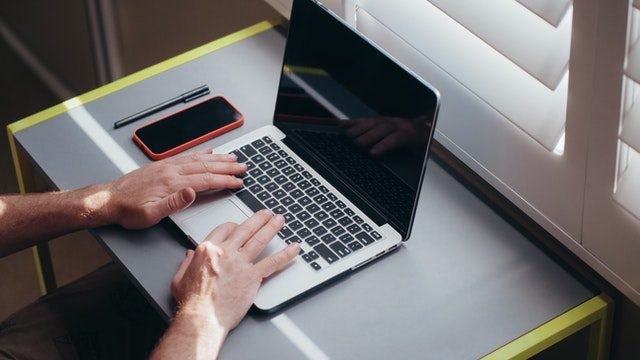 Last Updated on February 13, 2023 by
Transferring your data or contacts from one device to another might be a bit challenging for you. Many individuals have the right to copy all the contacts by adding them manually one at a time.
This particular process is a good one, but it's pretty time-consuming. But now, there is no need for you to follow this specific technique when you have Dr. Fone by Wondershare beside you. The tool will allow you to instantly transfer data from iPhone to Android, iPhone to iPhone, Android to iPhone, or iPhone to Android.
So, if you are thinking about how to transfer contacts from iPhone to Android, you will learn about it through this article. You will also gain knowledge about the features of Dr.Fone-Phone Transfer.
Why Should Transfer Contacts Or Data From One Device To Another?
There are many fundamental reasons that you will come across when people transfer contacts from iPhone to Android, and to know what these reasons are, please check the information provided below.
It Will Keep All Your Data Safe:When you transfer all your data from one device to another, it will allow you to keep your data safe. If your other device faces some issues that erase all the data on that device, you don't have to worry because your contacts and data will be saved on a different device. This stands out as one of the main reasons why transferring your data is so important.
Selling Your Old Device:When you decide to sell off your old device, it will be better to transfer data from Android to Android or vice versa to avoid losing them. Once you complete the transferring work, you can also delete all the data or contacts from that device to don't fall into the wrong hands. After that, you can sell the device in a hassle-free and stress-free manner.
How To Transfer All Your Contacts From iPhone To Android Through Dr. Fone?
The process of transferring all your data or contacts from one device to another is not that challenging. But there are some ways you can get it done. Please check the information below!
Step 1
If you want to learn how to transfer contacts from iPhone to Android, you need first to download the Dr. Fone application into your system and complete the installation process. After the installation process, you have to launch the software or tool on the welcome screen and use the "Phone Transfer" option.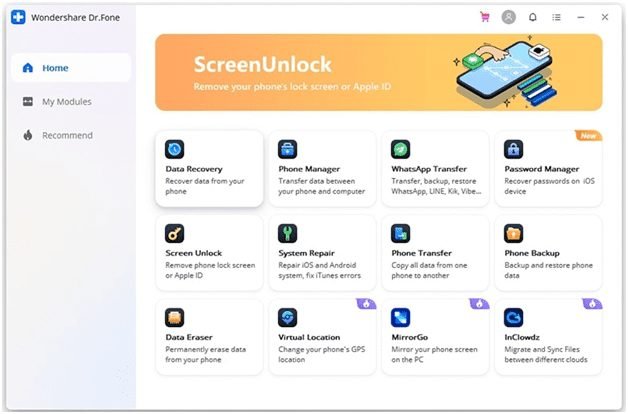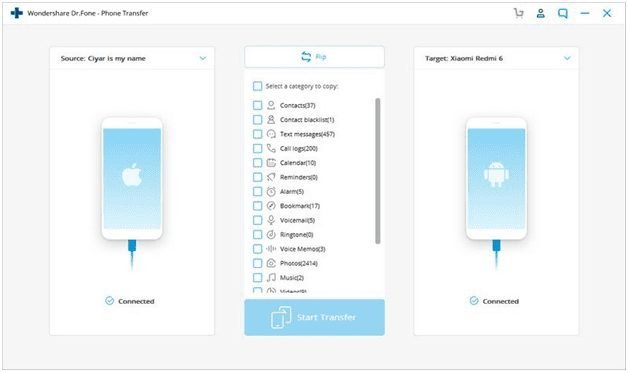 Step 2
After selecting the "Phone Transfer" option, you have to connect the Android and iOS devices with the system. You can take the help of a USB cable to connect the two devices with the laptop or PC to transfer. Once the devices are connected, Dr. Fone will automatically detect them.

Step 3
Under this particular step, you have to choose all the data or contacts you want to transfer to the new device under this specific step. After that, you can press on the transfer option to begin the process.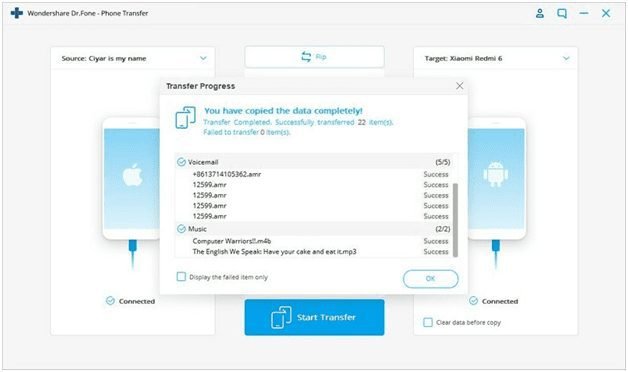 Step 4
Now, you have to wait for some time until the entire transferring work is completed. Dr. Fone will take a few minutes to complete the process, no matter how big your contact list or data is. Once the transferring work gets completed, you will receive a notification from the software itself.
Unique Features Of Dr. Fone
Now, you already know how to transfer contacts from iPhone to Android and iPhone to iPhone through Dr. Fone. Look below! Now, through this section, you will learn about the various features of this particular software.
WhatsApp Transfer:Through this feature, you will not only just get the chance to transfer all your WhatsApp data, but also can transfer data from Kik, Viber, Line, and WeChat. You can transfer things like chat history, messages, pictures, videos, and even images. The features will work perfectly on both iOS and Android devices.
Screen Unlock:Did you forget the password or code of your phone? Don't worry, the screen unlock feature will help you through it. Whether it's a combination, code, or passwords, this particular feature will surely quickly remove the lock screen from iOS or Android devices.
System Repair: The System Repair feature will allow you to repair or fix numerous problems that occur within your Android or iOS system. You can fix issues like boot loop, black screen of death, or various other things.
How to switch iPhone to an Android phone ? Some Tips
Switching from an iPhone to an Android phone can be an exciting change, but it also means that you'll need to transfer your important data and contacts to your new device. The process can seem daunting, but with a few simple steps, you can have your contacts and data transferred to your Android phone in no time. Here's what you need to do:
Backup your iPhone: Connect your iPhone to your computer and open iTunes. Click on the device icon and select "Back Up Now." This will create a backup of all your contacts, photos, and other important data.
Transfer contacts: You can transfer your contacts from your iPhone to Android using your Google account. Go to "Settings" on your iPhone, select "Mail, Contacts, Calendars," and then add your Google account. Your contacts will be automatically synced to your Google account and can be easily accessed on your Android phone.
Transfer photos and other data: You can transfer your photos and other data to your Android phone by connecting it to your computer and copying the files over. Alternatively, you can use a cloud storage service like Google Drive or Dropbox to upload and access your data on your Android phone.
With these simple steps, you can easily transfer your contacts and data from your iPhone to your Android phone. The process may take some time, but once it's done, you'll be able to enjoy all the features and benefits of your new Android device without worrying about losing any important information.
Summing Up
Wondershare Dr. Fone is a smart, reliable, and trusted software, which can transfer all your contacts or data from one device to another. Whether it is Android to Android, iPhone to iPhone, or vice versa, the tool will get the transferring work done quickly and effectively. You don't require any extra skill or knowledge to conduct the transferring process, and it will not take much time. On the other hand, the tool is used by hundreds of individuals across the globe. Apart from that, the software comes with many unique features, and you can download it for free from its official website.