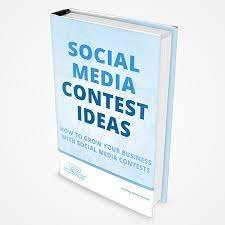 Last Updated on December 20, 2022 by Faiza Murtaza
Since most businesses are using social media contest ideas to market nowadays, it can be a competitive game. However, there are social media strategies that you can use to help make your social page more profitable for your business. 
While sharing eye-catching posts and quality photos is great for your social media presence, you'll also want to make sure that you're creating content that users will want to interact with. The more interactions (or engagement) that you get on your posts, the better your page (and your business) will do.
One awesome way to boost engagement on your social media page is to hold contests that incentivize followers to interact with your page and create an even larger audience in the process. Here are some fun, simple social media contest ideas that will drive your engagement all the way up!
Like/Share/Comment to Win
For most social media platforms, including Instagram, TikTok, and Facebook, the more interactions your posts get, the wider the audience they reach. While a particularly great Instagram post (like these free options from MustHaveMenus) might organically garner a bunch of likes and comments, you can create a post that truly incentivizes users to like, comment, or share for their own benefit.
Come up with an enticing prize for followers – be it a gift card, a coupon, merch, or a free product or meal. Then, instruct users to like, repost, or comment on the post as their entry to win. Provide a deadline, and once the deadline hits, choose a user at random and announce their win on your page! Not only will your post get tons of engagement, but people who've entered will have your page on their radar as they continue to check in on the status of the competition.
Tag a Friend to Win
Having users like and comment on a post is wonderful for boosting engagement, but an even better contest incentive involves having users tag other friends on your post — especially if your goal is to gain more followers.
Create a contest wherein users must tag at least three friends (or as many friends as they want) on your post in order to get a chance to win your prize. This will help you gain new followers and get plenty of unique views on your page!
Collaborate With Other Companies
A dual contest is a win-win for everyone. There are a few ways to create a collaborative social media contest.
You can team up with a like-minded, non-competitor business (like a nonprofit organization teaming up with a brewery) and instruct users to follow that business' account for a chance to win. Likewise, they'll tell their followers to hit follow on your company's account. In the end, you'll each get to select a new follower as a winner!
You can also collaborate with a prominent influencer within your business' niche to do a similar competition. You can have the influencer promote the competition prize (whether it's a new product sample, gift card, or discount code) and ask their audience to follow your business for a chance to win.
UGC Competition
Resharing user-generated content (UGC) is a wonderful social media strategy because it takes the effort out of creating content and helps you interact directly with customers. Take this one step further and announce a photo competition.
Have users share photos or videos of your products and instruct them to tag you and use your hashtag to win. Then, reshare each qualifying post on your Instagram or Facebook stories to promote your happy customers and choose the best photo as the competition winner.
Tell Us Why You Love Our Brand
While selecting random winners is fair and easy, you can also create a social media contest with a little more integrity or emotional appeal. Ask followers to either comment on a post or direct message your account sharing their positive experience with your business.
This can be a wonderful way to learn more about what value your customers are seeking from your company, and it can show newer followers just how much your products/services could benefit them.
Live Video Random Draw
Instagram, Facebook, and TikTok all have live video features. A live video is wonderful for engagement because it shows unfiltered, raw footage, which gives your brand a more authentic feel. Take this a step further and announce online that you'll be going live ahead of time.
Tell followers that if they join the live video as a viewer, they'll have a chance to win a special prize. Either select a user at random or ask viewers to comment a specific word or emoji in order to win. Announce the winner at the end of your video to keep everyone interested and engaged throughout.
Email Signup Contest
Getting customers to sign up for your newsletter can be hard, especially if they're more apt to visit your social media page than your website. Share a contest that instructs users to follow a link to your website and sign up for emails. Select a new newsletter subscriber at random to win!
Guess Our New Product Contest
If your business sells products, you probably set up a solid social media campaign to announce the launch to your followers. A social media contest is a fantastic addition to your campaign that'll help spread the word. Announce or hint at your new product launch and keep it mysterious for followers — the more curious they are, the more they'll anticipate the product drop!
Create a competition wherein users have to message you with their guesses for what they think your new product will be, whether they're guessing the color of a new lipstick, the flavor of a new beer, or the name of a new song — in fact, you can even go one step further and make it a product-naming competition. Whoever submits the best name for your new product gets bragging rights and a cool prize!
Caption Competition
Customers love to feel like they've got a say in your business and that you care about their opinion. While not all businesses can allow their social media following to come up with the title of their newest product, you can always share a photo and conduct a caption contest.
Share a funny snap of your staff, a great picture of a new product, or something totally random, and let users comment on their most quippy captions for a chance to win! This will garner you tons of comments on your posts — make it even better by requiring commenters to include your business' hashtag in their comments.
Poll-Based Contest
Conducting polls on Instagram stories and other social sites is already a wonderful tool. It boosts engagement because users are forced to click, and it can help you gather some organic information about your customer base.
Create a poll on your social page (especially if you're trying to learn more about what your customers prefer) and incentivize users to vote with a prize given at random.
Create a Worthwhile Competition and Benefit Your Business
Social media contests are easy to create and simple to execute. Start by thinking of your goal for the contest — do you want more followers, to learn more about your customers, to sell more of a certain product, or something else? Then, come up with a suitable prize that users will want and start posting! Your social pages and your business will get a nice boost from all the buzz.
Apart from this, if you are interested to know about Types of Essay Writing then visit our Lifestyle category.