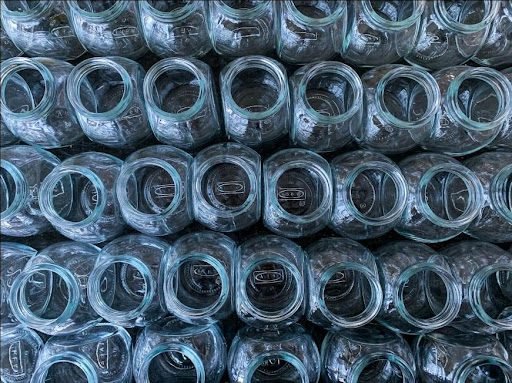 Last Updated on July 29, 2022 by
We can use glass jars in various ways, which most people are unaware of. Glass jars are an easy yet beautiful way to bring flair and functionality to your home and beyond. Glass jars are incredibly versatile, allowing them to be used in any part of the house.
Once your glass jars have served their job, you can use them in many different ways. They can be utilized as cups, vases, or keep leftovers or pantry goods after a deep clean. You can use your creative mind to design glass bottle jars and later use them in different ways. Below, I told you different ways of using glass jars to get a bit more creative.
Use glass jars as decorative storage jars for the kitchen.
You can use glass jars for various purposes in the kitchen. Glass jars will be a perfect choice for storing pantry items such as pasta, spices, baking materials, and even cereal. Not only will you have easy access to these products, but you will also be able to arrange and decorate your pantry and cabinet interiors swiftly.
Now you have to place the lids under your cabinets for extra creative storage space in your kitchen, and after this, you can fill the glass jar with sweets or snacks. For additional storage space, you may even put the jars under shelves.
Use the glass jar to marinate meat.
Marinating meat before cooking is a quick and easy technique to add plenty of flavours. Normally everyone marinades in a small bowl and then combines the meat and marinade in a ziplock bag. But you know what? You can use a glass jar to marinade. Using glass jars for marinating will simplify the marinating process while minimizing cleanup and eliminating waste.
To use a glass jar to marinade, combine the marinade ingredients in a mason jar. Now you have to Blend the ingredients with the use of an immersion blender till ingredients get rich and soft. Refrigerate the meat after adding it to the jar and closing the lid.
Use glass jars as storage jars for the bathroom.
We generally clutter bathroom countertops with a variety of items that you use regularly. Use glass jars of various sizes to store goods such as cotton balls and swabs, toothbrushes, hair accessories, beauty tools, and jewellery to create a practical and attractive storage system.
To provide additional counter space, place the jars beneath existing shelves. Fill a big glass jar with clean washcloths to complement your bathroom decor and place it on the counter or shelf.
Use glass jars as storage jars for the toys.
Colourful high-bouncing balls, marbles, moulded plastic army men, and miniature plastic animals fill a glass jar on a side table, in a den, or on a shelf near a console video game set up to make a whimsical display.
Vintage cereal boxes or snack mix prizes, still in their original packaging, give secure storage and display options for your collection.
Use the glass jar as a vase.
You can create an excellent flower vase. You can decorate a glass jar with glass paint and other decorating materials by using your creative mind. You can use Mod Podge or another sealer to decoupage photographs from a magazine onto a glass jar.
You can also use a glass jar flower vase to be dressed up for the holidays or the changing of the seasons. If you want to make a glass jar vase more stylish, you can use traditional aesthetic jars. Your beautiful glass jar vase is ready.
Use glass jars as antique aspirations.
Vintage items, especially when exhibited in vintage-style glass jars, give an aesthetic appeal to almost any environment. When arranged in a glass apothecary jar, antique glass typewriter key buttons, together with a few vintage fountain pens, make a display fit for a writer or book lover's living room.
Apothecary jars go great with antique spectacles or small tools like scissors or screwdrivers. Antique or vintage buttons, combs, or even pickle forks preserved in glass jars function as excellent conversation pieces in a dining room or living room. You can fill another jar with vintage matchbooks or matchboxes obtained from personal journeys.
Use glass jars as glass jar lights.
Do you want to learn how to assemble fairy lights out of glass jars? Mason jar fairy lights are simple to build and a lot of fun if you want to make mason jar fairy lights. This project is simple, quick, and cheap to complete.
Use soap and water to clean and dry your mason jars. Clean them as thoroughly as possible, then dry them by hand to avoid wet marks. Make sure the inside of the jar is free of dust and dirt. Wait for a few minutes so the jar can get dry.
Now put the fairy light inside the jar. Glass jar lights are ready to use.
Use the glass jars as jar glass water candles.
Make one of these lovely water candles out of any glass jar. They have a wonderful aroma and a beautiful appearance. These candles will add a sophisticated touch to your decorations. Glass jar water candles are too simple to make.
Fill the glass jar approximately 2/3 complete with citrus slices, then fill it halfway with water, leaving about a 1/2 inch of space at the top for the oil.
Now add 2-3 teaspoons of cooking oil into the jar, precisely on top of the water, so that the oil floats. Place one of your floating wicks into the layer of oil after pouring 2-3 teaspoons of cooking oil. Your glass jar water candles are ready, light the wick and enjoy.
Conclusion
For any house, glass jars are a versatile and classic addition for decoration. Glass jars can help you arrange your life and make your living place more appealing. There are many fantastic things you can do with a basic glass jar.