Last Updated on August 19, 2022 by rida
Moving Canada for higher studies? A dream of visiting islands, beautiful waterfalls, alpine meadows, glacier-fed lakes, attractive forest, long beaches, bay, green parks, and gracious mountains surrounded by green bushes makes you excited. Isn't it? That feeling is quite common among every person who is going there for the first time. But there are so many other essential things beyond these you must be familiar with to prepare in advance. Life is not as we expected. It is a new land which may have many challenges you have to face or you may encounter lots of things which you still never know. If you are unaware of these facts it would be hard to survive.
The blog will showcase the most relevant things to keep in mind before flying to Canada. Do you seek aid regarding Canadian Visa? It is good to consult with the Canada study visa consultants in Jalandhar.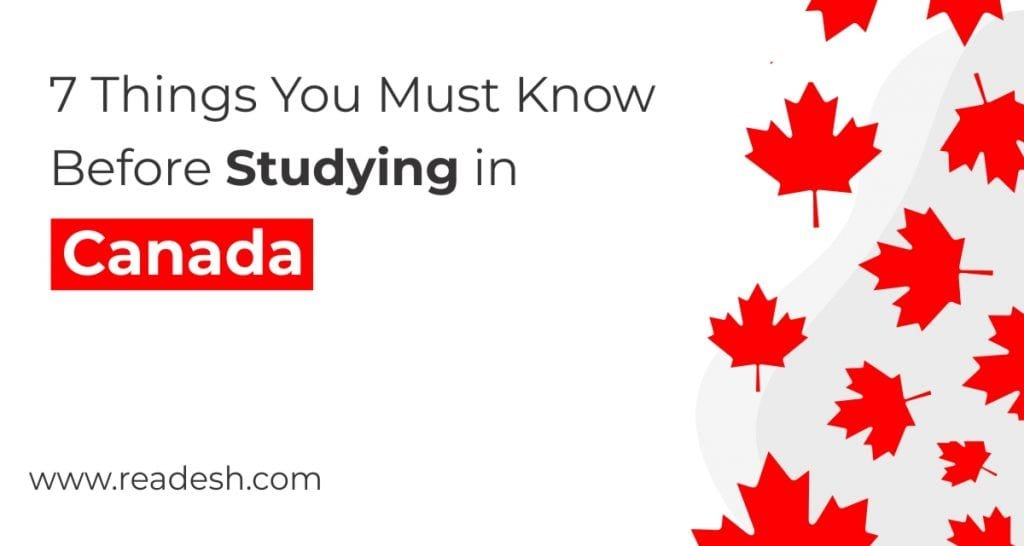 Things Every Indian Student Must know before moving to Canada for study
Canada has two common languages
Canada is known for two official languages. Yes, it is good to know before going there that you may find people speak in different languages rather than English. That particular language is French. Most of the French speakers reside in the province of Quebec. So, don't be surprised if you hear the people conversing in French. If you have any plan to study in Quebec then learn French so that you can make good connections with their natives. Well! It is merely an option if you understand the English language well enough. Sooner or later you will become familiar with the environment.
High acceptance rate of Canadian courses
The acceptance rate of the Canadian courses is quite high. Canada offers many courses. Most of these courses demand easy entry requirements from international students like only a high-school diploma is needed. Besides these, most law or medicine programs demand undergraduate study in Canada. Excellent English language skills and extracurricular activities are an added advantage. Are you interested to get more knowledge regarding Canadian courses or VISA requirements? Please connect with the Canada visa consultants in Jalandhar.
Earn while studying in Canada
Every international student has the authority to do a part-time job while studying in Canada. There is no requirement for a work permit. Whether you want to work on-campus or outside the college or university you are completely free to do until you enrolled as a student. You can work full time once the semester is over. In this way, you can manage your study expenses, accommodation charges, food, and other costs until you get a high-paying job. Additionally, you get professional experience and make connections for future purposes.
Get scholarships for the international students
It can be the dream of study abroad but many students would not take a step ahead because of the study cost. Therefore, the Canadian government and post-secondary institutions provide many scholarships, grants, and awards to help the student to manage their study expenses. Moreover, there are many scholarship schemes specifically launched exclusively for Indian students. One of the best things about these scholarships as International students is that they aren't required to return them. Do you want detailed knowledge on the scholarships or related to studying in Canada, you can clear your doubts from Canada visa consultants in Jalandhar.
Weather could be hot and cool
Oftentimes you hear Canada is too cold. Yes, it is true but only during the winter season. Temperature goes down to minus degrees and roads, trees, houses everything is coated with the white snow. If you are planning to visit at the time of winters pack your bags with heavy jackets, sweaters, or coats. At the time of summer, be ready to encounter 25°C+. Morning can be chilly for some days. You may feel an urge to wear a light jacket or summer. However, you have to take off those warm clothes in the afternoon. Therefore, make sure to prepare for every kind of temperature.
Study Visa Requirements
Many of you are unfamiliar with the concept that a study permit is not required if you aspire to enroll in short-term courses like the period of 6 months or less. You can register for these short-duration programs at any learning institution. If you aspire to register for the programs for more than 6 months you must have a study permit for Canada. Along with it you also need to obtain a temporary residence permit as it is based on your nationality. The processing of this can be done at the time of study permit application.
Healthcare system of Canada
Canada indeed has a funded healthcare system. It offers free services to all permanent Canadian residents. However, everything is not free as you may take the advice of the doctors but you have to pay for buying prescribed medications. It also depends on the location where you stay because some cover the expenses of medications as well.
Conclusion
Hence, our dear students please keep these things in mind before visiting your dreamy land. It is advisable to ask queries from visa consultants in Punjab for deep clearance. One of the best things you will encounter in Canada is that the majority of people are Indians in Canada. So, you will never feel home-sick. Also, Canadian people are very friendly. They welcome everyone with an open heart.
Read More: Girls Scholarships: Closing the Gender Gap Through