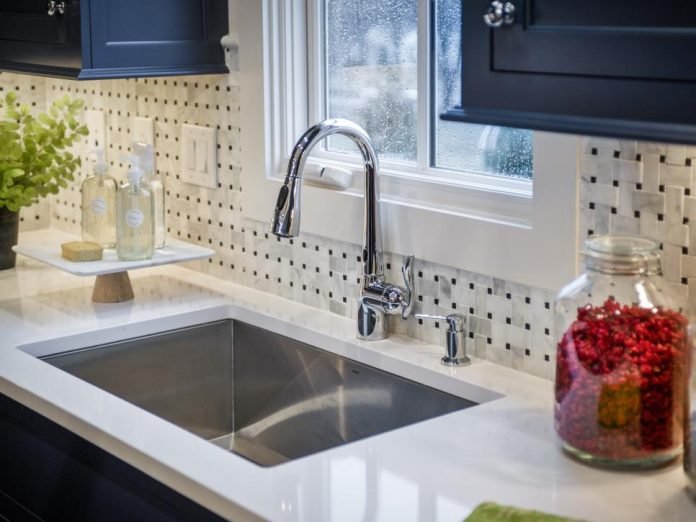 Last Updated on September 9, 2023 by
It's easy to become overwhelmed by the range of decisions that must be made while your dream kitchen remodeling. These separate decisions all have an effect on one another and may make the entire process seem daunting!
Many people find it simple to begin the kitchen design process with countertop choices, however, this can create even more questions! What is the best material for your lifestyle?
Do you require an easy-to-clean stain-resistant surface? What will suit your personality? What types of designs do you like? The considerations seem infinite, but the crucial one is: what material will provide you with the finest mix of elegance, beauty, and maintenance?
Granite Countertops
For many years, granite has been the most popular kitchen countertop material among homeowners.
While there is more competition than in the past, granite remains a popular option among kitchen remodeling contractors due to its natural composition, stunning appearance, and unique patterns. Each slab looks to be distinct from the next, making each item one-of-a-kind.
Granite is a firm, one-of-a-kind natural surface that can endure heat, making it ideal for active families' day-to-day interactions.
While it does not crack or scratch readily, nicking it just right might result in etching or other damage. It is advised to seal your granite countertops once a year, depending on the frequency.
Quartz Countertops
Quartz is a man-made surface that is exceptionally durable, low-maintenance, and robust. Quartz countertops, as opposed to real stone counters, are non-porous.
It is not totally heat resistant and can be damaged if boiling pots or pans are put directly on the surface. Keep an eye on the temperature and protect your surfaces whether partying or cooking!
Quartz countertops may be made to seem like practically any other design, including natural textures and patterns.
Slabs are available in a range of color variants and thicknesses, making them an attractive alternative for any house design.
Solid Surface Countertops
Solid surface countertops are constructed of acrylic, alumina trihydrate, polyester or epoxy resins, and pigments and are non-porous and low-maintenance. It is a low-cost countertop solution with a unified appearance and feels.
Solid surface countertops can resemble the appearance of granite, marble, and other naturally formed materials, yet they lack the depth of detail that actual stone does. This one is another favorite one of the kitchen remodeling contractors!
Marble Countertops
Marble is a smooth, natural stone with fine craftsmanship and subtle colors that has a timeless appeal.
Marble countertops, which are available in both polished and honed finishes, are frequently chosen by homeowners who want to attain a high-end aesthetic.
Marble countertops are a difficult surface for your kitchen or bathroom since they are delicate and prone to damage such as stains, scratches, and heat. To keep these tops in good condition, seal the surface once a year and clean with soap and water on a regular basis.
A butcher block-style countertop may give any home a cozy, cottage-like appeal! Wood counters are perfect for food preparation when properly sealed since they do not contain any harmful microorganisms on the surface.
Wood Countertops
Teak, acacia, cherry, and American walnut are just a few of the wood varieties that may accommodate different appearances and feelings for your surface.
Wood countertops are also frequently utilized by kitchen remodeling contractors in conjunction with other countertop surfaces as a supplementary asset to complement the other designs in the space.
Wood countertops in an all-white kitchen may add warmth while also giving different colors and textures.
Conclusion
The most utilized section of the kitchen is the countertops. The countertop must withstand anything from cutting to cooking in the heat.
Choosing the proper material for the kitchen countertop is critical since it has a significant impact.
Before selecting a decision, consider if you require your countertop to be stain, heat, and scratch-resistant, whether it should be durable, whether it should complement the kitchen's theme, and so on.
With so many options available to kitchen remodeling contractors, selecting a kitchen counter is a challenging task.
Because this surface area influences many kitchen palettes, it's critical to select something that appeals to you, will withstand your household's kitchen activities, and is within your budget!
Read More: 5 Beautiful Benefits of a Dallas White Granite Kitchen