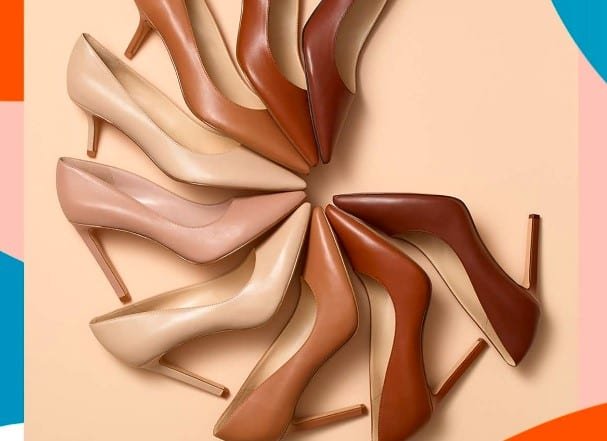 Last Updated on June 7, 2023 by Umer Malik
Nude heels are the classic and the most versatile silhouettes which are the epitome of grace and perfection. They complement everything that is decked in your wardrobe and mingle with impeccable flair without looking overwhelming or ostentatious. The fleshy color of the nude heels can impart the deceptive illusion of having longer and sleek legs which grants a sultry and eye-catching aura to your profile. You can wear them with evening gowns, pair them with your workwear attires or partner them with any casual ensemble to exude a statement persona and a ravishing presence. Apart from the timeless black pumps, nude heels are an exclusive style that will never go out of fashion. They have been created to be invincible forever and rule with dominion over the hearts and feet of women and ultimately, become their identity.
But there isn't any definitive description used to describe the nude shade with precision because usually nude is referred to the color of flesh. And as women have different skin tones, a particular tone of nude heels wouldn't be in compatibility to a different skin tone. To address this issue, Christian Louboutin introduced a collection of nude heels which were demonstrated in all the possible flesh toned shades to the restrictive realm of nude footwear. Other designers soon followed a similar course of action and began debuting the classic nude heel framework in innumerable nude color palettes that would coincide with the skin tone of many different women.
The prodigious shades of nude heels fashioned by the designers and brands can put you in a conundrum having you fretting over as to which nude heels would prove to be ideal for you. For this, you need to determine your skin type and assess which shade would power up your looks and become the ultra-classic wardrobe investment for you. If you are ready to add more nude heels to your shoe arsenal, you need to peruse the article and discover your new favorites.
The NearlyNude sandals by Stuart Weitzman:
Although the models of footwear produced by the prestigious designer are high-end, their iconic structure and compliment-worthy frameworks let you shine and dazzle whenever you step out. The NearlyNude collection of nude heel sandals offer an appealing medley of lustrous shades of neutrals which are accoutered to acclimatize with every skin tone. Furthermore, the comfortable block heel sandal style of these nude heels is available in narrow, wide and medium style options. Choose with precision to make a style statement.
Arlene Pointy toe pumps by Nine West:
Nine West introduced the Arlene Pointy toe pumps in five attractive shades of neutral tones which are designed to complement a varied range of skin shades. The neutral shades are exhibited in the chic and popular silhouettes like pumps and block heeled sandals. These nude heels are further categorized into leather and patent options rendering you with inimitable possibilities to curate the ideal pair of nude heels for every occasion.
Aisla mid heel court by Dune London:
Dune London is one of the leading international footwear brands based in the UK renowned for creating classic and iconic silhouettes which are the quintessential of grace and sheer beauty. The premium quality and expert craftsmanship has propelled its footwear models to stardom.
The brand launched the Aisla mid heel court shoes in a nude color palette which are fashioned in patent structure to grant it a glossy sheen and a standout appeal. These nude heels work beautifully with a host of ensembles at any occasion. The moderate heel height gives you ample elevation in height while being comfy and so suitable for all day wear.
M.Gemi the Lustro nude heels:
If you want a champagne nude heel to set off your looks to perfection and get that ideal leg-lengthening look, then the Lustro nude heels will hit the right chords with you. The high block heel height will give mesmerizing inches to your profile without causing you to flinch with pain. The block heel provides maximum stability to the feet allowing you to walk comfortably even for long hours.
The almond toe structure combined with a polished and patent leather gloss makes these nude heels a real treasure. Their delicate aesthetic and premium quality proffers a luxurious aura to the nude heels, enabling your feet to enjoy the spotlight when you walk in a room. The nude shade complements every dress color palette that you own or want to flaunt.
Jimmy Choo Neutral Romy 60:
If you want to upgrade your nude heel collection and can afford to buy a high end pair of nude heels shoes, then it's time to invest in these enchanting Jimmy Choo Romy pairs. The patent leather structure of the shoes designed in lustrous nude shade has an immediate leg-lengthening effect and are a dazzling sight to behold. The glossy-shine finish partnered with the pointed toe of these nude heels makes even the most underrated and daintiest of outfits come to life.
The timeless neutral shade of the Romy is designed to be in congruence with all your occasions and enhance your profile with impeccable flawlessness. The heel height is moderate and grants you enough stability to walk comfortably for an extended period of time. These shoes are a worthy investment that will serve you phenomenally for many years while ensuring that you are able to impart a stellar and forceful impression whenever you step out.
Concluding note:
Just as a skin-fitting pair of jeans or a black patent leather blazer makes you feel on top of the world, similarly nude heels also grant you that keen sense of confidence which comes with the conviction of looking and feeling incomparably striking and unrivalled. Nude heels are essential wardrobe staples which elongate your height and add a sophisticated aura to any pair of clothing you sport.
And if online shopping is on your agenda for procuring the best nude heels, peerless online shoe stores like CharmyPosh, Zappos, Nordstrom or Macys are the notable shoe stores well-known for their large collection of divine and quality nude heels at affordable prices. So stop and shop for exclusive pairs of chic nude heels at these top-tier online shoe stores to raise the bar of charisma and style and be in constant spotlight.
Apart from that if you want to know about Essentials T-Shirt Shop please visit our Fashion category.