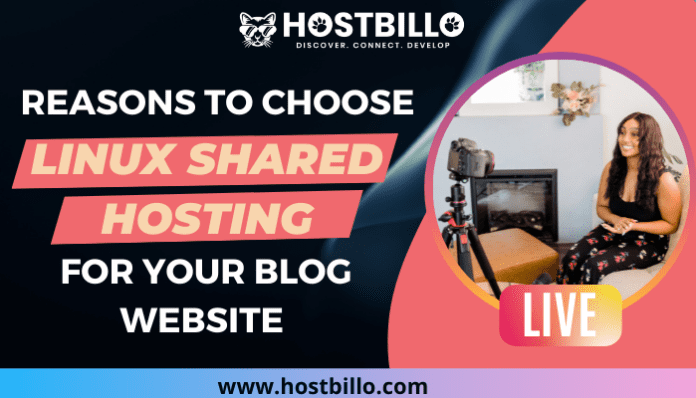 Last Updated on October 22, 2022 by
Introduction
If you want to start a blog or a website for your business, there are several web hosting solutions on the market. One of them is Linux Shared hosting. With all the tools you require to get online, it offers you a cost-effective approach.
If you choose between VPS Hosting and Dedicated Hosting, you'll discover that these hosting solutions just increase your budget while wasting a huge amount of resources. The available resources provided by such pricey solutions cannot be fully utilized by websites with minimal traffic.
The greatest option for those just starting with websites and those looking to try out new things online is Linux Shared web hosting.
For digital businesses and individuals who will need backing for open-source technologies, Cheap Linux Shared hosting is the best option. There are not many hosting platforms that can match the strength and dependability of Linux when it comes to picking a website hosting solution for your digital requirements.
In comparison to Windows web hosting, Linux shared hosting has now been regarded as a strong choice due to its high performance and usefulness along with a wide range of features and characteristics.
Summary of Linux Shared Hosting
Shared hosting means web hosting where several hosting accounts split server resources. Most websites use shared hosting as an easy-to-use, inexpensive hosting option. A hosting provider sets and keeps up a resource management system on a shared hosting server.
They distribute and manage resources among accounts. The configuration of a shared server allows all accounts to use it without any problems or delays. However, because resources are shared, the hosting provider can (and frequently does) set restrictions and guidelines on each account to avoid any account outages.
Most website owners don't require anything else because a regular server has enough resources to meet all of the needs of a typical website.
When using a shared server, you typically are aware of the limitations and constraints that apply to you. You also rely on the hosting company to offer you the tools required to run your website.
Reasons, Why Bloggers Should Choose Linux Shared Hosting
1. Price
When choosing shared Linux hosting, price is among the most crucial factors. You won't be required to pay an additional fee for hosting your website because of the free licensing. Furthermore, the majority of cheap Linux shared hosting packages come with no-cost versions of well-known software like WordPress, Joomla, and others. Linux web hosting is often less expensive than hosting on other systems. For your website hosting, a Linux hosting plan is unquestionably the best solution if you're searching for the most affordable package that offers dependability.
2. Simple and flexible
In addition to having affordable prices, the Linux hosting infrastructure is well known for its adaptability and great performance under heavy multitasking. Compared to other hosting systems, Linux loads and operates about 50% faster. Therefore Linux web hosting is the best option if you need one of the programming languages for your website. Your hosting company manages Linux hosting in its entirety. New online businesses can easily expand their shared hosting plan as their website gets bigger, making it a wonderful place to start.
3. Good for newbies
Due to its simplicity of setup, Best Linux shared hosting is the best option for small enterprises and new individual websites. Small-scale business websites and beginner personal websites can frequently be produced and launched more quickly on Linux web hosting services since the open-source community is constantly introducing new frameworks and support for countless free and paid-for tools.
4. Security
The fact that shared Linux hosting is centered on an operating system with a solid security track record is another fantastic feature of this platform. In short, the reason why bloggers are interested in shared Linux hosting is that it offers them a safe hosting environment.
Furthermore, shared Linux servers may function for long durations with little downtime as well as without the need for a reboot. This implies that using these web hosting services will result in improved stability and uptime.
5. Backup
When you first start a blog, the content you publish is very valuable and has to be regularly backed up. Unfortunately, implementing a backup and recovery approach is not that easy.
You must select the correct web hosting company that can provide you with backup and recovery solutions for your website's data security. You can easily backup, protect, and restore essential databases on Linux shared hosting servers.
6. Uptime
The uptime guarantee is 99.99 percent. It signifies that there won't be much downtime and that your blog will always be accessible. The most important factor that demonstrates how long your website is "up" and functional before coming down, for whatever reason, is uptime.
It is hard to guarantee a web hosting service will always be up. However, reputable Shared hosting companies offer uptimes of up to 99 percent, which is the highest level of availability possible in the real world.
7. Scalability and Reliability
You'll need an increasing amount of resources to maintain the growth of your website as it gets bigger. RAM, disc space, CPU, as well as bandwidth make up the first and most important hosting resources.
While upgrading or scaling up a plan, additional applications including SSL, domains, control panels, email accounts, etc. are important factors to take into account. You can rapidly improve your hosting package using shared hosting.
Your shared server with Linux has no limits on how many websites you can host.
Why Do Crawlers Give Preference to Linux Over Windows?
No OS is perfect. Linux and Windows both have advantages and disadvantages. Due to its ability to facilitate quicker and more efficient work, Linux OS is frequently preferred by programmers and developers above other options. As a result, they can be creative and adapt to their demands.
A key advantage of Linux is that it is open-source and cost-free to use. Software developers can freely modify, use, distribute, or publish their work thanks to Linux OS. On Linux, there is a sizable database of programming languages. Linux also provides a bunch of free software.
As a result of the wide community of computer programmers who help to repair flaws, releases are more dependable and secure than operating systems like Windows.
Our recommended Linux Shared Hosting Provider- Hostbillo
To satisfy the demands of various websites, Hostbillo offers a wide selection of expensive Linux shared hosting options. Each package comes with one-click Softculous installation, SSL Certificate protection, and the fastest network access.
It also includes frequent data backups. Moreover, security-as-a-service is offered with every Cheap web hosting plan from Hostbillo. Linux shared hosting offers low-cost flexibility, adaptability, and data protection. Also, consumers have the choice to increase the website's web resources as necessary with Hostbillo's inexpensive shared hosting.
Conclusion
Finally, we just want to highlight that if you are a newbie, you should think twice about spending a lot of money on either VPS Hosting or Dedicated Hosting. For newcomers, the Linux shared hosting is more than adequate. Not only is it inexpensive, but it also offers non-technical users a managed service hosting solution.
So, to save anxiety, think about using Hostbillo to host your website. Hostbillo offers cost-effective and dependable Linux web hosting if you're searching for the perfect shared Linux hosting company.
The most effective and cost-effective hosting option for your website is shared Linux web hosting from Hostbillo. For bloggers, small enterprises, and owners of personal websites, they offer high-quality services.
Read More: How Do Beginners Bloggers Make Money