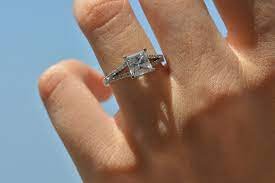 Last Updated on January 28, 2023 by admin
Wedding rings can be very expensive nowadays especially if you are buying a diamond wedding ring for your partner. It is a special moment for everyone because people look forward to this moment for their entire life and wait for it to happen. If you want to look glamorous on your wedding day then you need to get a wedding ring because it is going to be a memory that everyone is going to remember forever. 
However, when you are purchasing a wedding ring you need to make sure that you can get value for your money and don't waste your money. There are some tips and tricks that you need to keep in your mind while purchasing her diamond wedding ring to make sure that you don't make any mistakes. Otherwise, you might end up regretting it later if you don't make the right choice right now.
In this article, we will discuss 13 tips on how you can get value for your money while purchasing a wedding ring. So, keep on reading to find out more information below about wedding bands.
1. Budget
This is the first important in you need to consider when you are about to purchase a wedding ring for your wedding. Your budget matters a lot and you need to figure out the budget that you have for purchasing the diamond ring because you have a lot of other things to spend on such as the wedding ceremony and the flowers. So be smart with your purchasing and save money as much as you can.
2. Matching
If you are purchasing a wedding ring then you need to make sure that it is according to the engagement ring as well. Then it is going to complement the entire look and create something that is going to look very good in the end. These are the little details that you should pay attention to and then your bright is going to be very satisfied and happy for you!
3. Metal
The metal of the Ring that you are getting should complement the look of the Diamond. It should not be something that is going to look weird. If you are engagement or wedding ring is a diamond on a gold band then you should get a gold wedding ring as well and then you can get diamonds in that ring and it will look very good in the end.
4. Shape
The next important thing that you need to consider is the shape of the diamond ring for your wedding. There are many different shapes available nowadays and you can choose the option that suits you and your personality the best.
5. Width
It is important to consider the width of the wedding ring as well. It can be narrow or white depending on your taste. You should consult with your partner and find out what they feel comfortable wearing and then you should get the ring and the gemstone according to their style.
Apart from this if you are interested to know about Break Bad Habits & Improve Lifestyle then visit our lifestyle category.