Last Updated on August 20, 2022 by
Cushions are often overlooked by most consumers and homeowners. They usually come here last because they believe it will have the least impact on their home and rooms. They are completely incorrect. Cushions are helpful in establishing a mood or style that is consistent with the environment and improving it. It's also a cost-effective approach to transform the look of your home without putting in a lot of time or money.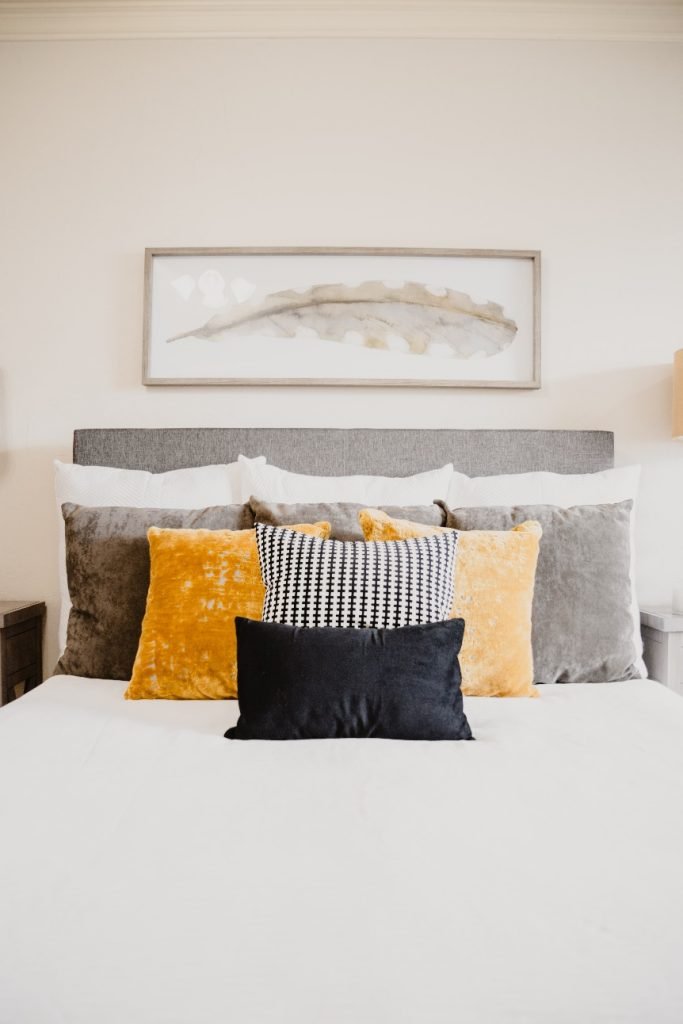 However, choosing the right fabrics for the trade on your cushion to brighten up a particularly dull sofa, or looking for a way to add another burst of color to your ever-growing collection of unique scatter handmade pillows can be quite challenging. Fabric designs exist in many kinds of colors, shapes, sizes, repeats, and schemes. And you need to match and blend them in a way that can add texture and color to your living space rather than being nasty.
So we've compiled a list of some of the best and efficient trade fabric patterns for your handmade cushions that can easily be found in the market. You'll be ready to style, purchase and match like an expert after this!
Choose Chevron Pattern to add movement
Chevron textiles, which have a zigzagging stripe pattern, have long been a favorite of designers trying to add a pop of color to a neutral setting. These lively striped versions give the impression of movement and go with both traditional and contemporary design styles. Chevron patterns are available in a variety of colors, including neutrals like brown and cream. In another case, if you don't want to go for a bright color, you still have plenty of possibilities.
Start the drama with Trellis Design
Choose a trellis design that mixes a bold shade with white silk to get the most out of it. This dramatic pattern of this trade fabric gives your living space maximum impact, vitality, and intricacy. Trellis designs can be graphically striking, or they can be delicate and understated. To add to the realistic sense, when using a trellis fabric pattern for your throw pillows, use trade fabrics with deep, earthy colors, and it is best to group themselves together for a unique look!
Geometric Pattern for an edgy look
Geometric patterns are a collection of shapes that repeat or change to form a unified design. When using this design to throw and cushion, it's a good idea to have multiple examples of form to help with blending, and at least one of them should be round. However, you can also stick to one shape category and repeat it across space. You can use color and print to offset the geometric shape's contemporary nature. Take a lookup, down, and about, note their influence, and then do the arithmetic to determine how they all fit into your plan.
Feminine and fresh on Floral!
Floral patterns can be little, huge, realistic, abstract, and anything in between. In nature, they're lovely and feminine. Florals bring a sense of freshness and are frequently employed to add an earthy, organic, and natural feel to space. Florals go well with a variety of other patterns. Utilize bright flower prints in accent pieces like throw cushions because they benefit from smaller prints. If your flower print is on a larger scale, you'll want to keep the rest of the space simple with solid colors so that the floral print doesn't clash.
Parisian theme? Paisley patterns can help you achieve that goal!
Paisley is a gorgeous lace-like design with an elaborate pattern of curved, feather-shaped figures constructed out of twisting teardrop form. Paisley patterns can be used in a variety of ways throughout the house. This lovely pattern may make a stunning impact when matched with more neutral furniture. A word of caution to pattern lovers: Paisley does not mix well with other florals. Consider using checks or other geometric styles if you want to mix and match motifs. Take note to make your space simple and clean because there is so much of this trade fabric to go around.
Ogee's boho vibes
An ogee is a distinctive pattern with two continuous S-shaped curves narrowing and widening. Try this pattern on throw pillows throughout your home to usher in some eclectic boho vibes. Known for its pleasing flow and rhythm, this layout is extremely versatile as a design element. They can be modern and sleek when used on a large scale and elaborate in home furnishing trade fabrics, or decorative.
Houndstooth Cushion for a Neutral Sofa
Elegance is in the details. Houndstooth is a simple, textile pattern that resembles small broken checks. Adding decorative accessories, like throw pillows, is an easy way to introduce a bolder pattern in your scheme without a lot of commitment. In fact, just one can do the trick! You can mix it with some other fun ones on your neutral sofa. It'll create a focal point in a neutral room or pop right out of a more cultured, eclectic flair. In a neutral, masculine room, these printed cushions can add just the right amount of style and texture to keep the room from being too boring or plain.
Go for diamonds with Harlequin Patterns
Harlequin fabrics include alternating diamonds instead of squares, similar to a checkerboard pattern. A clean, diamond pattern on your cushion can really dress up a dull sofa. This pattern looks better when they are taller than they are wide. Decide the height and width based on the size of the piece you are placing it on. For experts, this pattern is quite adorable for any type of cushion covering—you could even paint it on existing fabric to brighten up any space.
Go dark and light with a 'Greek Key' pattern
When you find a pattern that is both trendy and timeless, you know you've found something special! The Greek key consists of an interlocking rectangular trade fabric pattern made up of one continuous line with a twist and turn. Pillows are less expensive than furniture or custom curtains, and they're small enough that you won't feel like the Greek key is taking over your home—ideal for someone who wants to give the pattern a try! The stark contrast between dark and light really brings out the design! If you're feeling bold, try teaming them with a bright floral or animal pattern.
Gingham— the most versatile print of all time!
Your couch can be entirely modern thanks to a trendy accent pillow made from a gingham-styled trade fabric! Gingham is often a two-color design with a range of sizes which creates an impression of a solid fabric. Using a graphic print like gingham in a really bright shade can give an otherwise traditional-feeling room a fresh lease on life. Nevertheless, gingham doesn't have to be all cheery and bright; in a mainly dark environment, a simple black and white gingham cushion give the pattern a manly vibe. It's also simple without being uninteresting, ageless without being dated, and oh-so-fun in bright colors!
Cushions play a significant role in the overall design of your home. They're also the ideal addition to go with that favorite sofa or to provide a wonderful touch to your bed. Cushions are crucial in making your house feel like a home, and they represent a relatively little expenditure for the significant decorative potential they provide. Nothing beats well-chosen trade fabric patterns for pillows in displaying your personal style while also offering comfort in your house, and nothing can go wrong with these patterns!
Read More: 5 Simple Ways to Make Custom Made Cushions Better