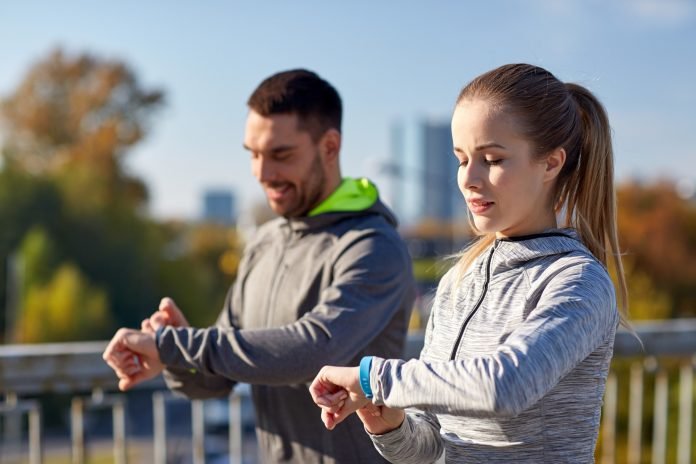 Last Updated on September 13, 2023 by
According to Pew Research, 1 in 5 Americans wear a smartwatch or a fitness tracker. If you're interested in joining these people, you may be wondering whether you should get a Fitbit vs Apple Watch. Thankfully, we compiled the most important differences between the two watches, so keep reading to feel confident in your decision!
Battery Life
One of the most important features is the battery life because if your battery dies within a few hours, it will make it difficult to use.
Fitbit has always had better battery life than Apple. With the release of the Apple Watch 5, you'll get 18 hours of battery life, which should be enough to get you through the day. But you'll still have to charge it every day.
On the other hand, the Fitbit Versa 2 has over six days of battery life. This means that you could take it on a quick trip without needing to pack a charging cord. This will let you get as much as possible out of your watch and leave you with one less thing to worry about.
Features
You'll also have to figure out what you want from your watch. Do you want something that will help you monitor your health and fitness or do you want to be able to make calls and payments?
If you choose the Apple Watch, you'll get access to their app store, Siri, timers, alarms, messages, calling, and Apple Wallet.
Fitbit also offers some basic features not mirroring notifications, but you can't respond to texts or calls. They also have fewer features than Apple, but they do have Fitbit Pay. You'll be able to use Google Assistant or Alexa as well.
However, keep in mind that Fitbit doesn't offer cellular or LTE options. So if you want to use your smartwatch as an extension of your phone, you might want to buy an Apple Watch that comes with cellular options.
If you get an Apple Watch, keep in mind that this watch can only be set up using a compatible Apple iPhone. Fitbit can be set up with either an Apple or Android phone.
Heart Rate
Knowing what your heart rate is can help you target the correct zone for your exercises. Most watches can track heart rate while you're in exercise mode.
The Apple Watch has over forty different workouts that you can choose from, including E-sports. However, Fitbit has about twenty. Both watches will automatically detect if you start doing a workout and give you credit even if you forgot to open the program.
Both devices have built-in GPS as well, so you can track your workouts even if you're outdoors and didn't bring your phone. If you're going hiking, for example, it can also track the elevation and give you a map of where you traveled.
Voice Assistant
You may not care about which voice assistant is on your app, but some people are actually picky about it. If you are someone who cares, you should know that Apple only uses Siri.
If you like more Android or Google products, you may prefer to have Alexa on the Fitbit.
Goals
Are you investing in a Fitbit smartwatch so you can set fitness goals? Then you've probably chosen the right one. Fitbit lets you set goals for your calories burned each day, your floors climbed, active hours, steps, distance, and active zone minutes.
However, Apple doesn't let you set any goals except for how many calories you want to burn each day. If you're not focused on how many calories you're trying to burn, you may want to get a different watch.
Sleep Tracking
Do you also want to keep track of how much sleep you're getting each night? Fitbit's sleep tracker is way more in-depth and built into the watch. The Fitbit also has a longer battery life that actually lets you track your sleep rather than having to charge it at night.
Since the Apple Watch can't last for a full twenty-four hours, you'll need to charge it at some point, and many people want to charge it at night.
If you're going to charge it during the day, you'll still need to buy an app to track your sleep.
Even if you buy an app for your Apple Watch, Fitbit invested a lot of money into perfecting their sleep tracking, so you can trust that it's as accurate as possible.
Customization
Apple lets you customize your watch with different colors, styles, and watch faces. You'll also have a difference in two sizes to choose from.
Most of the customization comes from choosing different cases and watch bands. One thing that does make a difference is that the Apple watchbands are a lot easier to remove and replace.
Fitbit is a little more difficult to get them on and off, but it's not impossible. If you're going to be constantly changing out the band, it can become cumbersome.
If you're interested in finding more accessories for your watch, check out Mobile Mob.
Discover More About Choosing Between a Fitbit vs Apple Watch
These are only a few things to know between Fitbit vs Apple watch, but there are many more things to keep in mind.
We know that keeping up with the latest trends in technology can be stressful, but we're here to help you out.
If you enjoyed this article, make sure that you explore our website to find more articles just like this one.
Apart from that, if you are interested to know about Luxury Watch Buying Tips then visit our Fashion category.