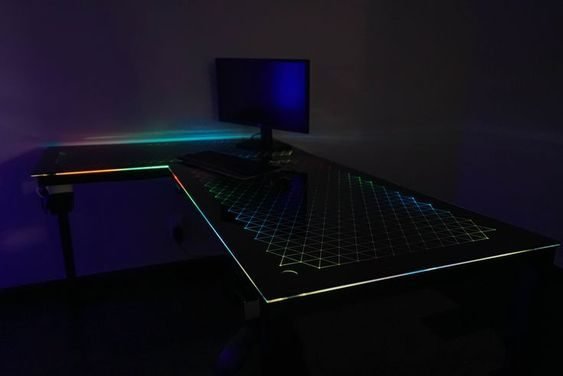 Last Updated on September 14, 2023 by
PROS:
Impressive RGB display w/ added features including audio-reactive capabilities ·Solid structure—quality tempered glass desktop, carbon steel frame ·Aesthetic versatility—can go from colorful displays to sleek, understated look ·Ideal size and design—reversible L shape, lots of surface space and legroom
CONS:
The instruction manual is kind of a mess—not the most intuitive to work from ·On the pricier side (but at least you know what you're getting) ·Lights can be dimmer sometimes, depending on lighting of surroundings ·Possibility for fingerprints on tempered glass desktop Boy, if there isn't something a desk CAN'T do these days! Well, at least the one I'm about to talk about.
If you've paid attention to the field over the last year or so, you've noticed gamers starting to kick it up a notch with respect to their home gaming setups. Where does one start? With choosing the right gaming desk, naturally. But the recent surge in popularity in gaming desks demands a closer look at the leading brands and their flagship products, which is where I come in. I'm particularly excited to share my review on a brand-new item I've had the pleasure of exploring.
With the GTG L60 L Shape Gaming Desk, you can definitely see a leap forward in the gaming desk standard. I was surprised to learn that Eureka Ergonomic has been on the map a while, because you don't hear a lot about them—after learning that they recently became an officially licensed partner of Activision's Call of Duty, I admit to being mildly shocked, as I wouldn't have imagined a prestige partnership between such a massive video game franchise and a gaming desk company that I see on market listings maybe half the time. 
Through reviewing gaming desks I've had the misfortune of learning about firsthand the many bad actors releasing subpar gaming desks made from poor-quality materials. Maybe Eureka disappoints me someday, but their GTG L60 at least gives me pause. Anyway, dear reader, I'm relieved to inform you that Eureka didn't miss with this one: the GTG L60 L Shape Gaming Desk is indeed in a class of its own. We all want to know whether the design is solid, of good quality, etc.—and let me assure you, its quality is self-evident. But, before diving into that, let's shift our focus to its more obvious draws.
Like—how rad does it look?!
Check out that RGB lighting, how crisply it emits from the tempered glass. The side paneling also boasts RGB lighting, letting you cast a colorful shadow onto the wall or the area around you.
The RGB spans the entire color palette and features numerous patterns to choose from. But with this gaming desk, they upped the RGB ante. It provides all the RGB features of previous Eureka RGB gaming desks (dimmability, static mode, etc.), while also upgrading other elements.
They optimized the app controls (the flaws of the older app version for Eureka RGB desk being one of my [very] few complaints, after checking it out). The upgraded app makes the gaming desk more accessible and efficient than ever. Also, if I'm not mistaken, this is Eureka's first glass desk with RGB lighting, and let me tell you, nothing looks sicker than those lights coming out from beneath strong tempered glass.
But my favorite element of the GTG L60 L Shape Gaming Desk's RGB, by far, is its new audio-reactive feature. You can sync the RGB display to music! You can make a sound, or tap a localized point of the glass desk, and lights will respond (with and without input)! I spent a lot of time fooling around with this feature.
I can't get enough of it. Sometimes you forget it does what it does, too, so when you make a noise you get a fun little lightshow as a reminder. This part won't get old for me, not for a long time. A bit unlike me and want to tone it down more often? Seems as though the maker anticipated that issue. With the RGB lighting turned off, the desktop reverts to a sleek, high-class black desktop that complements any room or office space.
I could tell that with this gaming desk they wanted an aesthetic versatility to increase mass appeal, to reach people beyond gaming, to establish themselves as a brand with a lot of innovation still left up their sleeve. Well… Check, check, check. Hard to imagine a more unique and adaptable glass desk.
I mentioned it in passing, but it deserves more attention here: the tempered glass makes a solid case for being the most refined element of the GTG L60 L Shape Gaming Desk. The methodical, multistep process of crafting tempered glass reflects well on the producer, suggesting a commitment to first-rate manufacturing procedures. The first thing to know about tempered glass is its strength—up to five times the strength of annealed glass, tempered glass can withstand impact.
Additionally, tempered glass is naturally heat-resistant and scratch-resistant, so if you want durability, you're covered. Set your coffee or hot bowl of ramen down on it, play with a mini skate deck or something across its surface—it can take a beating and will still look fresh out of the packaging.
Speaking of sleek looks and convenience, consider the L shape design of this gaming desk. At this point, can we even accurately call it a gaming desk? It almost does the GTG L60 a disservice, limiting it to that label. I mean, put a crown on that corner of the room! The carbon steel frame and four-leg pillar system are upgrades over other L shape gaming desks seen on the market and that I've reviewed. Coupled with the tempered glass desktop, which is 60" across, the GTG L60 L Shape Gaming Desk can support up to 330lbs. From top to bottom, the design ensures rock-hard stability, while also maximizing leg room (which, if you're a tall drink of water like me, is a HUGE benefit).
Also—it's REVERSIBLE. Decide you want it right-facing instead of left?
Go for it! Not bad if, say, you happen to move and need to recreate your setup to better fit a new room or office. This feature makes the GTG L60 L Shape Gaming Desk easily adaptable to an array of room layouts, and it never detracts from the ample leg- and storage-space (about 30" tall) underneath the desktop.
Overall, the only "cons" I can think of begin with the instruction manual—while it turns out that the desk IS easy to assemble, the instruction manual might have you believe otherwise; it's definitely way more confusing that in it needs to be, which I find very puzzling (how could you mess that part up, of all things?). On the same tier of the previous criticism I would also put the price—at its current rate, the GTG L60 L Shape Gaming Desk might put itself out of range for some potential customers.
Other than these issues? You may notice what appears to be a dimmer RGB display if, say, you have more lights on in your room than usual, or there's natural sunlight pouring in over the desk surface. If fingerprints bother you, too, there's the possibility of some of that on the desktop. That doesn't particularly bother me, and honestly seems par for the course when it comes to something with a glass surface. Get more info here.
The GTG L60 L Shape Gaming Desk boasts the other amenities you come to expect from a premier gaming desk: dual headset hooks, a rotating cupholder, power strip holder, magnetic cable ties, the list goes on. Its ideal size, accommodating structure, undeniable material quality, and stunning visual capabilities should establish it as the go-to gaming desk of 2022. I heartily recommend it to people who've been waiting for the right gaming desk to hit the scene. It's here. Hans Olsen