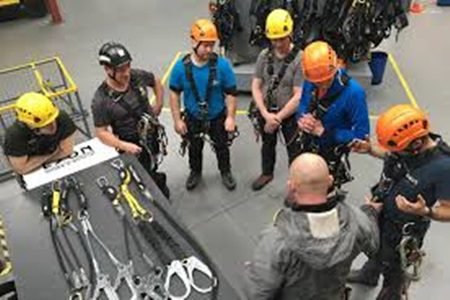 Last Updated on August 1, 2022 by
Every year, about 200 people are killed in workplace accidents, and over a million people are injured. With these alarming figures, it's critical to preserve workplace health and safety. Everyone, from managers to employees, is involved in upholding safety rules and addressing any potential hazards at work.
Height is a common cause of work-related death and injury. Employees who work at specific elevations are putting themselves in danger of falling. Employees who aren't aware of protective measures, don't have the abilities needed to operate at such heights, and don't utilise adequate gear and clothing are more likely to fall.
Employers, on the other hand, should spend on increasing worker safety. Employees who work at heights should be required to complete height training. Employers can improve their employees' working circumstances and overall well-being by doing so.
Here are five reasons why your staff should take a working at heights training course:
It fosters a healthy and safe workplace culture.
The major objective for providing personnel with height training is to safeguard their health and safety. When your staff are properly trained, their working environment changes as well. They will be more knowledgeable and skilled at what they do, and they will also safeguard the safety of their co-workers.
It minimises the number of accidents.
Accidents at work can tarnish a company's reputation. Employers can be sued for carelessness if there is no worker's compensation in place, which can have a detrimental impact on the firm, its finances, and its longevity. Furthermore, the business licence may be revoked or even shut down as a result of this. Because unexpected falls are a cause of some workplace accidents, having heights training can help to reduce the number of incidents.
It boosts employee morale.
Another benefit of investing in height training is that it improves employee morale. Employees who receive training will be more confident in their abilities to perform their tasks because they will know that their employer appreciates their safety and is concerned about their general well-being. Their work productivity rises when people feel safe and happy in the workplace.
It includes a comprehensive height training programme.
One of the advantages of height training is that it is all-encompassing. This implies that the training covers a wide range of topics, including ladders, anchor use, personal protective equipment, and rescue systems. Whatever access equipment they employ, the same safety rules apply. The training will not only cover all of the fundamentals, but it will also sharpen the skills of any person that works at a height.
Creates a great fitness and safety culture.
When fitness and safety come first, and your staff receive the proper training, you'll notice a difference in your running environment. Safe procedures become second nature to everyone, and co-workers look out for one another.
Investing in height training might ultimately benefit your personnel. The training usually covers the Works at Height Regulations as well as other applicable health and safety laws from both the UK and around the world. Invest in heights training if your business includes working at heights, such as in construction. These are the advantages of working at heights training.
Read also: Ways to improve your business for the future