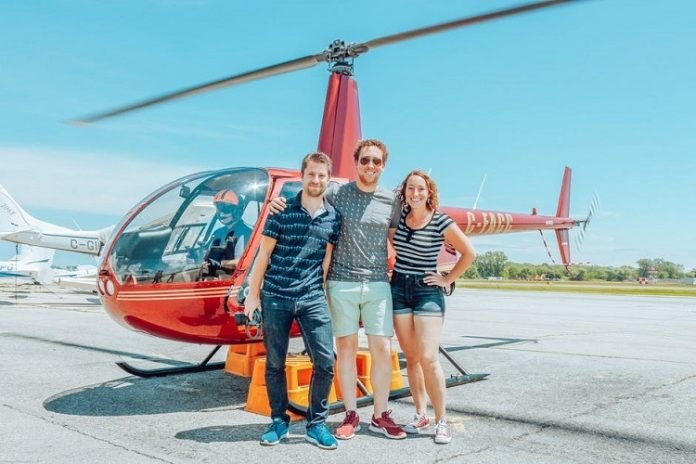 Last Updated on June 24, 2023 by
Are you ready to take to the skies? Taking a heli tour is one of the best ways to experience both new cities, as well as those that are close to home.
When you're airborne, you'll get a brand new perspective on a particular location. You'll see it in a whole new light, and you'll never think about that place in the same way again.
Everyone deserves to take a helicopter tour at least once in their life. And the best part? You can take helicopter tours that work for you.
If you are nervous about spending time in a tiny aircraft, you can take a tour that's as short as 10 minutes. Or, if you want to explore to your heart's content, Helitours can last an hour or longer.
So what is the best heli tour duration? Keep reading to determine how much time you should spend on your first helicopter ride.
Short and Sweet Heli Tours
Many helicopter tour providers offer short tours that are under 20 minutes in length. These are typically offered in 10, 15, or 20-minute tours. Though, on occasion, we've seen tours as little as six minutes for those looking to glimpse their favorite vacation destinations.
But why would you want to get all the way in the sky for such a short amount of time? The main reason is the price. You can take the entire family on a short helicopter tour for the same price as one or two people on a much longer tour.
So if you are on vacation, and looking for a family-friendly activity that everyone will remember for a lifetime, a short tour of the skies is affordable yet impactful.
These are especially helpful for families with younger kids. Even though they will love the tour, they may get antsy after more than 20 minutes as their attention span weakens.
A short tour gives you plenty of time to see a handful of nearby sights. Since takeoff and landing are so fast in a helicopter, you'll get more time than you realize to take photos and catch a rare glimpse from above. Some people also love taking a short and sweet romantic helicopter tour during the sunset.
Ultimate Helitours in the Florida Keys offers several different tours under 25 minutes that are affordable, with 360-degree views of the islands and ocean.
The Most Common Heli Tour Duration
When most people hop on a chopper, they often book a 30-minute helicopter tour. 25 to 45-minute helicopter tours are the sweet spot.
They provide plenty of time to take in the scenery without feeling like the pilot is rushing from one spot to the next. You'll get plenty of chances to get the perfect photo.
And you'll get to explore much more. Rather than getting one view of the city or the island, you get to fly all the way around and see just how vast it really is.
These mid-range tours are great for those without kids or parents who have older children. They'll truly appreciate all they see, and will likely feel like 30 minutes isn't quite long enough. It will leave them hungry for their next helicopter tour.
Make it Count
And of course, you can find tours that last an hour or longer. These are perfect for those who have more time and a larger budget.
On these tours, you'll really get to see the sights. It's also great for photographers and videographers, as you'll have loads of time to get some truly incredible shots.
You'll get to travel further distances and see some of the sights that most people never get a chance to see. If you truly love a place and want to learn more about it, a long tour like this is one of the best ways to do so.
How Long are the Best Helicopter Tours?
So what's the best length of time for a helicopter tour? It really comes down to your attention span and your goals.
For most people, a 20 to 30-minute helicopter tour is plenty. They get to see some amazing views without dragging the experience for too long.
Plus, they are affordable for almost any type of traveler. And they are great for introducing children to aviation, as well as geography. You may find that one short tour like this is enough to spark a love for flying.
And you may find that after a short tour, you'll want to take a longer one next time.
Where to Find Amazing Helicopter Tours
So where can you find some amazing helicopter tours? Anywhere that you might think to take a vacation likely has an option.
As mentioned, the Florida Keys is a popular place to take to the skies. Hawaii is another popular location since the islands here are much larger and more mountainous.
National Parks also offer once-in-a-lifetime experiences. The Grand Canyon is one of the more popular park tours available, as you'll get to fly over one of the natural wonders of our planet.
And if you make it to Alaska and want to enjoy some true wilderness, a tour of Denali National Park will blow your mind.
Traveling internationally? Flying over the Great Barrier Reef in Australia is mind-boggling as you discover how expansive that reef system really is. And across the pond in New Zealand, you'll find some insane tours of the vast, mountain-dotted islands.
Big cities are also wonderful places for tours, with New York City, Rio de Janeiro, and Cape Town providing some incredible urban views in these megacities.
And, of course, if you can find a tour close to home, so you can learn to appreciate where you live more deeply, then that's a tour worth taking as well.
A Quick Overview
Heli tours are a fantastic way to experience aerial views of some of the world's most spectacular landscapes. Whether it's exploring the Grand Canyon, hovering over New York City's skyline, or taking in the beauty of a tropical paradise, a helicopter tour is an unforgettable adventure.
But one question that often comes up is how long should a heli tour last. Here are some factors to consider when deciding on the duration of your tour.
Location and Destination The duration of your heli tour largely depends on the location and destination. For example, a tour of a city's skyline may only last for 20-30 minutes, whereas a tour of a national park or natural landmark may take 45 minutes to an hour.
Budget The length of your heli tour may also be affected by your budget. Longer tours typically cost more, so it's important to consider your budget when deciding on the duration of your tour.
Comfort Heli tours can be thrilling, but they can also be tiring. It's important to consider your comfort level when deciding on the duration of your tour. If you're prone to motion sickness or get tired easily, a shorter tour may be more suitable.
Special Occasions If you're celebrating a special occasion, like a proposal or anniversary, you may want to opt for a longer tour to make the experience more memorable.
Anyone can Take a Heli Tour.
Taking a heli tour should be near the top of your bucket list. Given how affordable short tours are, usually under $100, it's doable for most people.
Don't wait too long. Take to the skies and learn to see the world from a new perspective today.
Looking for other articles like this? Head over to our blog to keep reading.
Read More: Ultimate Guide to Helicopter Financing
Apart from that, if you are interested to know about Stingray City Boat Tours then visit our Travel category.