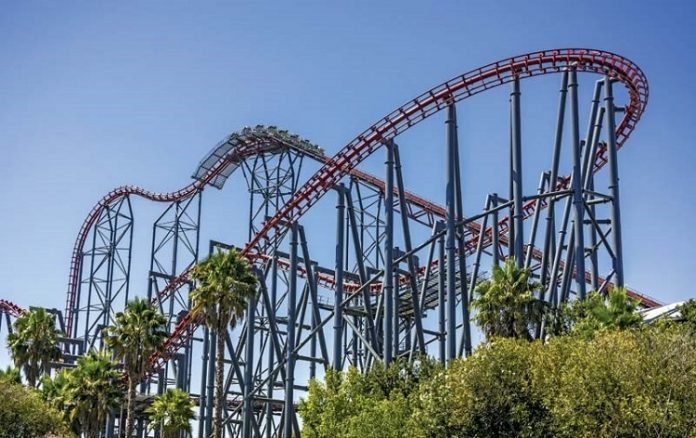 Last Updated on June 24, 2023 by
In 1817, history was made in Paris, France, when the first modern rollercoaster, the Promenades Aeriennes, opened. Then on June 16th, 1884, rollercoaster history was made again when the first rollercoaster in the US opened at Coney Island in Brooklyn, New York. It's safe to say our history of rollercoasters has kept us moving and grooving. But how much do you really know about rollercoaster history? Well, now is the time to learn! Luckily, you're in the right place, so keep reading this guide to learn.
The Rollercoaster Evolution
Rollercoaster origins trace back to the 1600s when Russians began developing ice slides—a simple but genius design using gravity and hollowed-out ice blocks to propel down the hill. Even Catherine the Great joined in the fun and had one built for her own use.
After LaMarcus Adna Thompson designed and built the Gravity Switchback Railway at Coney Island, it became such a success he became known as the father of the rollercoaster. Thompson went on to charge a nickel per ride and was making over $500 a day, a hefty sum for that time.
The rollercoaster evolution really kicked off in 1959 in California. After a vacation to Switzerland, Walt Disney sent a postcard home with a picture of the Matterhorn mountain asking his team to build it. This resulted in the Matterhorn ride, which is still in operation today.
Types of Rollercoasters
For a while, wooden coasters were all the rage, but steel took over, leading to many of the innovative designs we see today. With the steel track, manufacturers could incorporate corkscrews, loops and suspend riders beneath the tracks.
Steel coasters continue to evolve and are now made from nylon or polyurethane. Nowadays, you'll see eight main rollercoaster types:
The traditional sit-down design
Stand-up rollercoasters have riders stand up through the ride instead of sit
An inverted design is where the train travels below the track instead of above it
A suspended rollercoaster involves the train hanging beneath the track
In a pipeline design, the tack is attached to the middle of the train
A bobsled design has wheels that slide down the track instead of being fixed to it
A flying rollercoaster rotates riders to face the ground, which gives the flying effect
A wing design is where two seats are on either side of the track spin on an axis
Roller Coasters and the Entertainment Industry
Nowadays, you can find amusements parks packed full of amusement park rides all over the country. Rollercoasters have become a massive part of the entertainment industry.
So, where is the best amusement park with the best rollercoaster? Well, that is up for debate, but Disney World, Busch Gardens, Cedar Point, and Six Flags top the list as the best amusements parks in the United States.
It's 2021, so it shouldn't come as a surprise that you can ride a rollercoaster on a cruise. Carnival Cruise Line's ship Mardi Gras is home to BOLT, the ultimate sea coaster. BOLT doesn't depend on gravity and instead is powered by electricity. The track is 800 feet long, can reach speeds of 40 mph, and will be ready for riders in 2022.
History of Rollercoasters
Now you know about the history of rollercoasters, it's time to get out there and enjoy one! You can even test your friends and family on their rollercoaster knowledge along the way.
Are you sad that you've reached the end? Well, don't worry because you can check our blog for more travel, entertainment, and lifestyle tips that are sure to brighten up your day!
Read More: Singapore Tour with Cruise Combo Package | Roaming Routes
Apart from that, if you are interested to know about Leather Coasters then visit our Lifestyle category.