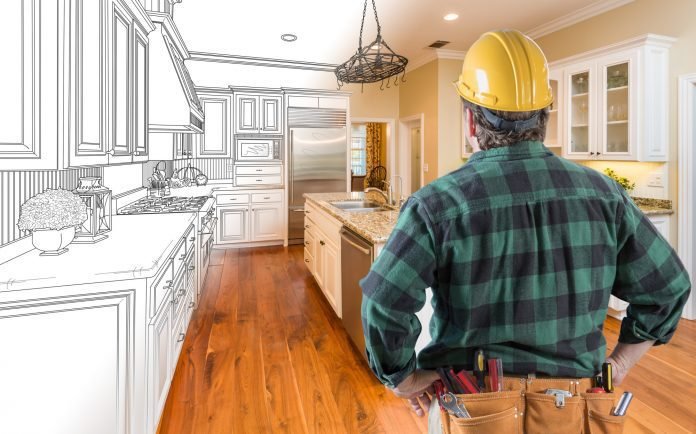 Last Updated on June 28, 2023 by
Did you know that 58% of homebuyers say that kitchen design is extremely important when deciding to buy a home? If your kitchen is old, outdated, and the appliances don't work, it may be time to do kitchen renovations.
Whether you want to sell your home in the future or you want more comfortable living conditions, renovating your kitchen is a great way to increase the value and appearance of your home.
Because kitchen renovations are so expensive, you need to create a budget before you get started. Are your wondering how much it cost to remodel a kitchen? If so, keep reading to learn about the cost of renovating kitchens.
Major vs. Minor Kitchen Renovations
Before you can determine how much your kitchen renovation is going to cost, you need to decide if you are going to do major or minor kitchen renovations.
To determine the extent of your renovations, take into consideration your budget, home value, and the value of other homes in your neighborhood.
Here is a breakdown of the difference between doing major and minor kitchen renovations:
Major Renovations
If your kitchen is completely outdated, the layout doesn't flow, and the appliances barely work, you may need to do major kitchen renovations.
Doing a major renovation consists of stripping the kitchen down to the bare bones and starting over. With a major kitchen renovation, you may purchase new appliances, new cabinets, flooring, countertops, and change the layout.
How much you spend on major kitchen renovations will depend on your house value and the local market. For example, if you live in a $200,000 house, you may want to go with mid-range upgrades.
If you live in an $800,000 house, you should choose high-end upgrades to match the rest of your home. A major kitchen renovation can cost anywhere from $65,000 to $150,000.
For a more approximate estimate for your kitchen, it is best to use kitchen estimating software.
Minor Renovations
If your kitchen is still in good shape but needs some small cosmetic upgrades, you should consider doing minor kitchen renovations. On average, minor kitchen renovations have the best return on investment.
Some minor kitchen renovations include painting the walls, installing new countertops, changing light fixtures, and investing in new flooring.
While major renovations consist of overhauling the entire kitchen, minor renovations keep the existing layout, cabinets, and appliances. Minor kitchen renovations can cost anywhere from $5,000 to $30,000.
Components of a Kitchen Remodel
Now that you know the average cost of remodeling kitchens, you can start creating a budget for your kitchen renovation.
While the total cost of renovating a kitchen may seem overwhelming, you can pick different components of your kitchen to renovate at different times. This will help spread out the costs.
Here is a breakdown of how much you can expect to spend on each component of a kitchen remodel:
Appliances
One of the most expensive parts of renovating a kitchen is the appliances. If your appliances are outdated, you will need a large kitchen renovation budget.
On average, you can expect to spend around $500-$3,000 for a new refrigerator, $700-$3,000 for a new oven, and $500-$1,000 for a new dishwasher.
How much your appliances cost will depend on your preferences. For example, you can choose to get a basic fridge with no features, mid-range energy-efficient appliances, or a high-end fridge with all the bells and whistles.
Cabinets
Another expensive part of renovating a kitchen is the cabinets. If you are doing minor kitchen renovations, you may choose to sand your cabinets and repaint them.
If you want to do major renovations, invest in new kitchen cabinets. Like appliances, you can go with basic kitchen cabinets that are cheaper, or spend extra money on designer kitchen cabinets.
You can expect to spend anywhere from $3,000 to $50,000 on new cabinets for your home renovation.
Countertops
Are your countertops outdated? If so, getting new countertops is a great way to spruce up home kitchens. Some of the best countertop materials include quartz, marble, and wood.
If you go with quartz countertops, you will spend around $50-$150 per square foot. If that sounds too expensive for you, you can install wood countertops for around $20-$70 per square foot.
Flooring
Another major part of doing kitchen renovations is installing new flooring. If your floors are old, peeling, or stained, installing new flooring is a great way to improve the look of your kitchen without spending too much money. 
You can choose to install hardwood floors, laminate, tile, or bamboo. The type of flooring you choose will determine how much you spend.
On average, expect to spend around $1,500 to $10,000 depending on the material, size, and layout of your kitchen.
Labor Costs
In addition to paying for the materials to renovate your kitchen, you also will need to pay for someone to do the installations. If you have construction experience, you can save a lot of money by doing the installations yourself.
You can hire a contractor to do some of the work, but not all of it. For example, you can paint the kitchen cabinets and walls, but hire a contractor to install new countertops.
In total, you can plan to spend around 30% of your kitchen renovation budget on installation and labor fees.
Are You Ready to Budget for the Cost to Remodel a Kitchen?
Kitchens are one of the best places to hang out, cook dinner, and relax after a long day. If you plan on selling your home or want a more enjoyable kitchen, you should remodel your kitchen.
Did you enjoy reading this article on the average cost to remodel a kitchen? If you want to learn more about kitchen renovations, check out the home improvement category for helpful tips.
Apart from that, if you are interested to know about Guide to a Gorgeous Kitchen Remodel then visit our Home Improvement category.