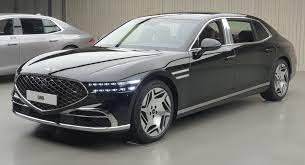 Last Updated on June 13, 2023 by
Genesis vehicles are luxury cars that people love to own due to their ride quality, design, and more. However, apart from its luxurious aspect, the 2021 Genesis G90 offers remarkable powertrain that makes it stand apart from the rest. If you are looking for a vehicle that offers all the luxurious quality along with refined ride and powerful engine then you should check 2021 G90 when talking to Anaheim Genesis dealer.
Powerful powertrains
Genesis G90 comes with not just one but two different powertrains, both offering massive power. The first option available for you is a V6 setup. This 3.3L turbocharged model provides 365 hp and has the capability of matching the acceleration of V8 engine (if certain packages are chosen for it). The second option as mentioned earlier is a V8 model with 5L 420 horsepower engine.
You can choose both powertrain with AWD or RWD drivetrain and it will be paired with automatic 8-speed transmission for smooth gear changes when driving. People who opt for the V8 are the ones that prefers their vehicle to have some old-school and relaxing traits along with unique sound when the engine is revved.
Its acceleration is at par with most of its rivals and both engine types offer sufficient power to impress any individual. Comfort and quietness is what one can enjoy sitting inside the cabin and its suspension system is good enough to offer refined ride when pacing through curvy or rough roads.
Its soft riding quality generally offers similarity like its competitors' luxurious vehicles. As mentioned earlier, it can provide swift ride even on rough roads; however, most people enjoy driving it on a highway more than in cities. Nevertheless, if you want to roll out in style, comfort, and class, then you should use this vehicle for everyday use, whether in city or highway.
Moreover, the light and precise steering ability makes driving it fun and doesn't feel like driving a huge vehicle. Its brake pedal is well-balanced between mushy and firm making it exactly the system a driver needs to enjoy every drive. You can take a test drive to get the feel when consulting a Genesis dealer near Anaheim.
Fuel consumption
Impressive efficiency is what G90 offers. The base model offers 17 mpg while on highway it can offer 24 mpg. The V8 model offers a little less than this. Though it might sound less, this mileage is at par with most of its rivals in the luxurious vehicle category. 
Other things to know
From leather seats to spacious interior and best infotainment, this vehicle is loaded with all. Also, it has sufficient storage space and the base model starts from $74,000 approximately, which is quite cheap when it comes to luxury automobiles. The V8 powertrain model costs $77,800 and is the one to drive if ideal comfort and luxury is what you are after.
You know about the power behind the G90 and hopefully it will help you choose the correct model. Hence, don't delay and get this luxury vehicle today as you need to pamper yourself sometimes!
Read More: Flex Banner Printing Machine Features That Will Amaze You
Apart from that, if you are interested to know about Chevrolet Colorado then visit our Automobile category.