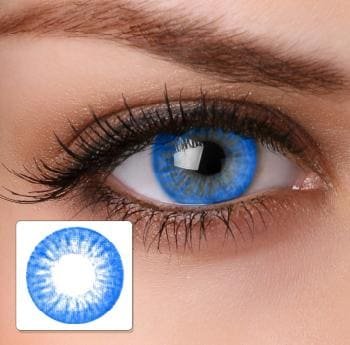 Last Updated on September 10, 2022 by rida
A busy lifestyle can keep you from doing a lot of chores, such as buying groceries or contact lenses. Thanks to online shopping, everything's just a click away. Why rush to high street retailers to get your contacts when you can get them online for less? Ordering your contacts online saves you both time and money!
Heard about Feel Good Contacts? They are one of the UK's best and the most affordable online contact lens retailers; with the rating of 4.9/5 and more than 52k reviews on Trustpilot, they are conquering the eyewear industry in the UK. Focussed on customers' savings, FGC offers various money-saving alternatives, such as a Price Match Guarantee on their range of contact lenses, meaning if you find the same product elsewhere for less, they'll happily refund you the difference.
Ordering your lenses online can spare you from a lot of troubles. If you're not aware of how to order your contact lenses online, here's a step-by-step guide to follow:
Get an eye exam
The first and foremost step is to get your eyes tested. The NHS suggests going for an eye test every two years or as suggested by your optometrist. This is because our eyes age with us, which increases your chances of getting age-related vision problems, such as myopia (short-sightedness), and presbyopia(far-sightedness); don't worry, it's only natural. Hence, booking an eye appointment will keep you updated on your eye health.
Go for contact lens fitting
Once you're through with the eye test, you'll be provided with a prescription. You're lucky if you have 20/20 vision, as most people need some form of corrective eyewear. Everyone will have a prescription specific to them. This means, like glasses, your contacts will also have a prescription specific to you.
Remember, glasses and contact lens prescriptions are not the same because glasses are worn at a distance from your eyes, whereas lenses are placed straight on top of your cornea.
A contact lens fitting session is essential. You may ask why – a fitting session ensures you're opting for the correct type of lenses, and the lenses sit properly on your cornea for comfortable wear and clear vision. This session also takes into account your lifestyle, budget and wearing patterns.
You can expect the following in your lens fitting session:
Questions regarding your lifestyle to see what lens will best fit your needs
If you'd like to opt for contacts for cosmetic purposes
The measuring of your eyes to ensure your lens fits perfectly
A guide demonstrating how to put your contacts in, remove them, and safely store them
Your optometrist will answer your questions (if you have any)
Choose your retailer
Be careful while choosing your retailer; you wouldn't want to risk your eye health. There are a lot of counterfeit products out there. Always check if the retailer is legitimate; buy your contact lenses from reputed retailers, like Feel Good Contacts. Make sure you check the customer reviews and ratings on review platforms such as Trustpilot. Also, ensure the retailer's website is secure; a secure website will always start with the URL – 'https' and not just 'http'.
Choose your contact lenses
Once you have chosen your retailer, you can choose your contact lens. Remember, there are a variety of contact lenses available on the market. Choose according to your lifestyle and needs – daily, two-weekly, monthly, or extended wear.
You must choose wisely what type would suit you the best, you would find different contacts such as:
Focus Dailies All Day Comfort
Recommended for dry eyes, ideal for those with active lifestyles, just dispose of them at the end of each day. These lenses feature blink-activated moisture technology.
1 Day Acuvue Moist for Astigmatism
Astigmatism is the imperfection in the curvature of your eye's cornea. These dailies are ideal for sensitive and dry eyes. Created with LACREON technology, they provide long-lasting comfort.
Acuvue Oasys for Presbyopia
Presbyopia is when you have difficulty seeing far away objects. Acuvue Oasys for Presbyopia are premium multifocal contact lenses that blend multiple prescriptions together using Stereo Precision Technology. These two weekly contact lenses allow you to see objects clearly and consistently at all distances due to the different prescription powers in the lens.
comfi Pure 1 Day
These affordable lenses are ideal for dry eyes and are a perfect choice for new lens wearers. Silicone-hydrogel makes these lenses highly breathable.
FreshLook Colorblends
These are coloured contacts for people looking to change their eye colour or want to correct short or long-sightedness with coloured contacts. Available in 12 different colours, these contacts will keep you comfortable throughout the day with their 55% water content.
Stock up on your contact lenses
This is an additional step; however, it is always best to stock up on your contacts, especially for emergencies. While placing an order, make sure you're ordering enough.
Good news – with retailers like Feel Good Contacts, you can opt into Auto-Replenish and save 5% off every order. No need to top-up your supplies, they do it for you and you can even cancel whenever you like. Additionally, don't worry about the prescription, they will always have your prescription in stock with your Auto-Replenish opt-in.
Double check your details
Before proceeding to pay, ensure you have entered all your details correctly, such as power, base curve, diameter, quantity of boxes, and delivery address. Don't forget to check for delivery options, you can find a next day delivery option too. In a nutshell, make sure you're placing the correct order to arrive at the time you need it to arrive.
Check for discounts
If you're ordering your contacts for the first time, you get 10% off your order with Feel Good Contacts. Similarly, you can also take advantage of their student discounts. You can check out several cashback and discount offering platforms to search for voucher codes you can apply at checkout, or perhaps, subscribe to the retailer's emails to remain updated with seasonal discounts and offers. Save where you can!
Payment
Carefully enter all your card details and always double check if the payment gateway is secure.
Now it's time for you to sit back, relax and wait for your contacts to arrive! Nothing is better than completing your essential tasks, such as ordering your contacts from the comfort of your home, right? 
Read More: The Truth Behind 9 Common Misconceptions About Contact Lenses