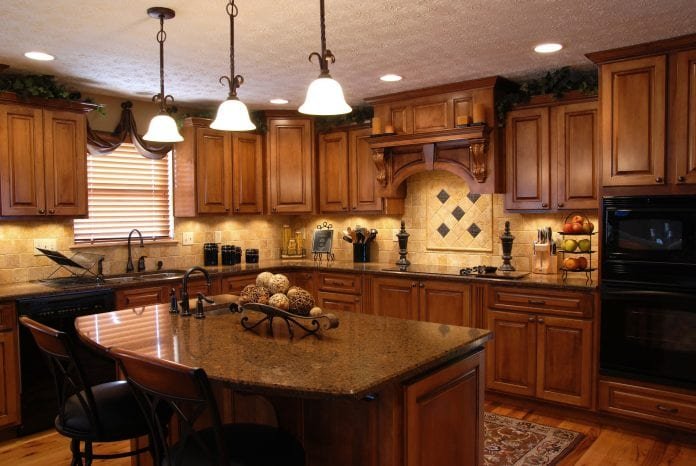 Last Updated on September 7, 2021 by azamqasim
Walnut kitchen cabinets are much in vogue like other wooden furniture namely because the classic characteristics of the wood make it stand out from the rest. When choosing kitchen furniture people overtly show an inclination towards conventional or modern walnut cabinets because the wood crafts derived from the timber are cut above class in terms of looks and functionality. Also, custom wood works can be achieved with the help of walnut wood and the results are simply outstanding. From dark to medium hues, the colour of the wood can vary. Although, they are chiefly dark in colour, walnut wood are also available in lighter shades. Besides, the wood features medium hardness and can withstand regular use.
Are walnut cabinets expensive?
Many of you may not be aware of this fact, walnut wood is scarce. Hence it is exotic and sold for a high price. Although, some people may opt for antique white kitchen cabinets as a cheaper alternative. Solid wood constructions such as walnut kitchen cabinets make for a brilliant choice especially for kitchen decor because of their innate nature to offer aesthetic value and functionalities.
Colours that go best with walnut kitchen cabinets
Despite the fact that you have a liking for white kitchen cabinets because of their natural sparkling charm, a majority of householders would rather prefer bringing in walnut cabinetry. However when choosing walnut wood for your kitchen you have to be a little careful of accompanying shades. Grey is most suitable for walnut cabinets. The only thing you need to keep in mind when choosing grey accents for your kitchen is the level of illumination. Kitchens lacking adequate illumination will work best with lighter and nude shades like beige or cream.
Ideal finish for walnut kitchen cabinetry
If a kitchen remodelling is on cards and you are thinking of adding walnut kitchen furniture to the space, it's likely for you to wonder which finish will go best for the furniture. Walnut wood goes best with lacquer finish. The finishing dries up faster and adds a shine to the surface. With only a couple of coats it's possible to protect walnut cabinets.
Can walnut wood change its colour?
Walnut wood will reveal a rich and consistent darker brown shade. However as the wood ages, it is likely to turn lighter. The grains will reveal the shade of rich honey.
How can you protect walnut furniture?
Walnut furniture needs a protective finish which can be availed by applying wax or a particular siliconepolish on the surface.
Common ways to maintain walnut kitchen cabinetry
Regular wear and temperature can bring upon changes leading to deterioration of wood. Following are ways to take care of such hardwood furniture:
Making sure the surface of the furniture don'texperience scratches
Dusting with care
Wiping off spills almost immediately to prevent stains
Removing water marks soon after spilling
Protecting the finish
Whenever you bring in walnut furniture make sure you maintain them. Unlike white kitchen cabinets which require less maintenance, walnut cabinetry offer maximum preservation. Whether you want to bring home white kitchen cabinet or walnut furniture, the choice will completely rest upon your kitchen decor and other vital factors.
Read More: 10 kitchen cabinet designs in 2021