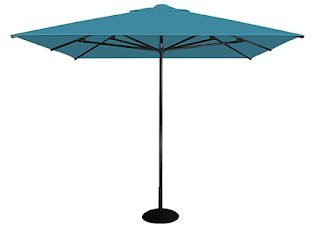 Last Updated on August 24, 2023 by Umer Malik
Printed patio umbrellas are a boon when it comes to having fun in the sun. With the summer sun out you may want to hit the beach and snag up your little sunny spot in the sand. If you have a pool in your backyard you may want to call your friends to a cool poolside party. A barbeque or a cocktail dinner isn't a bad idea if you are lucky enough to have an outdoor space to yourself. If you are a restaurant owner, you may want to treat your customers to a nice outdoor lunch. But having fun in the sun isn't always safe.  
Extended contact with direct sunrays can give you serious sunburns and we don't have to tell you how painful they can be! There is also the ever looming possibility of long-term harmful effects and diseases from exposure to UV radiation. So, it is better to block the sun before it turns into a nuisance. Besides, there is always the odd chance of an untimely shower spoiling your sun soaking activities.  
The umbrella has come a long way from its humble origins as a personal sun-and-rain blocker. It has evolved from being one's personal shade to having a wide range of avatars. Chief among these is the outdoor patio umbrella. With their fancy prints and discrete fashion statements, customizable outdoor umbrellas have become more popular and are commonly known as printed patio umbrella. We will use these terms interchangeably from here on.   
Printed patio umbrellas come in all shapes and sizes. They are easy to install and over the years these utilitarian objects have evolved from being a beach goer's accessory to a must-have item for your home and business. We have the robust yet streamlined cantilever umbrellas, pop-up canopies – a go-to thing for brands to promote their products on the go, and the big and robust commercial grade patio umbrellas.  
Manufacturers use all sorts of durable fabrics to produce the canopies for their outdoor umbrellas. Italy and Spain rank among the best producers of printed patio umbrella fabric. The metal frames are mostly made of powder-coated aluminium but the sturdier varieties can have steel or marine grade aluminium in them. The spokes need to be light. Hence, fiberglass is a popular choice.  
The printed patio umbrella might look simple but it is one of the most versatile objects ever conceived. Here are some of its features worth taking a closer look at.  
Read also: 7 Mistakes with Patio Maintenance and How to Avoid Them
What Makes the Printed Patio Umbrella Special!
Install it Anywhere 
Where do you want to install your outdoor umbrella? In your backyard, by the pool, in your chosen strip on the beach, in front of your business – you name a spot and we will tell you how an outdoor umbrella fits there. If you are looking for a temporary shade, nothing beats the outdoor umbrella.
Built to last 
Modern materials are light and durable. An umbrella typically has a soft canopy and a metal frame. Canopies can be made of a wide variety of materials like nylon, polyester, pongee, silk, and vinyl plastic among others. Outdoor umbrella manufacturers tend to use high quality Spanish and Italian acrylic fabrics for the canopies. These fabrics not only stop UV rays but are also water-resistant.
Water-resistance is a major concern in the umbrella manufacturing business. Any tightly woven fabric has enough surface tension to stop water from percolating through. Modern umbrella manufacturers often spray the canopies with silicone to make them water-repellent. A premium printed patio umbrella can have an additional canopy layer called the face fabric. Typically made of nylon or polyester, the face fabric is often coated with Teflon and Polyurethane for extra durability.
The metal frame comprising of the truss shaft, runner, ribs etc. is normally made of powder-coated aluminium. Sturdier commercial grade patio umbrellas can have steel structures for reinforcement purposes. Lighter umbrellas may employ fiberglass ribs.  
Fashion, Ambience and much more!  
Gone are the days when umbrellas used to be drab, mundane objects you had to carry around as ungainly accessories. Why should an outdoor umbrella be any less than a fashion statement? A neat printed patio umbrella lets you flaunt your chic aesthetics. Want to give your poolside a French Riviera vibe? Why not! Want to show your neighbours your fine taste for scalloped design? Why not! Want your cocktail dinner shade to exude a Mediterranean vibe? Why not! Your very own outdoor umbrella should reflect your personality.  
These days. outdoor umbrella manufacturers offer you a wide variety of colors and prints. From two tiered tops, frilled edges, quaint striped motifs through to exotic Mogul styled opulence – you have it all. Manufacturers let you choose your palette as well. Care to match your beachwear and brimmed hats with the umbrellas, anyone?   
A printed patio umbrella really does augment home décor. Poolside recliners and dainty garden furniture all look so much more on-point in the shade of a matching outdoor umbrella. An outdoor restaurant can do itself a world of good by adding the right canopy with the right fabric for shade. It gives a sheen of elegance to an otherwise ordinary place.  
What do Paris (France), Bucharest (Romania), Agueda (Portugal) and Athens (Greece) have in common? Well, they all have their versions of umbrella street! Ever wondered why beaches with long rows of recliners look so dainty? Because they have matching beach umbrellas blooming like flowers atop the recliners. Who knew umbrellas could do so much!  
Brand Promotion 
With outdoor umbrellas, customization is the name of the game. We have already discussed how printed patio umbrellas can be your bespoke fashion statement. Now let us discuss how it can be good for your business as well. Nothing adds more brand-value to a business than an accessory that reflects the essence of the brand.  
With big and small businesses looking to promote their brands the classic patio umbrella becomes an essential tool to spread the word. Telecom, Banking, Retail, Automobile, Real Estate, Hospitality – you name an industry and we will show you how the bespoke outdoor umbrella is being used for brand promotion. A neat restaurant with colorful outdoor umbrellas is an instant eye-catcher. You have noticed those colorful team umbrellas in sporting events, haven't you?
Businesses can have their brand colors and logos printed on their bespoke umbrellas. With durable printing technology at their disposal, manufacturers can print just about anything on an outdoor umbrella as long as it is legal. It is easy to spot an automobile garage or a car seller from a distance that way. You want to stop the sun and rain but let the money come pouring, don't you?
Life Saver 
We are looking for fun in the sun and not burning in the sun! We have already discussed the ramifications of exposing skin to the sun for too long. The UV rays can do some serious damage and the outdoor umbrella can be a life saver when you have had enough of the sun. Studies suggest that a good umbrella can block more than 90% of harmful UV radiation.
Whether you are looking to amp up your summer with a chic outdoor umbrella or attract new and old customers to your business, printed patio umbrellas and commercial grade patio umbrellas are what you need to make your summer wholesome.  
Like we say, have fun in the sun!