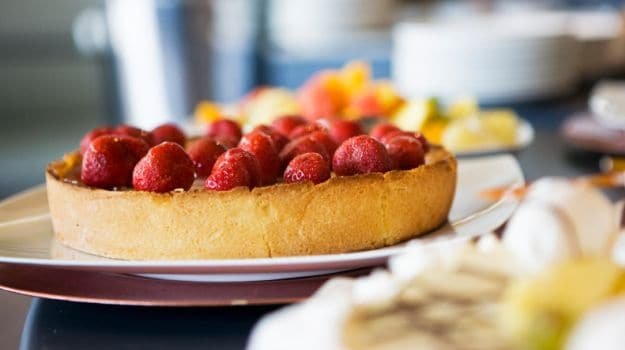 Last Updated on June 11, 2023 by
Who cares what the season is? Cake is a dessert that can be delightfully consumed anytime of the year! Summer is here, which means it is time to relish juicy fruits and have a great time in the pool with friends and family. Having friends and family around further implies indulging in hospitality, feeding them tasty meals and desserts. Summer is the perfect time to indulge in delicious and refreshing desserts. And what better way to satisfy your sweet tooth than with a mouth-watering summer cake? Whether you're hosting a backyard barbecue, planning a picnic or simply looking for a tasty treat to enjoy on a lazy afternoon, these summer cake recipes are sure to hit the spot. Here we will share with you summer cake recipes that would feed small to large gatherings to the best. We have incorporated fruits, yogurt, and other summer-friendly ingredients into our cake recipes to make them summer-friendly. 
Fruit Sangria Cake:
Make your cake highly succulent and sweet by adding seasonal fruits. Colourful fruits used as the topping will surely make your cake look more beautiful and tempting to the taste buds. So, here is your fruit sangria cake recipe: 
Ingredients For Cake:
½ cup unsalted butter
1 ½ cup sugar
3 large eggs
2 ¼ cup flour
1 teaspoon salt
3 ½ teaspoon baking powder
1 ¼ cup milk
2 teaspoon vanilla extract
For cream
2 cups heavy cream
½ cup sour cream
¼ cup sugar
A pinch of salt
Fruits for toppings
Apricot
Strawberries
Blueberries
Peaces
Directions To Bake a Cake
Grease the cake pan and preheat the oven to 350 degree fahrenheit
Beat butter and sugar until light and fluffy. Now, add eggs and bit until you get a creamy mixture.
In another bowl, mix flour, baking powder and salt. Add this to the butter mixture.
Slowly keep adding milk and bind all the ingredients together
Beat until you get a smooth batter with desired consistency (nor too watery nor too dough like)
Pour the batter into the cake pan and bake.
Prepare the cream cheese by beating sour cream, heavy cream, salt and sugar until soft peaks form.
Spread the cream cheese on the cake
Add chopped fruits on the cake
Refrigerate until serving
Mojito Cake:
Turn your favourite drink into a refreshing dessert. Baked with lime, mint, lime buttercream, and white rum syrup, which will lend it a savoury taste and a much-needed cooling effect. You can make preparations in advance. 
Ingredients:
1 cup salted butter
1 cup sugar
4 large eggs
1 cup all-purpose flour
2 grated lime zest
⅓ cup yogurt
Lime wedges, mint, and zest for garnish
Buttercream:
¾ cup unsalted butter
2 cups icing sugar
⅓ cup cheese
2 lime zested
White rum syrup
3 lime juice
½ cup brown sugar or white sugar
Chopped mint leaves
⅔ cup white rum
Baking Directions:
Grease the pans and preheat the oven
Beat butter and sugar until light and fluffy.
Incorporate eggs and fold flour, zest, and yogurt.
Now pour the batter into prepared pan/pans and bake the cake.
Take a toothpick test. After it has baked, take out and let it cool completely.
To make the white rum syrup, follow the directions. Put half lime juice,sugar and mint leaves into a saucepan, add water to dissolve sugar. Bring to a boil. Remove from heat and stir in rum and sieve into the bowl.
Coat the cake with prepared syrup. You can prick holes into the cake and pour over the liquid.
Make buttercream by beating butter, lime, and icing sugar together. Add in cheese and keep beating until it is fluffy.
Now, cover the cake with buttercream
Decorate the cake with lemon zest, lemon wedges and fresh mint leaves.
Strawberry Cake:
The last summer cake recipe is a strawberry cake. Make the most of your berries to bake a berry-licious strawberry cake. Though you can easily place an online cake order in kolkata for this cake, baking it would be a next-level pleasure.
Ingredients:
11/2 cups of butter
11/2 cups sugar
4-5 large eggs
11/2 cups all-purpose flour
1 cup yogurt
½ cup strawberries, sliced
2 tsp vanilla extract
Icing
1 cup butter,
1 cup cheese
2 ½ icing sugar
1 cup strawberry jam
Directions:
Blend butter and sugar. Add in eggs, flour, and yogurt and blend to obtain smooth consistency. Once you get the desired consistency, add vanilla extract and gently mix.
Bake the cake and let it cool. You can bake 2-3 cakes for layering.
Prepare the buttercream blend butter and half of the sugar. Add cheese and remaining sugar until smooth peaks form.
Layer the cake with strawberry jam and buttercream. Cover it richly with buttercream.
Top sliced strawberries on the top.
Some more quick summer cake recipes
Lemon and Blueberry Cake : This zesty cake bursts with the tangy flavour of fresh lemons and the sweetness of juicy blueberries. It's the perfect dessert for a hot summer day and will leave you feeling refreshed and satisfied.
Strawberry Shortcake : Nothing says summer quite like a classic strawberry shortcake. Layers of fluffy cake, whipped cream and juicy strawberries create a beautiful and delicious dessert that's perfect for any occasion.
Pineapple Upside-Down Cake : If you're a fan of tropical flavours, you'll love this pineapple upside-down cake. The sweetness of the pineapple pairs perfectly with the buttery cake and creates an indulgent and refreshing dessert.
Peach and Raspberry Cake: Peaches and raspberries are in season during summer, so why not combine them in a delicious cake? This fruity dessert is sweet and tangy and perfect for sharing with friends and family.
No matter which recipe you choose, these summer cakes are sure to satisfy your cravings and add a touch of sweetness to your summer days.
Enjoy!
Apart from that, if you are interested to know about 5 Secret Baking Tips To Make A Perfect Cake Disclosed then visit our Recipes category.