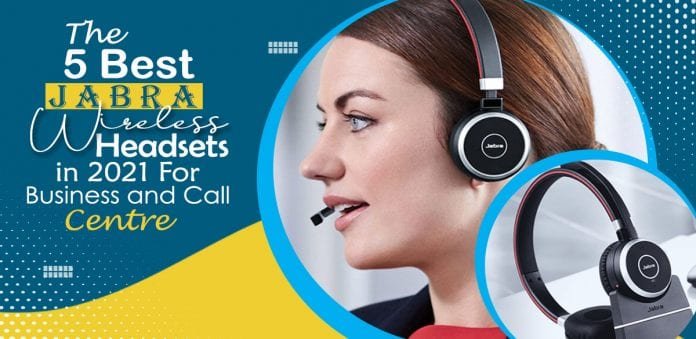 Last Updated on March 2, 2023 by
The 5 Best Jabra Wireless Headsets in 2021 for Business and Call Centre
Jabra wireless headsets have been given a prominent status in the market due to their quality features. The functions and the ease that they offer have made them a popular choice in various offices as well. A prolonged battery life, distance range, and easy adaptability to different PC versions are some of the features they offer, which are a must-needed thing in many offices. The charging system is fast, which helps you to get back to your work in a very short time.
1) Jabra Pro 920 Wireless Headset System:
If you are looking for a quality headset that can provide you a quality time in your office and your loyalties lie with Jabra, then Pro 920 is what you need. They perform their job best and connect easily with your desk phones, PCs, or laptops with the help of their advanced connection system.
The talk time that they have is exceptional, which helps you to focus on your work for a longer time. They have a talk time of up to 8 hours, and their charging system is fast as well. The wireless range is more or less 325 feet which makes sure that you can walk to another place while working in your office or can multitask. They have a power-saving auto function that automatically shuts it down if it is not in use for some time.
2) Jabra Engage 65 Mono Wireless Headset System:
This quality headset is the most unique and innovative design Jabra has ever made. They are compatible with PCs and even desk phones. The connectivity is also easy, and with the help of USB, the transmission of the sound is also much easy. The battery life that they have lasts long, which helps you to stay focused on your work without any worry about charging.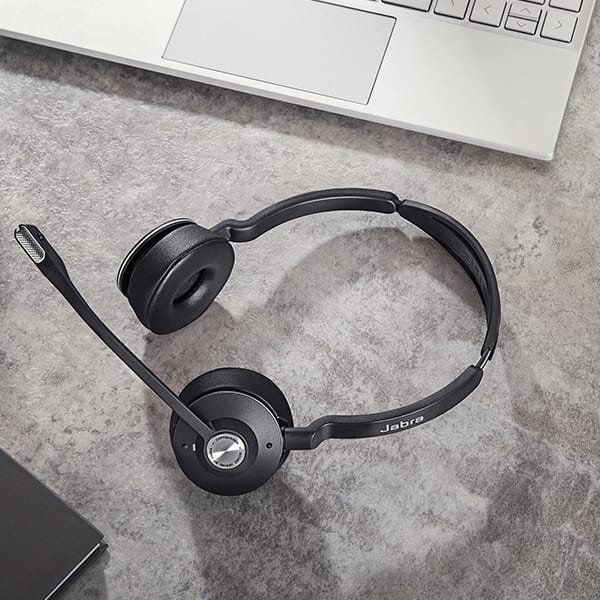 The wireless distance that they have is 490 feet which is quite good and able you to go hands-free while working on some other task. Those that are working from home should have these headsets because they are much more comfortable and with a definite range; they can even work on some other thing, thus making them a multitask person. The weight of these headsets is also light which makes them wear easily around the nook of the ear or with an over-the-head style.
3) Jabra Biz 2400 II:
Plantronics wireless headsets have good quality to offer, but with the use of Jabra Biz 2400 II, you will have a quality experience in your offices. The premium quality stereo makes sure that you get to hear a clear and noiseless sound. This is the most popular and demanded version that the company has ever made. It is much easy to wear as they have an adjustable headband which enables you to ear it according to your convenience.
The USB connection makes sure that they are easily connected to all functional devices. There are call control buttons present on the headset, which can end, answer, and even put it on hold with a smooth touch. The microphone is also equipped with the best technology so that you can easily communicate with your clients, and it is an integral feature of any microphone.
4) Jabra Pro 9450 Midi–Boom Headset System:
As compared to Sennheiser wireless headsets, the Jabra Pro 9450 Midi-Boom Headset has many conveniences to offer. Their flexibility is one of the most important features that have made them a quality office choice. Their easy connection modes with PCs and desk phones or both at the same time enhance your productivity, and this way, it is also easier for you to take or send calls.
They have a wideband sound system that eliminates all the sound from the background, that helps you to stay focused on your work. Even if you are at work and enjoying some music, and in the mid of that, you have a call from your customer, then with these headsets, you can easily attend it, and the music will be stopped. The definite range of 450 feet, which they have, makes you able to search for documents even if you are at another corner of the office.
5) Jabra EVOLVE 80 Stereo:
The narrowband frequency response of Jabra EVOLVE 80 Stereo has made them popular in many call centers and businesses. The earpiece of these headsets is covered with a formic material and gives a protective cushion to your ears. The price that they have is within the budget of many, and with many exceptional qualities and features, one will want to get their hands on it.
The active noise cancellation feature of these headsets is one of the features that every office looks for. These headsets are also easy to set up, and they readily connect with any device that you want to connect with. They have an indicator light on them, which gets on whenever someone is busy on a call. Due to their extreme comfort and catchy price, they are an ideal choice to be used in offices.
Overview
Jabra is a renowned brand known for its premium wireless headsets with exceptional sound quality, reliable connectivity, and comfortable designs. Here are the top 5 Jabra wireless headsets in 2021 that you should consider:
Jabra Elite 85t: The Jabra Elite 85t is one of the best wireless headsets in the market, featuring active noise-cancellation technology, an adjustable equalizer, and 12mm speakers that deliver a powerful, immersive sound experience. The earbuds have a comfortable fit, and the battery life is impressive.
Jabra Evolve 65t: The Jabra Evolve 65t is an excellent wireless headset for professional use, featuring superior sound quality, noise-cancellation technology, and long battery life. The headset is also comfortable and easy to use, with a simple tap-and-go function.
Jabra Elite 75t: The Jabra Elite 75t is a top-rated wireless headset known for its compact and comfortable design, excellent sound quality, and reliable connectivity. The earbuds have a long battery life and are water resistant, making them perfect for outdoor activities.
Jabra Elite Active 75t: The Jabra Elite Active 75t is a highly recommended wireless headset for sports enthusiasts, featuring a secure fit, sweat-resistant design, and powerful sound quality. The earbuds have a long battery life, and the charging case is compact and convenient.
Jabra Elite 65t: The Jabra Elite 65t is a budget-friendly wireless headset with excellent sound quality, a comfortable fit, and reliable connectivity. The earbuds have long battery life and are perfect for music lovers on the go.
Final Words:
It is safe to say that investing your money in Jabra wireless headsets will be the best decision for your office or business use. They are equipped with the best technology, and their structure is also much more reliable and comfortable.
FindHeadsets provides you with a vast collection of Jabra headsets. They have all the individual specifications and features of headsets written with clear pictures so that it becomes easy for you to decide and so you can make the best selection by heading over to them.
Read More: Who needs wireless earphones and why?