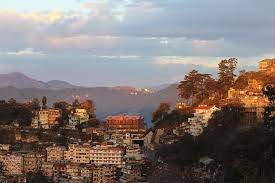 Last Updated on June 15, 2023 by
India is a beautiful country that amasses various amazing cities. From beaches to hill stations, the country flaunts unique areas that offer the tourists varied experiences. History lovers can visit monuments and forts of historical importance, while adventure lovers can indulge in sports activities while enjoying their vacation on the beaches. Then there are hill stations that provide trekking and opportunities. The multi-cultural land has many avenues and lots to present apart from sightseeing, like their amazing culture and lip-smacking food. Overall, you can expect a complete package while visiting the length and breadth of India and in case you are still stuck as to where to start from, here are the top amazing cities to head start your exploration.
Darjeeling – Darjeeling promises a pristine environment ranking its place at the topmost hill station in India. The beautiful Himalayan and Kanchenjunga ranges overlook the city presenting snow-clad mountain ranges which are a feast for the eyes. Tiger hill is yet another spot where one can explore the climbing and watch the breathtaking sunrise from here. Adventure enthusiasts can enjoy a ropeway ride to view the entire place from a height. You can also enjoy the traditional momos and other delectable Tibetian dishes on your visit. Do include a journey by toy train in your Darjeeling package that promises you to take a ride through the lush green valley's offering you some exemplary sights.
Srinagar- Popularly known as the Venice of the East, Srinagar is a picturesque destination that deserves a spot on your bucket list of tourist spots. Known for its surreal beauty amidst the Dal and Nagin lake, the place is apt for laying your eyes on the pure beauty of nature. Snow clad mountains perched with lush green forests and dotted with meadows paint a wonderful picture worth treasuring. Yusmarg and Chasma Sahi are must-visit places on your trip here. Summers are ideal for taking a stroll through the magnificent Mughal gardens enjoying apples and orchards, while in winters one can enjoy the snow blankets that offer a paradise-like feel.
Jaipur- The pink city of India, Jaipur is an international tourist destination that speaks of the rich cultural heritage of ancient India. Known for its majestic forts and city palaces, it truly stands testimonial to the royal life that our ancestors enjoyed. While on a visit here, do visit the Hawa Mahal and Sunehri Kothi which are of great architectural beauty. You can also put up in forts converted into hotels to get insights into their royal life. Apart from monuments, Jaipur is famous for its handicrafts, gems and jewellery that you can shop from line bazaars that give you a flavour of their traditional crafts
Andaman and Nicobar- Andaman and Nicobar are other beautiful destinations that stores in many small islands and resorts vouching for a fantastic experience. The palace evokes beautiful scenery which gives it a paradise appeal. Enjoying the Gurgling water, strolling on the white stretches of sand and participating in water activities are the many things that one can include in their to-do list on their visit here. If you are a lover of fish, you can explore the coral reefs and the vibrant fish species by taking a deep dive into the crystal clear waters. Sports enthusiasts can also indulge in various water activities like snorkelling, canoeing and speed boat here.
Kerala- God's own country, Kerala is an amazing place to visit. Listed by National Geographic as the top 50 destinations and included in the list of 13 paradises in the world, Kerala speaks of beautiful backwaters which are unique to this area. Experience the boat rides and houseboats that can be booked for a night stay. Kerala backwaters are a feast for the eyes and invoke mesmerizing views. The place is also known for its enriching Ayurveda medications which hold the solution for many problems. Pamper yourself with massages and oil treatments that are sure to give you a relaxing fervour. Besides, Kerala is also known for its cuisine and one can enjoy the food enveloped in leaves that have a unique flavour.
So, what are you waiting for? Pack your bags and explore these amazing places with your family and loved ones, creating memories that can be cherished for a lifetime.
Apart from that, if you are interested to know about Reasons to choose Travelxp then visit our Travel category.
.