Last Updated on October 21, 2022 by Umer Malik
As the small home movement catches on, a lot of people are moving into small spaces. The benefits are many – lesser mortgage/ rentals, lesser utility bills, lesser maintenance costs and hassles, and lesser carbon footprint, to name some.
Alongside benefits, there are challenges too that come built-in with small spaces. One such challenge is getting the window treatments right. Small houses mean limited wall space and smaller windows. Even in bigger dwellings, there might be a small room or two that needs something beyond bulky curtains.
Remember, window treatments in small spaces – whether curtains, custom roman shades, or some other dressing – should create an illusion of space, enhance the room aesthetically, and create sufficient privacy. With some guidance from our expert tips, you can ensure your small space windows get all these things right.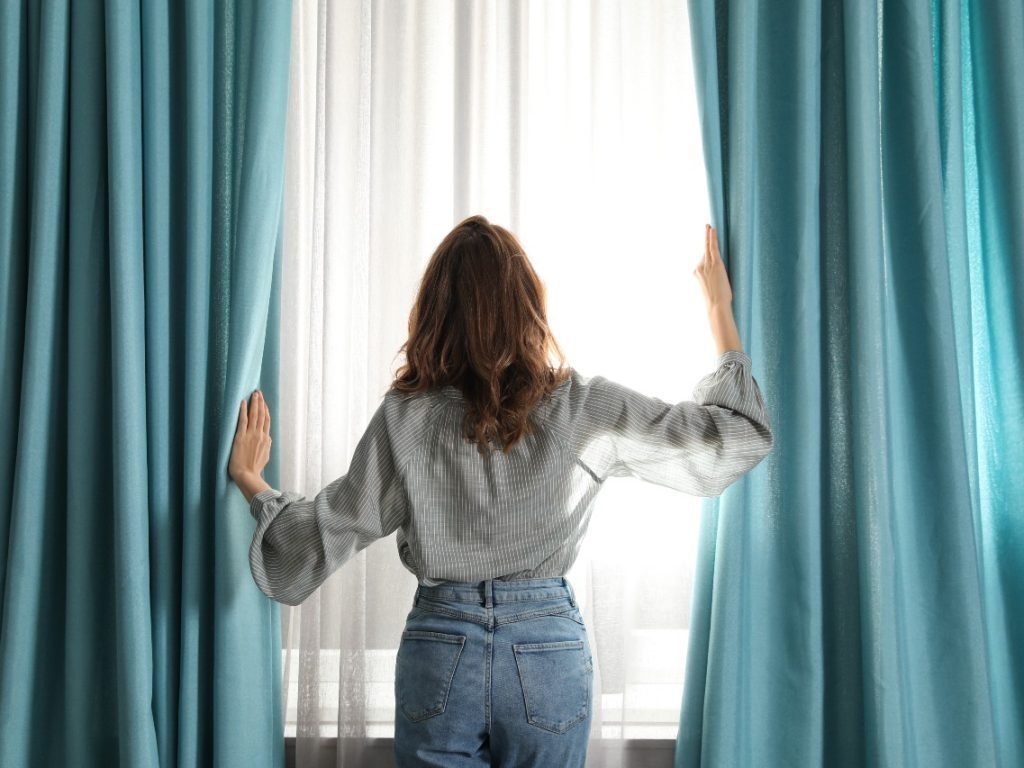 Here are some key pointers to get you going:
Keep all window treatments uniform –
If there's more than one window in a small area, keep all window treatments identical. You can't have drapes on one window, roman shades on the second one, and slatted blinds on the third one in the same small area. That will create a feeling of clutter. Choose one option and use it on every window in that visual zone.
Avoid layers –
In bigger spaces, layering of window treatments – roman shades paired with drapes, blackout curtains with sheers, etc. – works well. In small spaces, it looks overwhelming. The reason is simple. The more layers you create, the tighter the space looks. Whichever treatment you pick – curtains or blinds or shades – keep one layer only.
Use lighter and airier fabrics –
Cotton, organza, linen, and thin silk (unlined) are some good fabric choices for small space drapes and shades. Skip velvets, suedes, satins, and heavy jacquards. Thick and opaque curtains restrict light's entry into the space. Go for sheers or semi-sheers. Translucent window treatments filter in light, and give a light, airy feeling for an illusion of spaciousness and it makes your room look bigger.
Follow the room's wall color
– Keep your drapes and shades in the same color (or as near as possible) as the walls. This monochrome palette creates visual continuity and makes the walls look larger than they are. If the walls are dark (not an ideal scenario but these things happen at times), follow the lighter color of the rug and the furniture. This too will help visually expand the space. Also, pale hues like off-white, pale gray, sky blue, fern green, etc. help maximize the feeling of light in a space.
Add width to narrow windows – I
f using custom curtains, use curtain rods that are wider than the window's width on both sides. These extensions on either side will ensure that whenever curtains are drawn, they frame the windows creating an illusion of bigger windows. Horizontal blinds or roman shades that extend a few inches beyond the frames are also good options for narrow windows in small spaces as these too create a sense of broader visual span.
Skip heavy prints or checks –
Keep your fabrics plain or open weave. Or go for monochrome vertical stripes. Bold prints, large florals, oversized damask, thick checks, horizontal stripes, etc overwhelm the eye in a small space. Remember the golden rule of small space window treatments – visual harmony scores over loud contrasts.
Avoid frills and flounces –
Keep it simple. Skip ornate valances, heavy edgings, large applique patterns, color blocks, voluminous pompoms, elaborate tie-backs, and any such loud details. If you must edge the curtain, use a very fine trim. Tie-backs too should be slim and minimalist. Simplicity spells elegance in small spaces.
Create an illusion of height –
Determining the length of your curtains is essential as it creates an optic sense of added height by going for full-length ceiling – floor drapes. If you can't go ceiling to floor, keep the drapery rods as close to the ceiling as possible. The higher the starting point from the upper window edge, the better your curtains will create a lengthening effect. In a small room, do not use curtains that stop at window ledge height. Go full length. But remember, no pooling of curtains on the floor. Keep drapery edges an inch or so higher than the floor surface.
Ornate curtain rods with fancy finials (end ornaments) will eat up your space. Don't use thick curtain rods. Keep the finials minimalist. Slim, plain and simple works best in small spaces.
Keep the curtain rods plain –
Think beyond curtains –
There are window treatments beyond conventional drapes too. Consider roman shades, blinds, custom valances or a faux roman shade. Curtains occupy greater volume and can make the room look smaller. Roller shades and blinds, on the other hand, stay close to the windows, occupy much less volume, and open up the wall and floor space.
With these tips in mind, you can get your small space windows looking fabulous.