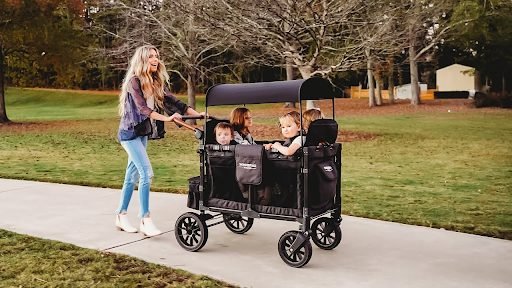 Last Updated on November 23, 2022 by
Have you ever tried to push your kids across the beach or rough terrain in a traditional stroller? If yes, then you can truly understand how big of a struggle it is. Now, Imagine loading up a few kids' belongings into these strollers; it becomes impossible to move them. The reason is, traditional strollers are not built for rough terrains or sand. They work fine on flat indoor and outdoor surfaces. However, there is an advanced version of the baby stroller in the market that can do it all. It is known by the name of "Stroller Wagon."
Stroller wagon is a relatively new concept that has been gaining so much popularity over the past two years. Due to that, many new companies have started producing them, resulting in many improvements and more features. Like Wonderfold stroller wagon is loaded with features that are impossible to find in traditional strollers. Now, parents can choose from a decent number of stroller brands and models available on the market, but it's essential to have some knowledge about stroller wagons and their features to decide the right one.
What's a Stroller Wagon?
A stroller wagon is a genius portmanteau of a baby stroller and kid's wagon. It's a featureful contraption with padded seating, harness safety and plenty of storage to keep all your belongings. However, the stroller wagons are not suitable for newborn babies. A baby should be of a minimum of six to eight months old for a stroller wagon.
The best thing about these wagons is their ability to glide over all terrains without any movement or problems. In addition, you can push them through a handlebar on the sidewalks or pull them on the beach using a telescopic pull handle. Some stroller models like W4 Original Quad Stroller Wagon have high face-to-face seats with a footwell for better comfort of the passengers.
What To Consider While Buying a Stroller Wagon?
There is a wide range of stroller wagon's varieties available with different prices and features. The main difference between models would be seating styles, wheels, handlebar, weight capacity, canopy and price. Not to mention, a stroller wagon is comparatively pricey than traditional strollers, which is quite fair for all the upgraded safety and features you get with these wagons.
How Much Does It Cost?
On average, a stroller wagon price starts from $200 and goes up to $1000 and even more. For example, for $469, you can get a Wonderfold Baby X4 Pull and Push Quad Stroller Wagon, perfect for outdoor activities and kids like camping, vacations, walking in the park, etc. You'll get all the basic features of a stroller wagon in this price range. However, you can opt for high-end stroller wagons with extra features and more space by increasing your budget.
For example, for $899, you can get a W4 Luxe Quad Stroller Wagon that has a UPF-rated canopy that cancels the harmful UV rays to protect your kids. Also, it's easy to remove the canopy in case your kids want to experience the outdoor vibe. You also get a great wagon weight capacity of 300 lbs with that and some other surprising features.
All in all, the price depends on the extra features. But, that doesn't mean that you can't get a good stroller wagon at a reasonable price or buying a less expensive stroller wagon is about compromising the quality of kids' safety. It's just about the material, a few extra features and storage space that differs in the high-end models. So, if you're looking for the best stroller wagon, keep reading. We've listed down the best four stroller wagons that will have your kids riding in style.
#1. Wonderfold Baby X4 Pull And Push Quad Stroller Wagon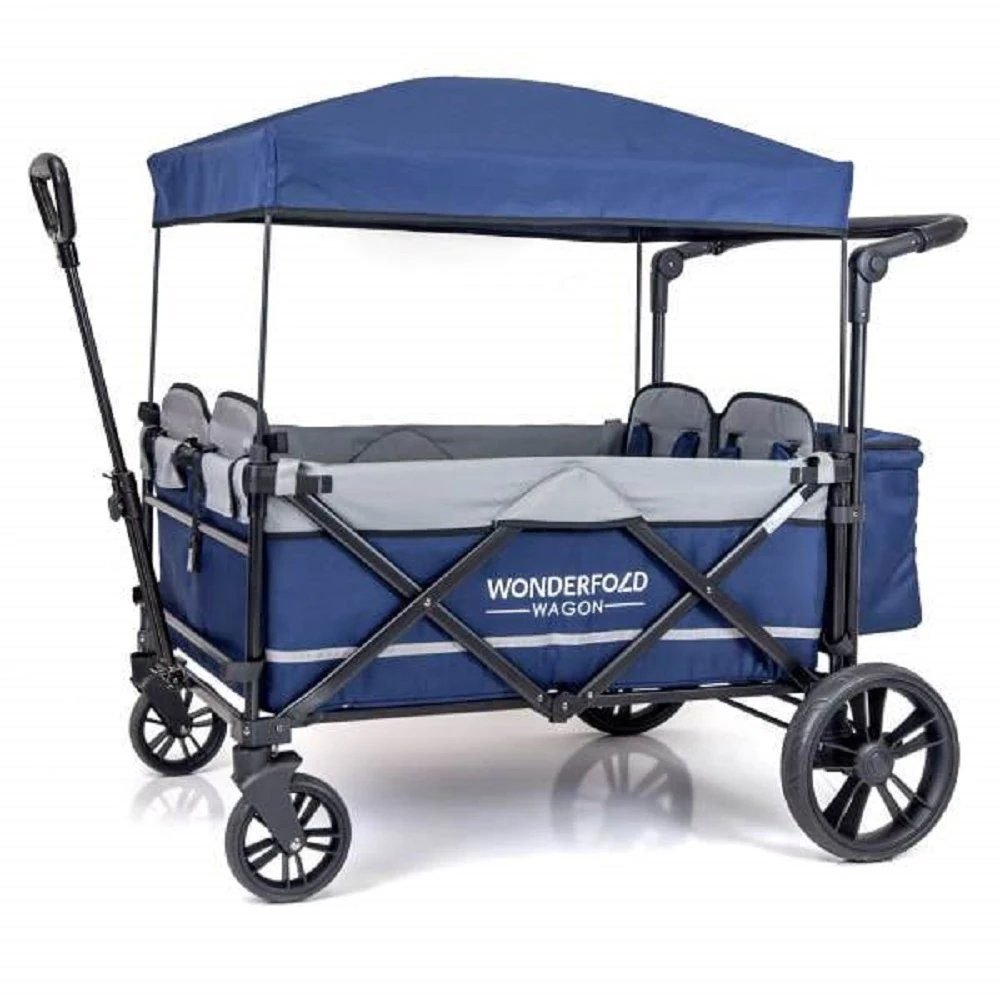 Brand: WonderFold
Price: $469.00
Age range: 6 months & up
Weight Capacity:180 lbs
If you've more than two kids, this is the best value for money stroller wagon you can get. It has a 5-point harness for all four passengers, padded seats and a removable canopy. You also get a push and pull handlebar with telescopic bounce technology and a 1-step foot brake system.
#2. Radio Flyer 3-In-1 EZ Folding Outdoor Collapsible Wagon
Brand: Radio Flyer
Price: $145.00
Age range: 6 months & up
Weight Capacity: 150 lbs
This adorable looking stroller wagon is equipped with 3-in-1 system technology that means it has three riding features. One is bench seating, then two seats, and lastly, you can haul it for better comfortability. However, its plastic made and body is less durable, which makes it less durable. Other features include a front zipper door from where the kids can self-board themselves into the wagon and a deep carriage with zippered mesh panels for good ventilation.
#3 W4 Original Quad Stroller Wagon
Brand: WonderFold
Price: $899.00
Age range: 6 months & up
Weight Capacity: 300 lbs
It is an all-terrain quad stroller that can hold up to 4 passengers with some extra features like UPF rated canopy that is slidable/removable. In addition, you get a removable and reclining seat with a 5-point automatic magnetic harness. There is a large room of space and a detachable rear basket and pockets on all sides.
#4. Evenflo Pivot Xplore All-Terrain Stroller Wagon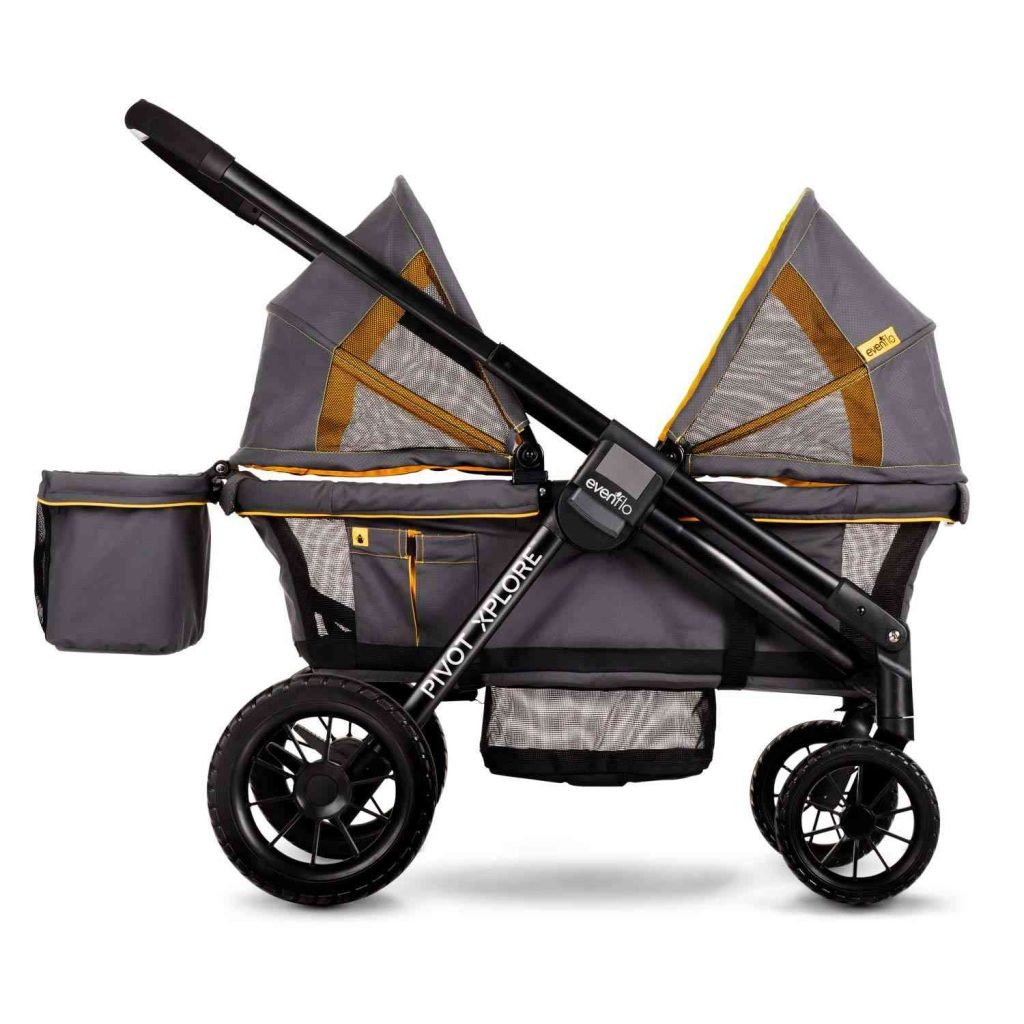 Brand: Evenflo
Price: $409.00
Age range: 6 months & up
Weight Capacity: 120 lbs
This looks more like a traditional stroller. It has a single adjustable that can be used for pushing and pulling. There are two storage compartments one below the handlebar and the second one below the stroller. In addition, it has dual UPF- rated canopies that gives it a very modern look.
Final Words
So, that was it. We covered the best stroller in this list with their prices and features. Choosing the one for you is totally your choice, and however, we can rest assured that all the stroller wagons on the list are worth the investment, and you won't regret buying any of them.
Read more interesting articles at Readesh