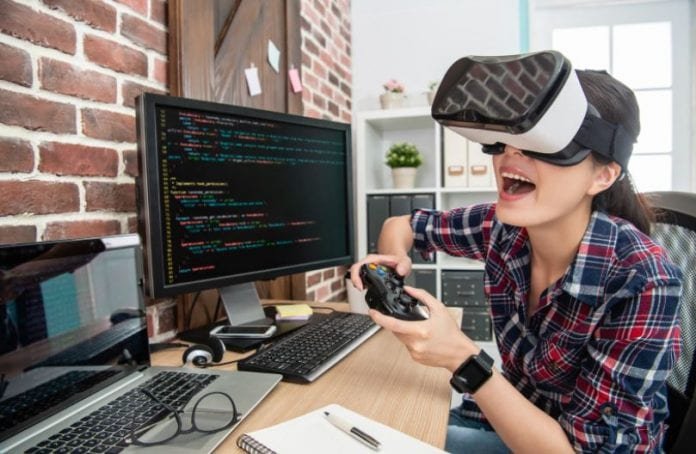 Last Updated on February 17, 2022 by
Virtual reality (VR) gaming is a new generation of games, providing players with a more immersive experience. It brings users into the gaming world via a special over the eyes headset that include vr prescription glasses, which provides players with a first-person perspective of the gaming world, and can influence the game in various ways including headsets, sensory gloves, hand controllers, and other accessories Virtual reality gaming can be used on various systems: either their own, or on specialized consoles, PCs and phones. There is nothing quite like stepping into the virtual world!  
VR Games
There are a whole range of games that can be played, both individually and multiplayer, such as auto racing, physical combat, exercise classes and puzzles. Some of the top VR games in 2021 as predicted by TechRadar are: Trover Saves the Universe (PSVR, Oculus), Star Wars: Squadrons (Multiplatform), Half-Life: Alyx and No Man's Sky (PSVR), Defector (Oculus Rift and Rift S), Astro Bot: Rescue Mission (PlayStation VR exclusive), Tetris Effect (Multiplatform), Resident Evil 7: Biohazard (PlayStation VR exclusive), Batman: Arkham VR (Multiplatform) and many more. There are games for the hardcore players, families, new and experienced gamers!
Benefits of VR Gaming
The benefits of VR gaming is the exciting first person perspective you get to play the game through. Usually while gaming, you are slightly behind the player, or from a distance. VR means you see the world through the player's eyes with a 360 view! This unique 360 view is achieved by using a special VR headset and accessories.
Type of Console
The type of console you have will depend on your budget, as well as the type of VR headset you have/want to purchase. Each console has its own specifications for VR gaming. There are so many options in the market.
VR Peripherals
The most common VR peripherals are:
Headset and Goggles
These are essential in order to immerse yourself into the game. VR gaming is so popular there are now a range of different headset and goggles for different games, experiences and budgets. Some will just provide you with the 360 view and gameplay, other high end headsets will incorporate your head and eye movements! The higher end headsets can range from $1000 but will give you a unique experience with the best of quality graphics and refresh rates. The mid range headsets are those that are used with smartphones and have good motion tracking sensors, and good lense and field view. These can usually be purchased for less than $150. The low range headsets are most commonly made out of cardboard or plastic and work by installing an app on your smartphone, and slotting it inside the headset, where the 3D/VR content is magnified. These can usually be bought for around $15.
VR Game Controllers
A game controller will use the joystick, gamepad, or gloves to translate your physical actions into the game for actions such as pointing, firing, and commands. Some high-end VR games will actually use a motion detector to sense movements and integrate them into the gaming experience!
VR Gaming Gloves
Gaming gloves enable a new level of gaming as they are equipped with sensor technology, allowing the detection of hand and finger movements where you can pick up and move objects. These are different to the motion detectors in the controllers mentioned above, as they will only detect whole-body movements.
Baring all this mind, the best thing you can do is take a look at your budget, the kind of games you want to play and the consoles you currently own. This way you can work out the best BR option for you, to get started in your immersive experience!