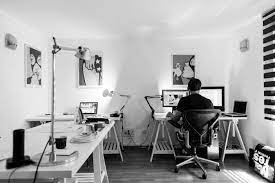 Last Updated on February 16, 2023 by admin
The scope for interior design across the globe has increased tremendously in the past few decades. This can be credited to the rapid construction of commercial and residential buildings. Owing to this, the demand for interior designer has also increased a great deal. This is mainly why many students have started looking for the best interior design courses more than ever. Such programmes provide proper training to start a career in the design field.
They cover relevant subjects like interior styling, spatial management, 3D rendering, etc., with on-site assignments. While the course offers you adequate guidance, there are specific skills you should possess to make it big. The following are some of them for your reference:
A knack for appropriate design
To start your journey as an interior designer, you should have a flair for spatial arrangements, textiles, colour schemes, etc. You should also have an eye for designs that satisfy functionality. You can polish these raw skills further through a comprehensive interior design course.
Communication skills
Successful interior designers tend to have good communication skills. They communicate ideas with their clients freely and effectively. They also maintain a robust network with contractors and suppliers. Hence, you need to work on your communication skills while taking the design course. Doing so helps you convey ideas better.
An eye for detail
Details play an integral role in any interior design project. To satisfy your clients, you should consider what they like and dislike while creating their space. You must also incorporate the slightest feedback in your work, be it design layouts or sketches.
Patience
Although patience is not a skill, it can be treated as one in the realm of interior design. Sometimes, your client may be fussy about certain aspects. They could introduce last-minute changes. Or perhaps, your contractors and suppliers may refuse to cooperate. In any case, you should maintain your calm. Also, practice patience, as it will take you a long way. This also applies to on-site projects you take in your online design courses.
You want to think clearly and focus on resolving the issue at hand. If you have queries, it is best to ask your mentors.
A desire to learn
Interior design is a competitive business. You need to yield compelling designs for your clients to grow and prosper. But for this, you must have the desire to learn. You should stay updated on trends, modern architecture concepts, and other relevant aspects to have the upper hand in your career.
Also, refer to design publications, websites, and magazines besides your course curriculum. If you feel lost or want to know about information sources, reach out to your mentors.
Conclusion
The mentioned skills can be acquired with time. However, you must make the extra effort to establish them besides opting for an immersive interior design course.