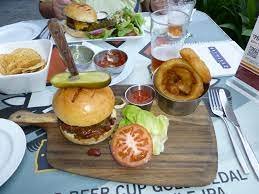 Last Updated on September 9, 2023 by
Sharing a brunch with friends and family is a great way to bond and catch up. If you have been postponing your meetups with friends, getting together to share a meal is a great idea. There are many food and drink options ranging from sandwiches, sausages, and baked goods. The recipes are also twerked to meet a high nutritional profile. In this article, we'll discuss the different meal ideas you can have when enjoying your brunch at Brotzeit.
1. Bavarian Brotzeit
This is one of the most common Brotzeit, and it originated from Bavaria. This meal course includes little cheese, a lot of meat, and other fresh ingredients. A bottle of beer is also included in this meal. This meal is often taken as a snack and thus making it a perfect dish idea for brunch. If you wish to have something warm in your meal, you can have a Bavarian weisswurst or meatloaf.
2. Cheese Brotzeit
This meal is a perfect idea for cheese lovers, but you should note that not all cheese is vegetarian. You can have a creamy side dish with grapes, dried fruits, and nuts. Bread also goes very well with cheese Brotzeit while catching up with friends. You can visit https://brotzeit.co/location/vivocity/ any time you're in Singapore and enjoy this meal over brunch with friends and family.
3. Vegan Brotzeit
A vegan Brotzeit excludes all other meals commonly found in a traditional Brotzeit, such as sausage, cheese, and butter. If you're a vegan, this meal is perfect for enjoying at a brunch as it contains fresh vegetables, various spreads, and all kinds of bread. The vegetables present include beets, gherkins, pickled onions, lettuce, tomatoes, carrots, radishes, and lettuce.
The plant-based alternatives that can be used in this meal include carrot smoked salmon and cashew camembert.
4. Venison Steak
Most people have classified this meal as their favorite dish, and hence you should try it out next time when having brunch with your friends or family. This meal consists of bacon-wrapped asparagus and almond-potato dumplings. What makes it more remarkable and memorable it's the tenderness and the oozing natural juices. The almond-potato dumplings are uniquely made and have a crunchy feeling on the outside while the inside is creamy.
5. Seafood Medley
This meal consists of smoked trout, crispy prawns, and smoked salmon. Seafood Medley is a perfect idea for a seafood lover looking for German cuisine to enjoy over a brunch. You can have anchovies as a starter to pave the way for a more delicious main course.
Reasons Why You Should Visit Brotzeit
• Spacious dining area
The dining space is very spacious, and you get to enjoy your brunch without any disturbance.
• Unique design
Perfect interior design to enjoy looking at as you wait to get served. You can also take some selfies to share with your friends online.
• Several service options
Drive-way pick-ups, dine-in, and delivery are options you can choose when craving German cuisines in Singapore. Feel free to take the most comfortable option and enjoy your brunch with friends.
Summary
In conclusion, there are many authentic German dishes you can enjoy when in Singapore. These meals are carefully crafted, and they contain the best ingredients. Feel free to visit Brotzeit and enjoy the various German cuisines, whether alone or on a date.