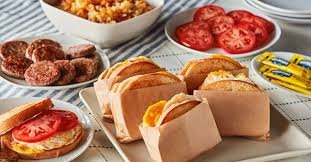 Last Updated on May 26, 2022 by azamqasim
When it comes to sandwiches, Cracker Barrel sells different varieties, all equally good, and all equally worth tasting at least once. That's why we've prepared a list of the best tasting sandwiches from the well-known restaurant. Here's a list of the six best tasting sandwiches from the world's "Best Family Diner" chain.
1. Chile Jack Chicken
When people eat chicken sandwiches, they want to taste more chicken than sandwich. And if a chicken's too dry, then the sandwich would feel like wet cardboard in the mouth. That's why Cracker Barrel came up with this genius chicken sandwich "invention." It's chicken grilled to a perfect light burn, but still retains the juiciness one would expect from a chicken done right.
The Chile Jack Chicken has three main ingredients – sourdough bread, cheese, and chiles. The sourdough bread has just enough texture to hold the chicken in place even if it's rendered frictionless by the cheese, and the green chiles give a kick to the whole ensemble. The result is a chicken sandwich that you'll find yourself eating over and over again.
2. Catfish Sandwich
Getting a catfish on a hook is pretty common in the South, and with a day's worth of catch, there's so many dishes to make. Cracker Barrel isn't boring, so aside from the Chile Jack Chicken they have on their menu, they've decided it's a good idea to serve catfish between two pieces of bread. What you get is something similar to a chicken filet sandwich, except it's all catfish goodness.
The catfish sandwich is perfect with lots of mayo. With the high fat content and chewy catfish meat, it's almost like chicken. Of course, this sandwich wouldn't be complete with pickles, which serve to contrast and highlight the different flavors and textures from the chicken sandwich in every bite.
3. Grilled American Cheese Sandwich
It would be disrespectful both to sandwich lovers and Cracker Barrel enthusiasts if we didn't include at least a grilled cheese sandwich on this list. Cracker Barrel's Grilled American Cheese sandwich is a basic sandwich that can satisfy even the most picky eaters.
This simple sandwich contains all-natural ingredients: onions, tomatoes, lettuce, and heaps of cheese between two pieces of perfectly toasted bread. For people who want to try this sandwich out, Cracker Barrel even put up the recipe online.
Cracker Barrel's secret to this sandwich is not just the cheese. For brand reasons or probably high customer demand, Cracker Barrel uses not just regular wheat bread, but sourdough bread. Maybe it's the extra texture sourdough provides? Who knows? Their grilled cheese sandwich is something to look forward to post-beer Friday nights.
4. Egg Sandwich
Who doesn't like the ol' classic egg sandwich? Cracker Barrel's take on the egg sandwich is one of their cheapest menu items, and it's always a safe pick when you're not particularly fond of humongous servings. Cracker Barrel's egg sandwich is made from two perfect slices of, you guessed it, sourdough bread.
Two sunny side up eggs go with fresh sliced tomatoes and are slathered up with lots of mayo to give the egg sandwich a creamier texture. Of course, for anyone watching their cholesterol levels, it's always better to switch it up with different options. There's always sliced bacon available, country ham, or even the sweeter variety, sugar ham. In all honesty, all the egg sandwich varieties don't really help with lowering down your cholesterol. Although the more obvious choice would be biscuits at Cracker Barrel.
5. Chicken Salad Sandwich
This is what we would call a legacy sandwich from Cracker Barrel. The reason being that they removed this item from the menu without warning. While a chicken salad might be perfect for those dieting down, Cracker Barrel thought it would be a good idea to reintroduce carbs to salad-eaters. While most people loved the chicken salad sandwich, their experience didn't last long.
A lot of people were left wondering why the fast food chain had to remove something so innovative. There are many things fast food restaurants share in common, but each needs all the ingenuity they can get to win the competition. The chicken salad sandwich was one, and if they thought it was a good idea to remove it, social media posts say otherwise.
The chicken salad sandwich is made from grilled chicken, fresh red onions, mayonnaise and sour cream, chopped lettuce, hard boiled eggs, cheese, and slices of tomatoes. All of these are fitted between slices of bread.
6. Steak Sandwich
We've covered sandwiches on this list from the humble egg sandwich to the highly experimental chicken salad sandwich. But where's the beef? Good thing Cracker Barrel has a steak sandwich. Cracker Barrel even had a video showing how they make it, but the video was an advertisement for cheese that they use with their sandwiches.
In actuality, the steak sandwich varies depending on what type you order. There's the open face steak sandwich, which is basically steak with lots of gravy served with two slices of bread. It's not exactly something you can hold in your hand, so it's confusing whether this really is classified as a sandwich.