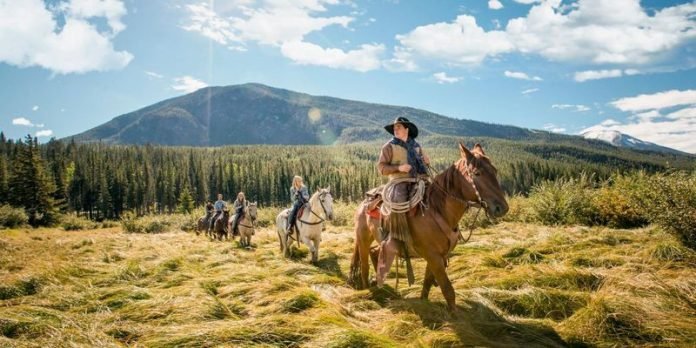 Last Updated on July 18, 2023 by
Whether you're a seasoned rider or a beginner, exploring the great outdoors on horseback is an incredible experience. The United States is home to some of the best places for horseback riding.
The wilds of Wyoming
If you're looking for a thrilling horseback riding adventure, look no further than the wilds of Wyoming. This stunning state boasts some of the most picturesque landscapes in the country, which can be best experienced by horseback. From the jagged peaks of the Grand Tetons to the rolling hills of the Bighorn Mountains, there are countless trails to explore.
Not to mention, Wyoming is home to the famous Yellowstone National Park, where you can see wildlife like bison, elk, and even grizzly bears up close. Whether you're an experienced equestrian or a novice rider, Wyoming's horseback riding scene has something for everyone. So, saddle up and get ready for an unforgettable adventure in the American West.
The red rock formations of Sedona, Arizona
Sedona, Arizona is home to some of the most breathtaking red rock formations in the United States, and there's no better way to experience the beauty of the desert landscape than on horseback. With numerous trails winding through the towering red rock cliffs, horseback riding in Sedona is an incredible adventure that's perfect for riders of all experience levels. 
From gentle walks through peaceful valleys to exhilarating gallops along the cliffs' edges, there's something for everyone in this stunning region. Surrounded by the natural beauty of the American Southwest, you'll feel a sense of awe and wonder as you explore the area on horseback, making memories that will last a lifetime.
The stunning beaches of Hawaii
If you're a horse lover and you're planning a trip to Hawaii, don't forget to add horseback riding to your itinerary. Hawaii is known for its breathtaking beaches, and what better way to experience them than on horseback? You'll feel the refreshing ocean breeze as you trot along the shore, taking in the stunning views of the crystal-clear waters and surrounding lush, green landscapes. 
You may even have the chance to see native wildlife like sea turtles and spinner dolphins as you ride. No matter what your level of riding experience is, there are plenty of tour options and guides available to ensure a safe and enjoyable ride. So saddle up and get ready to explore the beautiful beaches of Hawaii from a unique perspective.
The majestic mountains of Colorado
If you're looking for a breathtaking way to experience the beauty of the American West, look no further than horseback riding in the majestic mountains of Colorado. With rugged peaks, winding trails, and panoramic vistas, these mountains are a true rider's paradise. Whether you're a seasoned equestrian or a beginner just learning the ropes, there's a trail that's perfect for you.
Mount up and feel the freedom of the open range as you ride through fields of wildflowers, dance along the ridgelines, and gaze out over sweeping vistas of mountain ranges that seem to go on forever. With guides to help you on your way, you'll discover the hidden beauty of the Rockies that can only be reached on horseback.
The breathtaking views of Glacier National Park in Montana
Glacier National Park in Montana is a true treasure for horseback riders seeking adventure and natural beauty. As you traverse the park's rugged terrain, you'll be awestruck by the towering peaks of the Rocky Mountains and the gleaming blue waters of the park's pristine lakes. The crisp mountain air and the sound of rushing streams will soothe your soul and invigorate your senses. 
Whether you're a seasoned rider or a novice, the park's well-trained horses will guide you through the park's hidden valleys and stunning vistas. This is a journey you'll never forget, one that will etch itself in your heart and mind forever. So saddle up and immerse yourself in the majestic splendor of Glacier National Park.
The sprawling trails of Utah
Among the various states in America, Utah undoubtedly boasts some of the most stunning landscapes for horseback riding. The sprawling trails in Utah are vast and varied, providing riders with a unique opportunity to explore the state's many natural wonders.
From the crimson rocks of Bryce Canyon to the towering peaks of the Wasatch Range, Utah's trails offer breathtaking views that are truly unforgettable. Whether embarking on a leisurely ride or an exhilarating adventure, horseback riding in Utah is an experience that should not be missed. So, saddle up and hit the trails for a truly unforgettable journey through some of the most majestic scenery in America.
So saddle up and get ready to discover the beauty of the American landscape in a whole new way!
Apart from that, if you are interested to know about Difference Between Regular Jeans & Horse Riding Jeans then visit our Lifestyle category.