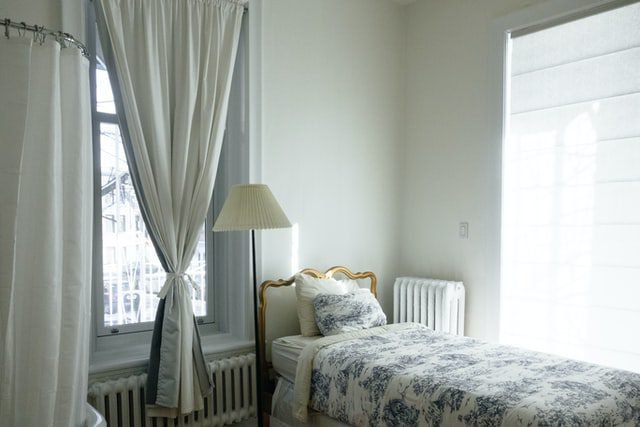 Last Updated on July 19, 2022 by
Your bedroom is the main part of the house. How you decorate it and take care of it affects your sleep, mental health, and your also your mood. According to experts, light is the most important factor to consider that must be taken into consideration when you are giving priority to your peaceful sleep over everything. Curtains on the windows control the light during the daytime. You can never underestimate the value of drapes in your bedroom. Here are a few tips as to how you can use the best drapes:
Choose the fabric appropriately:
There are different fabrics available in which curtains can be made. If you are a busy person who cannot give much time to your house, choose the cotton curtain because they are very easy to handle. Then, there are many such fabrics that allow you to attain a luxurious look. Curtains with heavy fabric such as silk are best for a sumptuous look. However, such fabrics are generally expensive. If a style is your priority, then the polyester fabric is best as they are budget-friendly, requires minimum maintenance, and also adds value to your room.
Consider the bedsheet:
A little fact about choosing drapes is that if you choose them in such a way that they match the bed sheet, they give a cohesive look to the bedroom. This factor helps you a lot especially when you are trying to make a theme. For many people, it is not a wise idea to keep changing their curtains in bedrooms to keep harmony. They can choose bed sheets in such designs that always go with their curtains. This is very easy to do especially when curtains are in universal colors and designs. You can buy bed sheets online in Australia at Luxo Living
Pay attention to the hardware:
The hardware with which your selected curtains are supposed to hang matters a lot to create a desirable look. For instance, the fixtures or hooks for elevated drapes is always different from those that are touching the floor. Due to this, you can find a variety of hardware including hooks, rods, and other types of fixtures. Also, try to ensure that fixtures easily blend in with the design of the curtains and that they don't look different.
Select the length wisely:
Before you think of an ideal length of hanging fabrics, first check out what is trendy and in vogue. In order to create a dramatic look in your bedroom, choose curtains that are a few inches longer than the required length. They look aesthetically appealing especially when they are of raw silk. However, if you have little kids at home, then choose to keep them slightly above the floor.