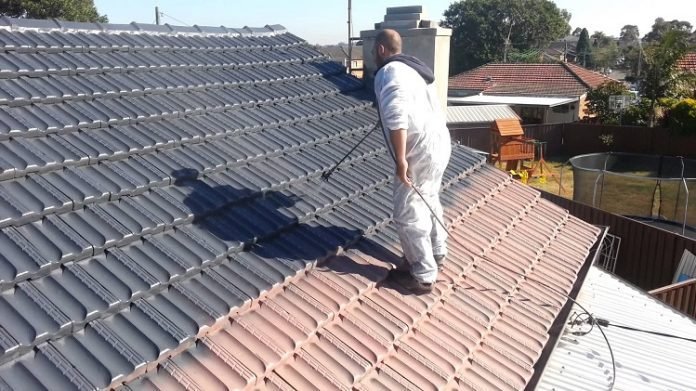 Last Updated on April 13, 2023 by
Selecting the right paint for the roof is important. Wrong selections can ruin your efforts. If you select low-quality paint, the roof will degrade much earlier. The roof may not be able to withstand harsh weather during summer, winter and rains.
This is why it is best to leave the choice to the experts. Professional roof painting services are aware of the right paint choice. This is why you should let expert roof painting services handle the task for you.
Important points to consider during your selection
The first most important point to keep in mind is that the paint should be waterproof. You can select any paint for the walls, but never make that mistake when selecting the right paint for the roof. You have to focus on the extreme conditions the paint will be exposed to very often.
The study of the local climatic condition is important. For winter you need paint that does not crack on contraction. During the summer season, the paint should expand. Radiation and dust are other elements that you cannot forget about during the selection process.
Masonry paint
This is a special type of paint for the roof. It is waterproof and will prevent the seepage of water. The paint is mainly prepared using latex and ceramic material. Expert roof painting services will always recommend using this type of paint for commercial premises.
The paint is designed to absorb water and other harmful chemicals. This is why it is considered highly durable. This type of paint can be used on all types of roofs. You can also use the same paint on stone and other metal roofs.
Epoxy paint
Epoxy material is a special type of resin material. It will offer a very strong bond with the surface. One good thing about epoxy paint is that it is waterproof. It also prevents the growth of moulds and dampness on the surface.
To apply this type of paint you may need specialized techniques. You can hire the best painter service to help you apply the paint on the roof. When applying, you may have to maintain the right thickness of the paint coat on the surface.
Acrylic paint
If you have a terrace then you may want to use acrylic paint. The paint can be applied as a form of solution as well. The moment you are applying the paint you will also have to apply the primer coating. It is not possible to apply acrylic paint without primer coating.
Always check the quality of the primer as well. Do not select cheap quality primer material. You can let the professionals make the right choice for you. The moment you are hiring a professional team you can trust them for using advanced techniques for accomplishing the task.
To read more articles click here.
Apart from that, if you are interested to know about Paint Your Home's Exteriors then visit our Home Improvement category