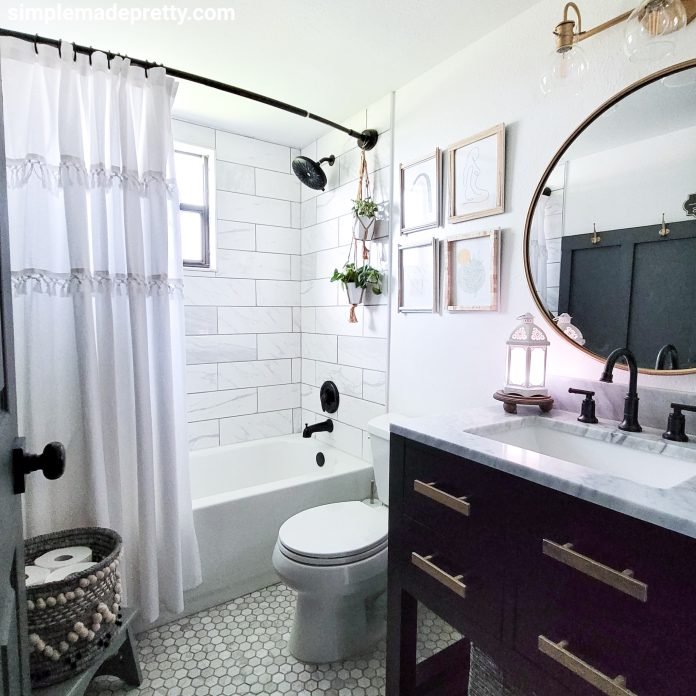 Last Updated on March 5, 2023 by
Have you been thinking about remodeling your old bathroom?
Bathroom remodels, just like kitchen remodels, are often timely and costly. As a homeowner, you'll have to deal with frustrations such as unmet timetables and extremely high costs for labor and parts.
Given the extremely high costs of remodeling a bathroom, why not try your own DIY renovation? Popular remodeling shows have led people to believe you have to rip your entire bathroom out and replace it all to make a difference but that's not the case!

Here are some easy bathroom renovation ideas that you can try in your own home. All of these renovations are budget-friendly and don't require much time, so you'll have plenty of money left over for other things in your life.
Install a bidet
Looking for an easy remodeling idea that will add a lot of comfort to your home? Try adding a bidet! Using a bidet offers a number of benefits including being more environmentally-friendly and keeping you and your hands cleaner.
Installing a bidet is incredibly easy, too. There are a few different models including bidet seats, bidet toilet combos, and hand-held bidets. Each is easy to install and you're guaranteed to find at least one system that works with your current bathroom.
The best part? If you shop with a BidetKing coupon code you can enjoy an extra 15% off your purchase. BidetKing offers everything you need to upgrade your bathroom with a new bidet including bidet toilet seats, accessories and even free resources.
Paint your wooden floors
If you have a wooden floor in your bathroom, you might think that your only option is to cover it with a more protective material like sheet vinyl or title. But did you know that you can save both time and money by simply repainting your floor?
All you need to do is add a coat of protective enamel to your existing floor. Not only will the color of the stain change its appearance but it will also add a layer of moisture resistance. It's an easy way to change the look of your floor without the cost of re-flooring.
Refinish your bathtub
If your bathtub is starting to look a little yellow, faded or has some scratches and knicks, consider refinishing it. Completely replacing
your bathtub is a costly and time consuming repair. But you can easily DIY a refinishing job yourself and add years of life to your tub.
Change your hardware
Another easy DIY fix that makes a big impact is to change the hardware of your cabinets. Buying new cabinets is insanely expensive. Head to your local hardware store instead and you'll find dozens of options for new hardware. As long as you have a drill, the installation process is a breeze.
To make the process even easier, just make sure the screw of your new hardware matches the one you already have installed. That way, you won't even need to drill new holes as you'll be able to simply screw the new hardware in.
Add a fresh coat of paint
Even someone with no DIY skills can paint a room and it's an easy way to freshen up your bathroom on a budget. If you're painting the whole house you might want to consider hiring a professional. But in a bathroom, most of the walls are already covered in tiles, mirrors, or cabinets leaving very little wall for you to paint.
Just a few square feet and a bit of elbow grease and you can have a fully updated bathroom. Just make sure you choose a paint color that's complimentary to your existing furniture and hardware.
Apart from that if you want to know about bathroom then please visit our home improvement page