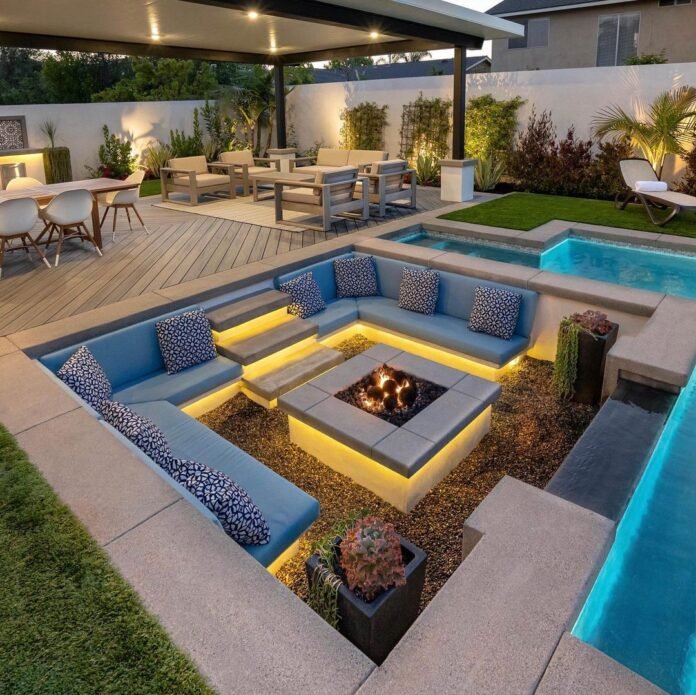 Last Updated on July 10, 2023 by
A refreshing dip in a swimming pool is the perfect way to cool off in Los Angeles' sunny weather. Many people opt to construct private pools for better privacy and comfort within the backyards of their homes. There is, however, a risk associated with traditional pool construction methods that can harm the environment. It is important to choose eco-conscious pool construction methods within the city and source for specialists who safeguard and prioritize sustainability and environmental responsibility.
Prioritizing sustainability and environmental responsibility when constructing pools in Los Angeles is crucial for the city's long-term goals. For a more sustainable future, eco-conscious pool contractors are at the forefront of transforming traditional pool designs into sustainable oases.
The article explores the significance of sustainability in pool construction and highlights the innovative efforts of Los Angeles pool contractors and their commitment to eco-friendly pool construction practices.
The Rise of Eco-conscious Pool Construction
Los Angeles pool contractors are increasingly embracing eco-conscious principles to create sustainable pool designs. In today's society, there is a heightened focus on environmental consciousness, even in the realm of pool construction. the industry is undergoing a notable transformation from energy-efficient systems to responsible material choices, contractors are prioritizing minimizing the ecological footprint of their projects. The idea is that, by integrating sustainable practices, contractors not only contribute to a healthier planet but also offer clients long-term cost savings and enhanced pool experiences.
How Does Eco-Conscious Pool Construction Help Safeguard The Environment?
Eco-conscious pool contractors use sustainable materials and construction practices that minimize the impact on the environment. The experts also help design pools with energy-efficient features for reduced energy consumption and lower utility bills. By choosing an eco-conscious pool contractor, you can have a beautiful and functional pool without compromising your eco-values.
Eco-conscious pool contractors can help enhance water conservation and energy efficiency. They can design pools that use less water and implement features like rainwater harvesting systems to collect and reuse water. This not only helps preserve natural resources but also saves money on your water bill. Contractors can also use their expertise to design pools with energy-efficient pumps, heaters, and lighting systems with lower energy consumption and lower utility bills. Such actions can not only help safeguard the environment but also save you money in the long run.
Choosing an eco-conscious pool contractor in Los Angeles is a smart choice for anyone who cares about sustainability and environmental responsibility. By working with a contractor who prioritizes eco-friendly values, one can have a beautiful and functional pool that does not harm the planet.
Sustainable Pool Design and Construction Techniques and Ideas To Consider
Some Los Angeles pool contractors are adopting innovative techniques to reduce environmental impact during the design and construction phases. The idea is to employ eco-friendly materials such as recycled glass tiles, sustainable decking options, and low-maintenance filtration systems. By utilizing energy-efficient pumps, LED lighting, and solar heating, they can maximize energy conservation and reduce water usage. Additionally, these contractors implement rainwater harvesting systems and stormwater management strategies to minimize water waste and protect local ecosystems.
A little About Calimingo: Pioneers of Eco-friendly Pool Construction
One exemplary company at the forefront of sustainable pool construction in Los Angeles is Calimingo. The firm sets a benchmark for eco-conscious pool contractors in the region. In addition, they offer a wide range of services, including pool design, construction, and renovation, all while prioritizing sustainability. Calimingo's expertise lies in creating custom pool designs that seamlessly integrate with the natural landscape, utilizing native plants and smart irrigation systems to conserve water resources.
Collaborating for Sustainable Solutions
It is essential for contractors to actively collaborate with clients to achieve sustainability goals. They can help provide expert guidance on eco-friendly pool features, such as energy-efficient equipment, smart automation systems, and natural water purification methods. Moreover, the use of eco-conscious materials and striving for minimal site disruption during construction ensures the landscape maintains its natural beauty and integrates seamlessly with the construction. Contractors can also help educate their clients about the environmental benefits and long-term cost savings associated with a sustainable pool design, Calimingo empowers them to make environmentally responsible choices.
Final thoughts on Los Angeles Pool Contractor Services
Los Angeles is striving to be a model for sustainable living. Eco-conscious pool contractors are increasingly important due to their insight and idealistic solutions toward energy conservation. Through their dedication to environmentally friendly practices, the city's pool contractors are transforming eco-friendly pool construction into a sustainable and eco-friendly endeavor. Companies like Calimingo are leading the way by offering innovative solutions that integrate cutting-edge technologies, responsible materials, and energy-efficient systems.
Apart from that, if you are interested to know about How to Check Pool Chemicals in 5 Easy Steps then visit our Business category.