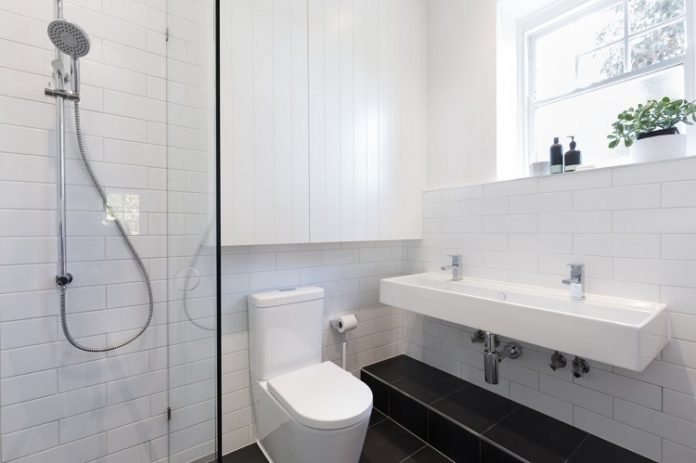 Last Updated on August 8, 2022 by
Whether you're trying to design small bathroom organization because you live in a tiny home or because you just have a tiny bathroom, it can be challenging to logistically figure out how to arrange the bathroom.
Are you worried about no counter space in the bathroom? Perhaps you're concerned about how to organize shelves without cluttering up the space.
Luckily, there are some simple things that you can do in your bathroom to enhance the space.
Keep reading to learn how to maximize space in a small bathroom like a pro.
Utilize Your Storage Opportunities
Storage is typically one of the biggest problems in a tiny bathroom. There are some creative bathroom storage ideas that you can use to hopefully fit all of your items in the space.
Always take advantage of any opportunities to store things low because this won't interrupt your lighting. You can also add a shelf (or multiple shelves) above the toilet for smaller items to store.
You can really put shelving or cabinets up entire walls if you need to, but avoid this throughout the whole bathroom. Choose one wall to be the main storage point while keeping the rest open to avoid feeling cramped in the room.
Think About Your Tiling
If you place the tiles in your bathroom at a diagonal, did you know it makes the room look a little bigger? Larger pieces of tile that don't leave behind as many grout lines will also help to make the bathroom appear larger overall.
When thinking about the tiling on your walls, flowing the tiling from your floors up to the wall in your shower, as an example, can also help expand the space. The eye is drawn to the overall look of the tiling and more of it altogether makes the room and walls appear like they are longer.
You should also consider neutral colors for your tiles. White, in particular, will make the room seem brighter and more prominent in general.
Use the Right Lighting Techniques
Any well-lit room always looks better than a dim and dark space. You shouldn't use any type of suspended lights in the room because they will make the ceiling feel lower than it really is. Instead, focus on wall fixtures that make the room feel taller.
If you're dealing with a really tight space that doesn't allow for much movement, consider adding your wall lights to just one wall to make it the focal point of the bathroom.
Declutter the Space
When you're dealing with a limited amount of space in any room, you want to minimize the clutter and unnecessary items that are left out. Otherwise, it will look much more disorganized than it really is.
If you don't even have enough space for the things that you do need for the bathroom, it may be time for an upgrade. Consider getting a bathroom remodel if you want to expand the size of your bathroom permanently.
Learning How to Maximize Space in a Small Bathroom
As you can see, figuring out how to maximize space in a small bathroom can be a little complicated, but it's not impossible. You'll have to think about the shape and size of your specific bathroom since not all bathrooms are laid out exactly the same. Once you determine what will work best, you can easily map out your idea to hopefully fit everything you need into the room.
Did you find this article helpful? If so, be sure to look at the rest of our blog for more tips!
Read More: 8 benefits of hiring a professional Home Improvement Contractor