Last Updated on April 4, 2022 by admin
Erosion can be a real pain in the neck at times. A lovely lawn in front of your house, or even a well-cared-for garden, might be difficult if you don't take care of it. In the end, no matter how big or little your piece of land is, erosion is a problem that must be addressed.
You need to protect your soil from erosion since you never know how the natural world will impact it. If you can manage the weather and even the animals, then you can control erosion as well and you should. There is a solution to every one of your difficulties with Commercial hydroseeding. The beauty and hard effort you've put into this project can't be undone by these things. You can use vegetation to help with erosion control, and you can also use hydroseeding in conjunction with it.
We'll examine if hydroseeding is effective at preventing erosion in this post. Keep reading this post if you want to understand more about hydroseeding and erosion management.
What is hydroseeding, and how does it work?
Hydroseeding, which is also known as hydro mulching, is a method in which grass seed, fertilizer, hydromulch, and water are all applied at the same time using a liquid. There may also be a need for the application of soil stabilisers and soil amendments, depending on the region being treated. Lawns and erosion management can both benefit from this method. Besides being quite effective, this method is well-liked due to its speed and simplicity. This technique is also less expensive when compared to others.
What's the big deal about Hydroseeding?
Hydroseeding is a nice and effective method. As a result, the seed germinates when it comes into contact with water because it is suspended in nutrient-rich slurry. The mulch layer acts as a barrier to keep the soil from drying out, which is why the soil doesn't shift.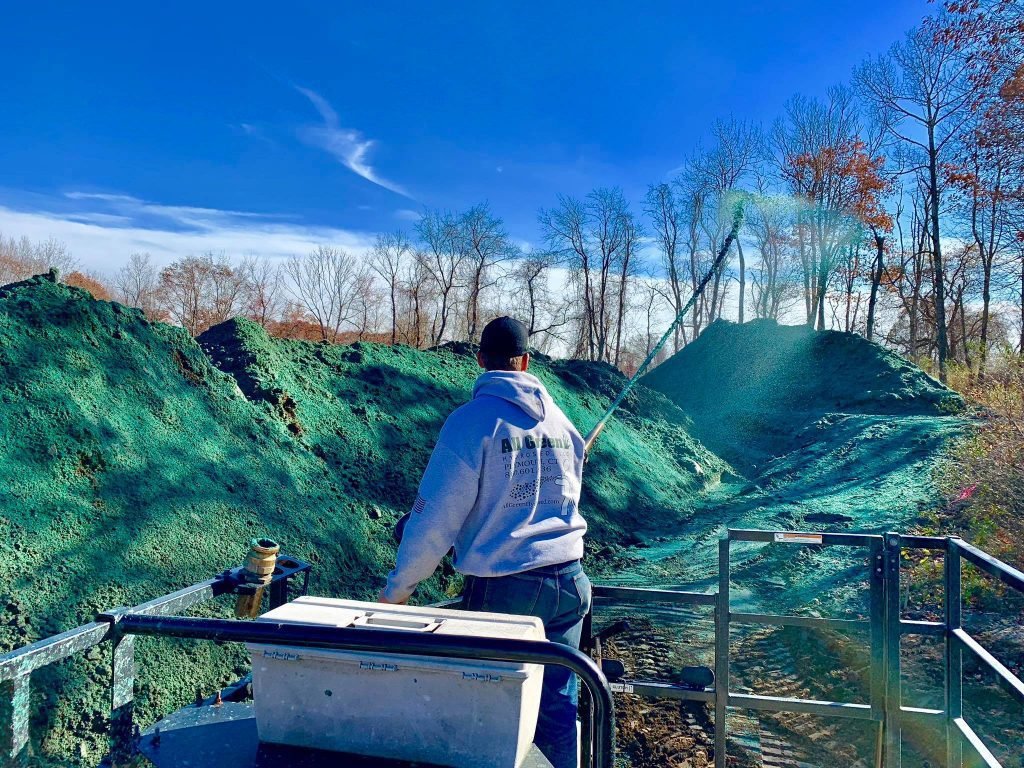 For Erosion Control, why is hydroseeding beneficial?
In terms of erosion control, hydroseeding excels due to its speed, which outpaces all other methods combined. One person with a good water source may complete one acre in about five hours, or even less.
It takes a lot of time to use conventional methods, but hydroseeding can be completed in half that time. That's not the only thing that's fast: Slurry bonds to the soil instantaneously and offers a stabilising impact in the region, which encourages the seeds to grow.
Due to the seeds being exposed to the elements of erosion, traditional methods of sowing and distributing seeds across a vast region are ineffective. For those who don't want to plant grass, sodding is a popular option, but it's prohibitively costly and time-consuming.
Hydroseeding comes into play in this situation.
Hydroseeding is also superior to other procedures, such as sodding, because it may be used with any type of seed. Selecting the proper seeds depends on the type of soil you're trying to protect from erosion. Alternatively, you can create your own custom blend of seeds to meet your specific requirements.
Compared to previous procedures, this method is more efficient and results in a more even dispersal of seeds. That means that the final effect will be a lovely landscape.
It's vital to note that hydroseeding is completely risk-free for humans, animals, and the environment alike. You don't have to worry about your health, your children's safety, or the safety of your animals while hydroseeding. Another benefit is that it's easy to clean up after yourself.
Hydroseeding eliminates the price barrier, which is a deal-breaker for many. For the simple reason that it is an affordable and effective means of erosion prevention. This is even better because after installation, there aren't a lot of ongoing requirements.
What is the ideal time of year to apply hydroseeding?
Hydroseeding is best done in the summer because the grass will sprout and develop quickly because of the heat. In order to conserve water, you should do so in the spring or fall, when the plants need less water.
Advantages of this approach
Germination in a short time 
Improved capacity for retaining moisture 
Hillside regions that are difficult or impossible to dry seed can now be done at a lower cost. 
There is no need to remove any straw or netting from the Uniform application. 
It is more effective than dry seeding at retaining soil moisture. 
Unlike sodding, there are no weed seeds to contend about. 
For Erosion Control, where can hydroseeding be used?
There is no limit to where you can utilize this technique. Many factors contribute to erosion and the subsequent barrenness and infertility of particular landscapes. Rain, wind, and other natural forces can quickly erode the topsoil, so the only option is to cover the afflicted area with grass, which will hold the soil in place and keep it from washing away. The best method is hydroseeding, which can be done virtually anywhere. Lawns, reservoirs, arid fields, riverbanks, and more can all benefit from its use.
A reputable hydroseeding provider is usually a good option when looking for the correct method of hydroseeding. You'll waste your time and money if you hire someone who isn't up to the task, and no one wants that. In the battle against erosion, we wish you the best of luck with this fantastic strategy.
In order to counteract soil erosion, landscapers can use sod, however this is only effective for planting grass and is quite expensive. Fortunately, landscapers now have access to a more modern, adaptable, and cost-effective growth approach. When you apply slurry, a mixture of seed, fertilizer, and mulch that is held together by a specific bonding agent, over the entire planting area, you're creating an even layer of the mixture, which is known as hydroseeding. It is also possible to transport the slurry on trucks or trailers in a tank, making it suitable for use in a wide variety of settings. This planting method provides a long list of advantages when it comes to erosion control.