Last Updated on December 14, 2022 by admin
Do You Know How To Create A Foyer In An Open Living Room?
When you enter someone's home, it gives you a pleasing effect due to a foyer that welcomes you to the hallway. It is the first thing you notice about the house, and it should be impressive and well-decorated. People must know how to create a foyer in an open living room for beautiful decoration. The guest enters your home and sits in an open living room for a limited time. The entrance is the first place where people enter, so try to make a beautiful foyer that will enhance the beauty of your house. It does not matter if you decorate the rest of your rooms; you can decorate your rooms and other areas according to the latest trending ideas of 2023.
Simple Steps: How To Create A Foyer In An Open Living Room?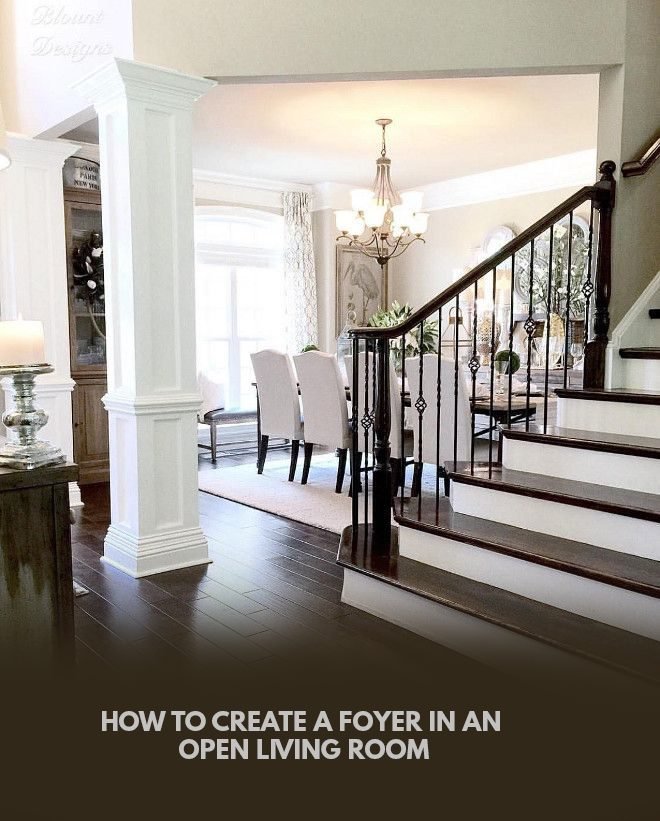 You can create a foyer with simple steps and tricks. Apply these techniques to increase your foyer's beauty.
Measure The Space
If you want to create an open foyer, measure the space where you want to create it. You can remove your furniture if you have no free space to create a foyer. If the entrance is small, use a console and place other decorations on it or you can use a table (wooden/metal) and place plants beside it.
Use Of Different Colors, Patterns, And Accessories
With the combination of different colors, you can create any design or pattern for your foyer. Designers select colors that enhance the beauty and give a unique appearance to your entrance. Designers use patterns to give a different look to your foyer. You can use a rug that matches the walls, paint, or other decorations. If people like fresh plants, they can add indoor plants and place them on their table or console, and they can also use floral patterns and pillows/cushions under their table at the living area entrance. You can also add other different accessories to enhance the beauty of the entrance.
Use Of Bench Or Chair
To add beauty to your entrance foyer welcomes you with a pleasing effect. You can put a chair or bench at the entrance. These are used to sit so guests can take off or put on their shoes while entering or leaving your home. It gives a warm welcome, and you can also put it on the hanging stand or shoe rack so that guests do not get confused and feel comfortable. You can create other decorations also, such as cushions, flower pots, or wall hangings. It will provide a fantastic gesture to you or your guests.
Adding Lights
If your entrance has a small cozy area, you can add other accessories such as floor lamps, pendant lights, or other decorative lamps. Using bright lights gives a classic look to your entrance. You can also use metal frame lamps, metal railings, or other unique art materials. It will give unique beauty, and guests will be impressed.
Using Mirrors
You like a neat and beautiful entrance that makes you feel comfortable and relaxed when you enter your home. You can add a stylish mirror on your console or with a table for a great attractive look. You can use a rectangular mirror, round, or simple mirror. Place some small unique decors or glass products, such as a glass vase or round bottom vase, or add flowers. If you use a mirror for your entrance, make it a simple look; do not use additional decorations at the entrance.
Coat/Shoe Rack
If your entrance is so simple and you don't like to overstuff it with furniture or other items, you can use a coat rack so guests can put their coats, cap, or other items on it. If you have placed a console, bench, chairs, or table, you can place a coat rack or shoe rack with indoor plants. Guests can put or pick up their stuff from the stand/racks.
Wall Painting
To change the look of your entrance from the regular one, use a large painting and a couch or chair. Try to match the colors with the floor, painting, wall hangings, or furniture, as painting gives an artistic look to your entrance. Try to use a painting that is close to nature. You can also use family pictures on your walls with other decorations.
Wall Papers
With the use of new and latest technology, you can change the look of your foyer. People can use different techniques to give a warm welcome to their guests. Instead of using old paint or pattern, you can attach wallpapers to your walls. There are different and unique design patterns, wallpapers, and 3D wallpapers. Try to use them and make a new look for your home.
What Role Does The Foyer Play In A Home?

Usually, a foyer leads into your living room and sometimes into your dining room. This area is considered a semi-public area in your home where guests can enjoy entertainment. A well-designed foyer can reduce physical and visual access to the living areas of your home. People will enter and sit in your living area instead of roaming around your home.
Some Tips For Unique Entrance of 2023
People like different designs, get ideas, and make new and unique patterns. The entrance design also depends on size, it can be big or small, but with the help of simple ideas and a foyer, you can make your entrance beautiful.
Plants: To give an attractive look, nature always helps. You can use indoor plants to give beauty to your foyer. You can use small potted plants, plastic pots, or hanging pots.
Rugs: People make their homes free of carpets to give a unique design, and people use beautiful rugs. These rugs can be round, minor, or large rectangular shapes (depending on space). They change the look of the foyer. People can use light colors or bold dark colors. It depends on their choice.
Use A Wall Covering: It is crucial to keep the space clear of anything that isn't essential to the design of the space. You can use bold colors or geometric wallpapers on the walls and ceilings. If the budget is short, paint it with a bold shade.
Paint The Door A Bold Design: If you want to change your old design with little cost. First, change the color of your door. Paint the door with dark or bold colors that complement the furniture or accessories placed at your entrance.
Conclusion
Homes with the best look give you and your guests a warm welcome. People want to enhance the beauty of their entrance. They do different things, and if people want to know how to create a foyer in an open living room, they should focus on different things such as their furniture, space, decorations, wall color, and many other things. You can use your old furniture and simple but attractive things within your budget. By applying DIY, change your old furniture or old things into a new look and put them in your home entrance.
Apart from this, visit our home improvement category if you want to make a statement with the home entryway.
Read More: A Few Tips for First-time Homeowners

FAQs
How can we change the look if we don't want to change the things of our entrance?
You can change your floor design, use a chandelier at your entrance, or change your false ceiling color.
Is it difficult to give a different look to your foyer?
No, it is pretty simple and easy to change the foyer with the help of old or new things, plants, or decorations.