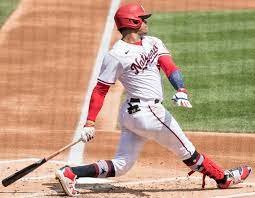 Last Updated on January 8, 2023 by Faiza Murtaza
The surprise of the night was Rookie of the Year candidate Julio Rodriguez, stealing the show with 81 home runs throughout all rounds. Rodriguez became the 1st player in Derby history to have back-to-back 30+ home run rounds. However, the rookie phenom ran out of gas when it mattered most. The yearly trend of younger guys burning themselves out in the early rounds continues to hold strong.
Juan Soto, the 23-year-old outfielder, only needed 19 homers to cap off his first Derby championship despite only being the third favorite in the MLB Vegas Odds to win. The path to the finals for Soto was quite easier than Julio, facing Jose Ramirez and the 43-year-old Albert Pujols. Rodriguez went through Corey Seager and 2-time defending Derby champion Pete Alonso. "Polar Bear" Pete was not able to complete the extraordinary 3-peat.
He began with a strong showing against Ronald Acuna Jr., but he did not carry over into the following round. Another surprise from the exciting night was Albert Pujols taking down heavy favorite Kyle Schwarber in the first round. Pujols was put into the Derby as a motion of respect. In his final year in the league, he was not expected to do much of anything in the competition. He nearly sneaked into the finals.
Perhaps the best storyline behind the derby is the recent trade rumors of Juan Soto. In the weeks following up to the All-Star break, Soto turned down an extension from the Washington Nationals that would have made him the highest-paid player in the MLB. Potential trade packages leaked online after the news, via Twitter. 53 home runs and a Home Run Derby championship is a statement like no other to teams across the league possibly shopping him.
For Soto, winning the derby could create publicity that the Nationals didn't expect and never wanted. This could go in any direction at this point. Soto could use this performance to earn a huge contract for a team he has always dreamed of being with. Nonetheless, another classic Home Run Derby is in the books and we're already looking forward to next year's Derby!
Read More: How to choose a dress according to different professions?