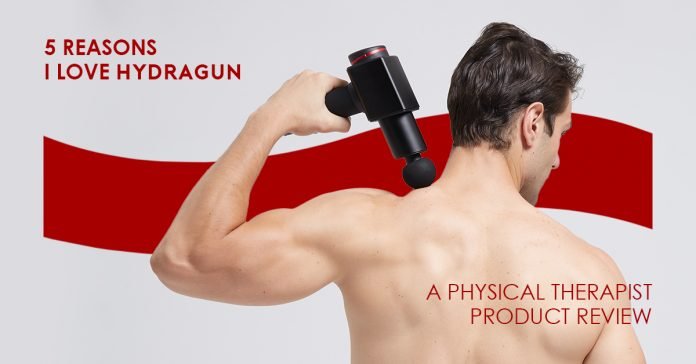 Last Updated on June 3, 2023 by asifa
Check out this guided expert review on massage guns. Read on to find out why this particular brand is my favorite.  
Back in early 2000, physiotherapists (like me) practiced percussion therapy, using tapotement massages. Tapotement is defined as rhythmic percussion therapy, most frequently administered using the edge of the hand, or a cupped hand, or the tips of the fingers, the same principle from which percussion massagers emanated. I was amazed by how devices like a massage gun have made physical therapy easier. And it's for this, I got so excited when asked to write a product review of one of the buzziest massage guns in the market today – the HYDRAGUN I got a Hydragun as a  holiday gift and I have to say that it has won my heart over.
And here are 5 reasons why I love Hydragun…
Everything I need in one convenient packaging
This is my first thought when I first saw my massage gun in its carry case. The case houses the massage gun and all the attachments, the charger, and manual. All that, plus I find that it is a premium, all-in-one, cool, and elegant case. As a Physical Therapist who carries a lot of gadgets and devices for client calls, this packaging is quite easy to just grab and go. I don't have to worry about leaving anything behind—accessories and charger.
It's lightweight and easy to use

Hydragun is made from aerospace-grade aluminum alloy, making it lightweight compared to other premium massagers. The minimalist and sleek design look great, with a single button function that's pretty straightforward. Plus, the handle's 99-degree angle promotes a more comfortable glide and hold for a better, more comfy grip. 

My PT colleagues would agree, that for us, portability of equipment is a priority. We don't want to use a device with our bare hands that weigh more than 4 lbs. and use it for more than 30 minutes in a clinic. It's awfully painful for sure. 

With this massage gun weighing just about 2.3 lbs and its ergonomic handle at 99 degrees, it is quite a relief to know that when using it, we are now spared of painful hand conditions such as clinically-acquired carpal tunnel syndrome. 
It's gives targeted, premium quality massages
Hydragun, with its 12mm amplitude and 6-speed settings (speed in RPM and attachment heads) makes massage sessions more personalized. You get to choose from the lowest setting at 1300 RPM to 3200 RPM. And the variety of attachment heads (Flat Head, Steel Flat Head, Steel Round Head, Ball Head, Fork Head, and Bullet Head) makes it easy to modify the vibratory effect on different muscle groups and areas.
It is quite an advantage for a physical therapist to provide a more individualized approach for patients or clients that have different pain thresholds and treatment tolerance. It encourages a more professional and expert method when designing the PT regimen for our clients., Plus using a massage gun also develops trust among our clients because they know that they're getting the best care plan possible.

And one of the things I like about this massage gun is the smart safety feature-Hydragun shuts off automatically after 10 minutes. This is great for my patients, since a PT may not always be around to remind them to glide it consistently to avoid redness or harmful effects on the skin.

It also serves as an indicator that the full massage on a specific area is achieved. That you can jump into another body part/muscle group, all you need is to wait for a minute to turn it back on.
Has a longer battery life.
Well, you can count on a longer partnership with your handy massager. Hydragun's battery life is expected to last up to 6 hours (about 2600 mAH), making it convenient to bring the massager with you wherever you go, not worrying about charging too often.
Apart from the long battery life, you get to have a relaxing and peaceful experience with the quietest massage gun in the market. At 50 dB, it's softer than a normal conversation—about the sound level of the hum from a refrigerator. It's surprisingly quiet for such a powerful device.
These features give a physical therapist like me, an assurance that you don't inflict further discomfort on a patient or a client with painful sensation as their chief complaint.

And the battery life gives the peace of mind that when it's fully charged it can treat around 3-4 patients or clients in a day, without the hassle of repeatedly plugging it in the nearest power source.

It's a practical device.
When savings are at stake, we go for a massager that provides the same powerful recovery and relief that an expensive and well-known brand offers.

Hydragun offers a lower noise-level, a longer battery life, a much lighter and premium build, and a more powerful motor but for a reasonable price of A$399.

As a PT, I have met a lot of patients/clients who are price-conscious enough to discontinue sessions with us because of budget considerations. Which puts their treatment goals and recovery in jeopardy. The least that we could do is to prioritize their "buying power" when recommending recovery tools or devices.



Conclusion

Expert or not, physical therapist or not, athletic or non-athletic we all want the same thing: reap the benefits of massage.
And if you ask about the science-based benefits of it, I can share a few such as decreased muscle tension, better blood flow, stress reduction, relaxation, increased muscle/joint flexibility and mobility, radiant skin (yeah this one too!), and faster recovery of soft tissue injuries.

There is no rocket science explanation for the Zen feeling that a good massage can give us.
And making these benefits available anytime, anywhere and having a handy PT device at home is highly recommended in these times of physical distancing and quarantine.
Taking my word as a physical therapist is just another post on the net, but holding the future of recovery in your hands (while practicing quarantine measures) and the (Hydragun) experience-now that's the real deal!
Apart from that, if you are interested to know about platform for email marketing then visit our Technology category.