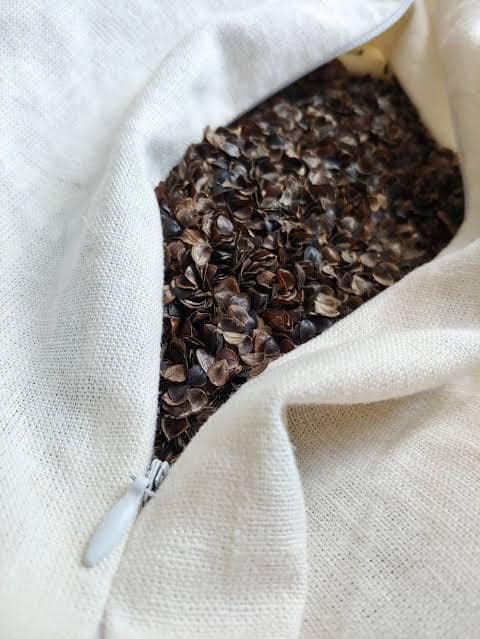 Last Updated on November 24, 2022 by Tabraiz
Traveling is a hobby for most people. But to make this endeavor memorable, there are some things that shouldn't be missed in one's packing list. The first things that everyone will have in their minds are cameras, mobile phones, and clothes. However, a pillow is something that's equally important for every traveler.
Currently, there are different pillows available in the market for different sleepers. This implies that one shouldn't just pick any pillow in the market. There are some factors you need to take into account like support, price, and durability. If you're planning a trip, look no further. A buckwheat pillow is going to be your best companion. Before embarking on the nits and grits of this article, it's crucial to comprehend the meaning of a buckwheat pillow.

What Is A Buckwheat Pillow?
This pillow utilizes buckwheat hulls as its fillings, thus the name. Its outer cover is manufactured from organic cotton, rendering the item environmentally friendly. Buckwheat pillows are now popular around the globe because of their outstanding qualities.
Are you still not convinced that buckwheat pillows stand out from other types? Continue reading to discover the amazing features of this pillow and why it should be your priority item on your travel packing list. You can also watch this video to learn more about a buckwheat pillow.
Why You Need A Buckwheat Travel Pillow
There are several reasons why you need to add a buckwheat pillow to your travel carry-on luggage. Some of these include:
1. Comfort
Can a trip be enjoyable without comfort? You might need a buckwheat pillow to achieve this. During the day, you'll visit several places in the area you've toured. At night, your desire will be to sleep to shed off fatigue and get ready for the next day. For one to have a comfortable sleep, a buckwheat pillow is necessary.
What are the features that make this pillow enhance comfort? First, it has a cover that's breathable and soft. Second, it's foldable. As a result, you can customize it to suit your needs.
It's worth noting that a buckwheat pillow isn't useful only at night. While typing or browsing on your laptop, use it to support the wrist. Also, while traveling, you can as well support your back with this wonderful pillow.
2. No Allergies
There are several things that worry travelers, and one of these is the fear of spending their nights in hotels with dusty pillows. Some hotels don't wash their pillows frequently. Therefore, when travelers spend nights in such places, they're exposed to dust, mites, and dead skin. This isn't a bother to only those with allergies but any other individual.
Luckily, you can avoid the problems above by carrying a buckwheat pillow. This pillow has the least effect on anyone suffering from allergies. For someone allergic to chemicals, you may end up sneezing continuously. Eventually, you won't enjoy your trip. But with the smell of the buckwheat, which is its fillings, you'd experience comfort during your trip.
3. Washable
Cleanliness is vital not only to travelers but also to everyone. However, many traditional pillows aren't washable. Consequently, maintaining their cleanliness is nearly impossible. Of course, there are standard hotels that wash theirs, but they may not dry them up properly. The result of this is bacteria build-up.
The good news is that a buckwheat pillow is washable, so cleanliness would be guaranteed. If you've experienced skin irritations due to using the hotel pillows on your trip, try buckwheat pillows because you just have to wash the outer cover and it dries completely within a short period.
4. Migraine Reliever
When someone experiences a migraine, their performance is obstructed. It's the worst when traveling as it may render the whole trip a nightmare. Migraine arises from several factors, but the most common cause is spinal misalignment. This results to back pain as well.
Fortunately, a good pillow is a natural solution for migraines. That's where a buckwheat pillow comes in. However, if migraine keeps recurring even after utilizing this pillow, you need to try other remedies or seek medical attention. The first one should be consulting your doctor.
5. Temperature Control
Imagine having a busy day and having a tiresome night because you're having trouble falling asleep. No one wants to have such a night. You can avoid this with a buckwheat pillow. The pillow is known for its outstanding ability to regulate temperature.
What makes buckwheat pillows excellent temperature regulators? The fillings, which are buckwheat hulls, aren't static. They move around and facilitate not only air movement but also circulation. So, if your next trip is in a hot region, make sure to carry this pillow along.
6. Durability
Besides comfort, one yearns for a pillow that'll last. A buckwheat pillow fits this description. In fact, all materials used to manufacture this pillow are durable. If traveling is your hobby, consider purchasing this pillow. It can serve you for more than ten years. However, if carelessly handled, this pillow won't last. So, if you want to minimize your travel costs, the best deal could be to purchase a buckwheat pillow.
7. Back Support
To some people, long trips are fascinating. However, when back and neck pain emerges, the trips become a nightmare. You'll agree that a long journey exposes some of your body parts to pain. The neck suffers a lot when the chair lacks a comfortable neck rest. Also, back pain can result in a serious injury.
How does one avoid the above disappointments? The solution is a buckwheat pillow as it's going to support the neck and back muscles. Eventually, you won't experience any difficulties on your trip and you'll enjoy traveling.
8. Snoring
Snoring is a serious problem for those who experience it. It's not only irritating but also makes one not enjoy sleep. If you're traveling with your friends, they may shun you if you snore. The result is you could suffer rejection. Luckily, buckwheat pillows may reduce snoring. Thus, if you don't want your friends to shun you on the next trip, try a buckwheat travel pillow.
Snoring mostly arises from poor spinal alignment. On the contrary, these pillows make sure that your spine is aligned correctly. It's this feature that reduces the chances of one snoring.
9. Keep Away Bugs
Many traditional pillows are manufactured from materials that act as food to small insects. For example, pillows made with feathers or wool offer an excellent environment for unpleasant insects. This isn't only irritating but could also become a health issue.
On the contrary, buckwheat pillows resist bed bugs. The buckwheat hulls, which are the fillings, enhance good air circulation. This makes the environment unconducive for mites and other insects. For travelers, if you suspect the pillows in the hotels might have bed bugs, simply use a buckwheat pillow.
Environmental Benefits Associated With A Buckwheat Pillow
The process of making these pillows is fairly complex. Manufacturers simply pick the seeds out of the shells and clean them. Afterward, they put them in cases manufactured from silk or cotton.
Many of the traditional pillows have chemicals and plastics, which can be hazardous. Buckwheat pillows, however, are environmentally friendly. Below are the benefits of these pillows:
Recyclable
First, one can recycle these pillows. The only thing that's needed to be done is to exchange the old shells with others that are new. This factor makes the pillows serve you for a longer duration.
Biodegradable
Most items are manufactured from synthetic products. As a result, they can be harmful to the environment. A buckwheat pillow deviates from this factor since it's purely manufactured from biodegradable products.
Free From Toxins
Currently, there's a rise in the number of fatal illnesses associated with exposure to harmful fumes from synthetically manufactured products. Pillows are some of these products, especially the traditional ones. A buckwheat pillow will save you from these frustrations as it's manufactured from natural materials.
Does A Buckwheat Pillow Improve Sleep?
A buckwheat pillow guarantees quality sleep. In turn, your body is refreshed and you'd be able to function normally. As a matter of fact, if you haven't invested in these pillows, you're missing something essential. This is because, unlike traditional pillows, a buckwheat pillow leaves the neck and spine properly aligned when one is asleep. The results would be no more back and neck pains.
Read on to understand the factors that make a buckwheat pillow improve your sleep quality.
Moldable
People have different sleeping positions. Despite the position, one can't have quality sleep without a good pillow. A buckwheat pillow suits all types of sleepers. Since it's moldable, it adjusts in accordance with one's neck and head. This is in sharp contrast with traditional pillows as they're usually thick and not moldable.
Good Smell
Are you sensitive to the chemical or plastic smell used in manufacturing pillows? If you've constantly suffered because of this, these pillows will be your remedy. Buckwheat pillows have a natural smell and can make you feel relaxed. In return, you'll enjoy your sleep.
Breathable
Any pillow that isn't breathable retains heat. This is the case with many traditional pillows. When it's hot, instead of enjoying your sleep, you end up turning and tossing throughout the night. On the other hand, a buckwheat pillow is breathable. As discussed earlier, it allows air movement and circulation, that's why they act as good temperature regulators.
Factors That Make A Buckwheat Pillow Outstanding
A buckwheat pillow has unique features that make it special from traditional pillows. Read further to discover these factors.
Firmness
Are you a back or a side sleeper? Well, a buckwheat pillow is usually firm and will give the support you long for. What's more, you can add or remove the hulls to suit your needs.
Pressure Reliever
For side sleepers, one can add more buckwheat hulls to alleviate pressure. Unlike back sleepers, this position requires one to increase the volume of hulls. This is in a bid to facilitate proper neck and spinal alignment.
Shape
This is another element that makes the pillows outstanding. Unlike traditional pillows, these pillows are available in king, queen, and standard sizes. As a rule of thumb, look for the size that'd suit your body frame.
Quality And Durability
Buckwheat pillows are of good quality. In essence, it's carefully manufactured to guarantee quality and durability to the users. It's indeed worth your money since it'll last for a long time.
Temperature Regulators
Again, this is another thing that makes buckwheat pillows excellent items—their covers are usually breathable and this enhances steady airflow. As stated earlier, it's indeed beneficial for those living in hot areas. Especially if your travel to tropical places, this would come in handy.
Versatility
A buckwheat pillow is helpful on any occasion where physical support and comfort are a necessity. Besides supporting your back when traveling or sleeping, there are other instances where one can use the pillow. For example, it can serve as an armrest when typing or reading. While watching the TV, you can as well grab it and enjoy your movies.
Eco-Friendly
Another amazing feature of these pillows is they don't contain environmental pollutants. Everything used to manufacture a buckwheat pillow is biodegradable. Not only would your body be relieved, but you're also going to conserve nature.
Takeaway
A buckwheat pillow is a must-have item for any traveler. This pillow is the perfect remedy if your trips have always been a nightmare due to back and neck pain. So, let this be item number one in your packing list and see the difference on your next trip. Every person craves comfort in their trips.
Pillows can sometimes be underestimated, but this should no longer be the case. Most people think that this item is only valuable at night when they need to sleep. Fortunately, pillows, especially buckwheat pillows, are multi-purpose. You can use them to support the head while sleeping, support the back in your trip, and others. Consider the ideas mentioned here as you look for the suitable buckwheat pillow for you.
Read more: HOW TO WASH A BODY PILLOW SIMPLIFIED