Last Updated on June 10, 2023 by
Whether it's always been your dream to renovate a house or market conditions forced you into an old spot that could benefit from some love, you need to know what you're doing, especially if you want to save a few bucks and/or maintain the historic integrity of a truly old home. Of course, the grand picture can seem daunting. The kitchen's gotta go. The bathroom's gotta go. The exterior needs EVERYTHING. But compartmentalization is the key. For peace of mind, large-scale renovations should be viewed as individual tasks. So, unless you have the funds to hire a team of contractors to do it all at once, you'll want to grab some tile tools and fix up that old home one little bit at a time.
We're here to guide first-timers on their renovation journey. Of course, we realize every homeowner comes equipped with different skill sets and vastly different experience levels. If you're a do-it-yourselfer you're probably not going to be daunted by an old home that requires serious renovation. But if you've never even picked up a paintbrush? Well, we're here for you, too.
Know what you're getting into.
Before you buy an old home, you need to practice extreme vigilance. And don't merely trust your untrained eye. Get a full-scale building inspection done before you seal the deal. In especially hot markets with offers coming in quick for every listing, you might be encouraged to forgo an inspection, thereby making your offer a little more attractive to the seller. Know that if you do that, you're taking a big risk, especially with an older home. If there are significant issues with the foundation, the roof, the plumbing, or electrical, the costly repairs might put you in too big of a hole to turn a profit on the project. Same goes for significant issues with water damage and mold.
But if you get the all-systems-go from your inspector and are basically looking at a house with good bones that's simply in need of a makeover, consider yourself lucky—that's a good spot to build from. In that instance, you can devote your renovation dollars to aspects of the home that will boost livability, and those investments come with the added bonus of generally producing more bang for your buck; after all, foundation repair doesn't do a whole lot for curb appeal.
Make that old house a home.
So, where should you begin? Well, if you're moving in, the most important thing is to focus on making the home more enjoyable to inhabit. If the walls are in good shape and you're fairly confident you're not going to be knocking them down for some serious reconfiguration, painting is a smart place to start. Fresh paint goes a long way toward enhancing a space. And, heck, we can all paint. You don't need to be a jack-of-all-trades do-it-yourselfer—the kind of person with a concrete mixer at his disposal—to knock a paint job out of the park.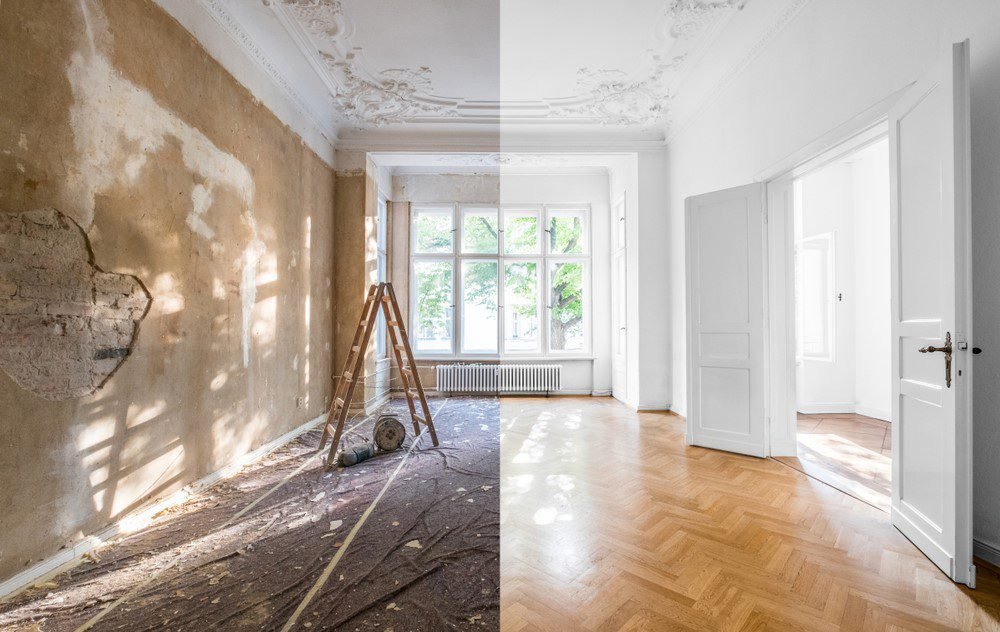 Source: hanohiki/ Shutterstock.com
Keeping with that one-bite-at-a-time theme, consider giving yourself a sanctuary: one room or a wing of the house where you can sink into comfort. This is especially important if every aspect of the home needs some love. So, whether it's the master bedroom, the kitchen, or a bathroom where you can recharge, home in on a special spot in that old home and make it yours. If this is going to involve some demo, especially likely in a bathroom or kitchen, try to get all or most of this job done before you move in.
Gain skills and get after it.
One of the most rewarding aspects of home restoration is doing the work yourself. That freshly tiled bathroom floor feels a lot better underfoot when it's your hand that laid it. That beautifully landscaped lawn tends to beckon with a little more insistency when you laid the mulch and planted the bushes. And don't forget that the home is yours—that's simply a reminder that you can operate at the pace you choose. So if you want to handle some tiling but don't know how, take the time to school yourself and then have at that tiling project when you're ready.
Again, we realize that not everyone can or wants to get their hands dirty on projects. If you fall into that not-me category, do as much as you can during the conceptualization phase. Study other renovations and pull out aspects you like for your home, as you would when showing hairstyles to your barber or stylist. The more involved you are during the renovation, the more satisfaction you'll derive from the finished project. Knowing your way around various aspects of home renovation will undoubtedly save you money in the long run.
Source: sheff/ Shutterstock.com
Restoring an old place to glory is one of the finest things a homeowner can do. It's good for the planet—restoration, as opposed to building new, is a great way to cut down on waste. It's good for the neighborhood. And it's good for the homeowner. You can take pride in the work. And when it comes time to sell—trusting that you made intelligent decisions along the way—you'll likely find yourself in a position to gain a tidy profit.
Apart from that if you want to know about Modern Home Renovation Ideas then please visit our Home improvement category.