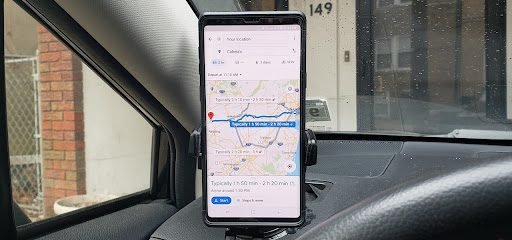 Last Updated on April 12, 2023 by
Traffic is the most important part of traveling. It becomes easier to determine the time period of travel if you know the duration for how much distance will pass through. Yes, the Android phone helps in this matter by giving information on traffic. You can track traffic congestion on any road around the world with your Android Phone. Here are some steps that will help you in checking traffic on your Android phone.
Steps to Check Traffic on Android Phone:
1. First of all, open the Google Maps application from your device. After it opens up, tap on three lines located on the top left corner of the screen. From the menu tap on "Settings".
2. Now from Options displayed tap on "Traffic".
3. It will show you traffic information of your current location. Tap on the button "Traffic" to get information about any location on the map or just type that place name for which you want to view traffic conditions.
4. All this shows up considering that you are connected to the internet, if not, it will show you the approximate time for the arrival of your destination.
5. If you want to use voice directions then tap on "Navigate" displayed at the bottom right corner of the screen.
6. Here in this step, the map will start following your direction and providing traffic updates on that particular road if any.
How to Check Traffic to Home?
It becomes a bit tough to remember the road which you use for returning back to your home every day. Instead of going through that routine, it is better to know about traffic conditions even before leaving your current location. Just follow these steps to check traffic to my home –
1. In Google Maps tap on "Settings" as described in the above steps and after that tap on "Home".
2. Here you are provided with the name of the road which leads to your home and duration for reaching there in the estimated time.
3. This is it! Now you can check traffic conditions before leaving from wherever you are and then decide whether or not to take that route or find another one.
How to Check Traffic to Office?
You can follow the same steps as mentioned in the previous step to check traffic to work. If you want, you can leave early or come back home based on the situation of traffic around the place.
How to Check Traffic Nearby?
If you are interested in knowing about traffic conditions near a particular landmark then all you gotta do is:
1. Tap on "Search" and type the name of that place for which you want to check traffic conditions.
2. Now tap on that search result and it will show you all nearby roads along with the estimated time required for traveling through them considering the ideal condition of traffic. It also provides information about traffic flow during rush hours.
How to Check Traffic on Map?
For checking traffic on the map, just tap on the search button and type the place which you want to see on the map. For instance: "Traffic at Hyderabad". The location of Hyderabad will be marked in red circles and the time required for reaching there by car or any mode of transport will be shown in the estimated time. It also shows the number of hours during which a car will travel through that particular road.
How to Check Traffic on Route?
1. Tap on "Navigate" and type the address for which you want to check traffic conditions or tap on any place if it has already been saved in your Google Maps account.
2. It will ask you to choose the route in which you want to travel. Tap on "Options" displayed next to your desired route and after that tap "Traffic". This will show you traffic conditions for any other route apart from one which it is asking to follow.
3. Now if Google Maps suggests another possible route for reaching that place then it will show you traffic conditions on that route as well.
Conclusion
Google Maps is a useful application for Android devices and it can prove to be a lifesaver when it comes to checking traffic conditions on the map before leaving from current location or while traveling from one place to another. The best part of this app is that you need not have an internet connection all the time.
Read more interesting articles at Readesh