Last Updated on November 10, 2023 by Asfa Rasheed
Not all the traffic that comes to your website is the same, neither are the ways to convert it. Understanding the basic difference is vital for approaching customers in the early stages to ensure long-playing relationships and profit for your business afterward.
Buying cycle
It's all about the buying cycle with certain stages. Before actually making a purchase, a potential customer goes through 3 main phases: awareness, consideration, and intent.
When it comes to a problem, a person starts looking fWhen it comes to a problem, a person starts looking for a solution. It's the time when marketing strategies should be mainly focused on advertising and building awareness about the product. Social media websites like Twitter serve as an excellent way to engage consumers and keep target audiences in the loop. Many businesses create content marketing their brand and buy Twitter likes to build brand awareness.
Once the decision is taken and the consideration stage is due, it's essential to provide a customer with more detailed information, including various options and pricing.
During the intent stage, one should be informed about the benefits of the product. Positive testimonials and reviews from the previous sales might also come in handy in terms of convincing.
As soon as a decision has been made in your favor, the purchase stage will be triggered. The type of traffic is highly dependent on which stage customers find themselves in.
Cold traffic
This type of traffic consists of people who landed on your website searching for a quick fix for their inquiries. Frequently enough, they haven't had any experience dealing with your business before, so probably they are not fully aware of it.
Warm traffic
The segment of website visitors that is entitled as warm traffic is easier to convert into leads, as they already have a sense of your company and what you offer. Supposing a person visited your website for the second time, the one is no longer considered cold traffic.
Hot traffic
If visitors have made a purchase or decided on your service, they make up the hot traffic to the website. The main point here is to provide re-engagement that will lead to further sales.
Ways to warm up cold traffic
As potential clients who make up cold traffic are on the stage of awareness, it's utterly useless to sell instantly. Spreading relevant information and establishing trustful relationships are what you should consider. Here are some ways that can help you turn cold traffic into loyal customers.
Presentation
Placing an explanatory video or some kind of infobox will answer a series of possible questions. With their help, the new purchasers can get acquainted with the brand and understand whether they want to proceed further.
A Pressed company website created a whole tab page dedicated to informing about detoxicating juices and dispelling myths about probable outcomes.
Source: Pressed – an example of an informational tab page
E-mail pop-ups
One of the most yielding methods to convert is creating a lead magnet. It can be a free item or service that website visitors get in exchange for their data.
Once it's done and they get their first positive experience on the website, your potential leads will get relevant information in their e-mail box. This can be anything, for example, trial subscriptions or new updates.
A lead magnet can be easily and effectively delivered with pop-ups. Email-capturing ones are the most efficient option here, as they guarantee that your prospects will be getting some relevant and educational information about the brand.
Just like that newly landed visitors of the Tommy Hilfiger website receive a special offer that provides an instant discount for them, asking, in turn, for an e-mail. After joining the club a person will be notified about special offers, the latest products, and promotions.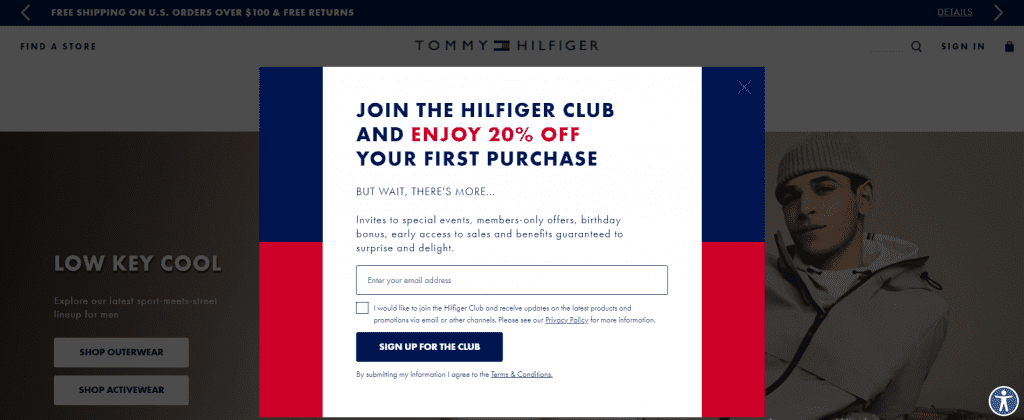 Source: Tommy Hilfiger – an example of an email pop-up
RelaitMeNot estimated that 67% of brand-new clients were encouraged to make their first purchase on a website after they received a discount. Thus, pop-ups are the best practice to increase conversion by creating give-and-take relationships. 
Sold-out solution
It can easily be so, that a person was searching for something specific and landed on your website as one's search inquiry matches the keywords of something you offer. But unfortunately, the desired product has been sold out. Can the situation be more frustrating?
Use pop-ups to collect an email and notify a prospect if a product is again in stock. You may also consider displaying similar items instead to create a truly personalized shopping experience.
Credibility
Nothing is more convincing than positive reviews of those who's already tried it. Consider showing testimonials or reviews with pop-ups or just place them on the website, as they increase credibility to your offerings.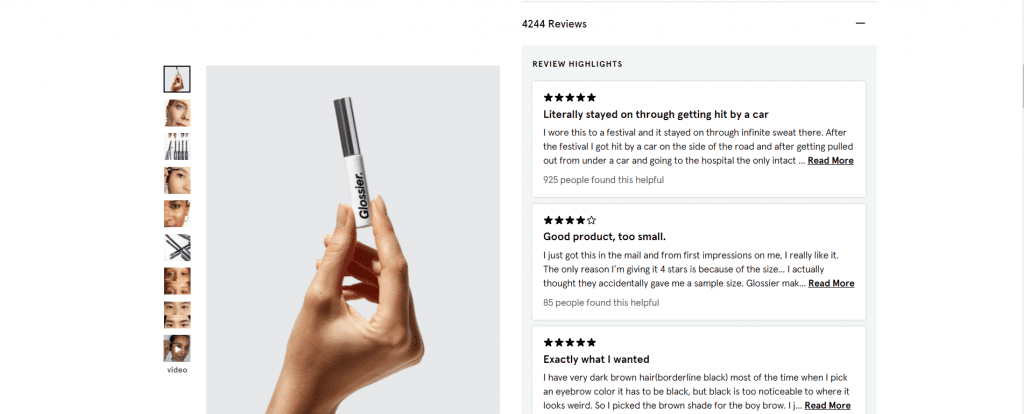 Source: Glossier – an example of reviews on the website
You can also try to display company or employee testimonials if it's relevant for your business. Reviews from people who provide services and know everything first-hand can emphasize the unique features of the goods.
But don't overwhelm customers with testimonials straight away. Give them some time to browse and get to know your products at first.
Overview
Converting cold traffic into warm leads is an essential aspect of any successful marketing campaign. Cold traffic refers to people who are unfamiliar with your brand and have no prior relationship with your business. The process of converting these individuals into warm leads involves building a connection with them and establishing a relationship that encourages them to become more interested in your products or services.
One effective way to convert cold traffic into warm leads is by creating a personalized experience for each individual. This can be achieved by tailoring your messaging and offers to the specific needs and preferences of your target audience. You can use data analytics and customer feedback to better understand your audience and develop a more targeted approach.
Another way to convert cold traffic into warm leads is by providing valuable content and resources that address the pain points and challenges of your target audience. This can include blog posts, videos, webinars, whitepapers, and other types of content that offer solutions to common problems.
It's also important to establish trust and credibility with your target audience. This can be achieved by showcasing social proof, such as customer testimonials and case studies, as well as by demonstrating your expertise and authority in your industry.
Wrapping up
To reach a certain segment of traffic, you should concentrate on various approaches that would suit different needs. As users that make up cold traffic are normally not familiar with all the specificities and supplies of your website, inform them before selling.
Such smart widgets as pop-ups can ease the process of collecting e-mails to stay in touch with prospects and regular customers. They also come in useful while showing out-of-stock notifications, recommending similar items, or displaying testimonials.
Implement the points mentioned in this article and turn cold traffic to your business' advantage!
Apart from that, if you are interested to know about Ways to Increase Conversion Rate on the E-commerce Website then visit our Technology category.